Duravit Unveils Zencha – The Minimalistic Bathroom Collection by Sebastian Herkner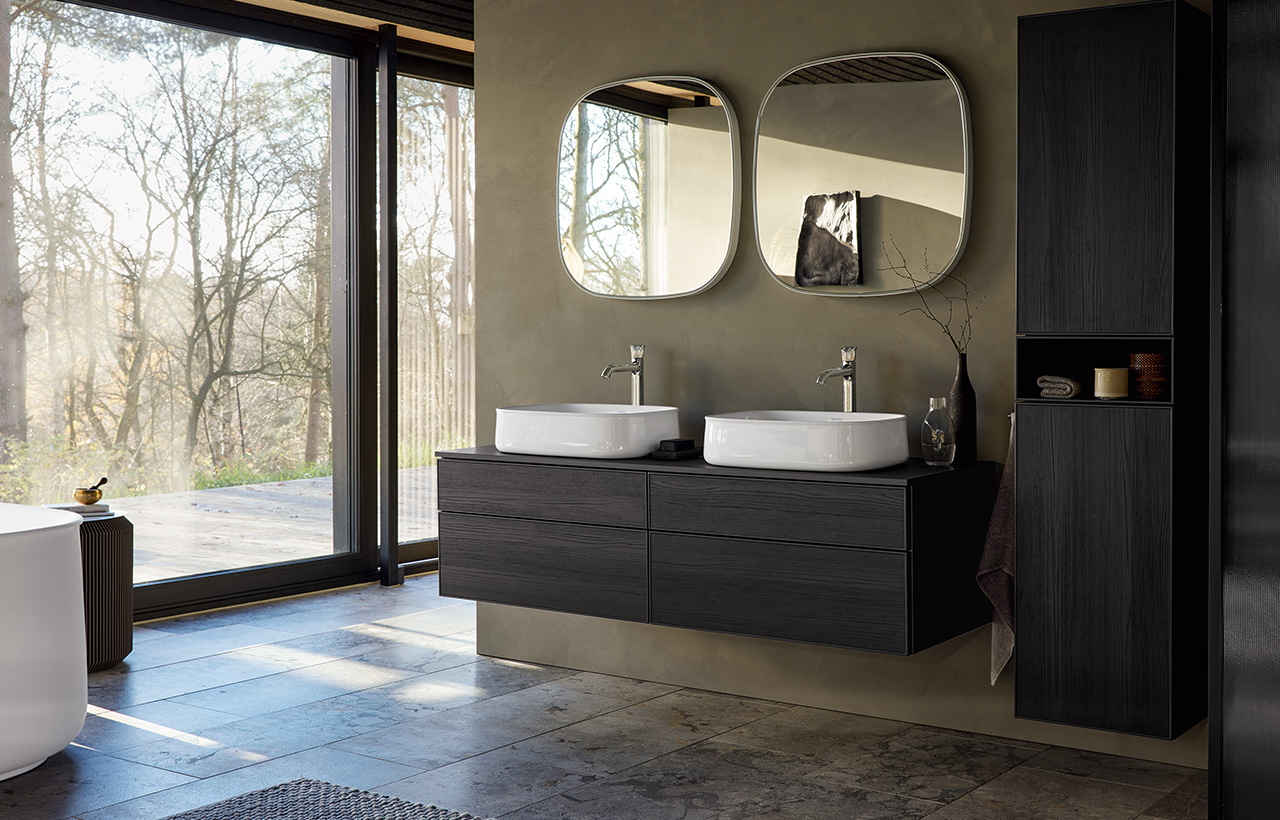 The German bathroom solutions major, Duravit has come up with Zencha - the minimalistic and mindful bathroom collection, designed by Sebastian Herkner. Having been inspired by the traditional Japanese rituals and craftsmanship, Herkner has combined the unusual above-counter basins with minimalistic furniture to shape up the Zencha collection. The most striking feature of the basins and bathtub is the rounded shape that opens into a graceful, outward-curving edge. The dual-walled sanitary objects made from DuraCeram® and DuraSolid® are paired with modular, geometric bathroom furniture with an elegant frame.
Sebastian Herkner, with a keen interest in traditional artisanal trades such as glass-blowing, wood-carving, and basket-weaving, has combined them with new technologies and contemporary design. The philosophy behind Zencha's outstanding design is Herkner's passion for expressing his global observations through designs. "I love going on voyages of discovery and immersing myself in the everyday life of foreign countries."
Designed in a modular fashion, the furniture of the Zencha collection can be deployed in a variety of ways like open shelves or drawers with push-open and self-closing technology.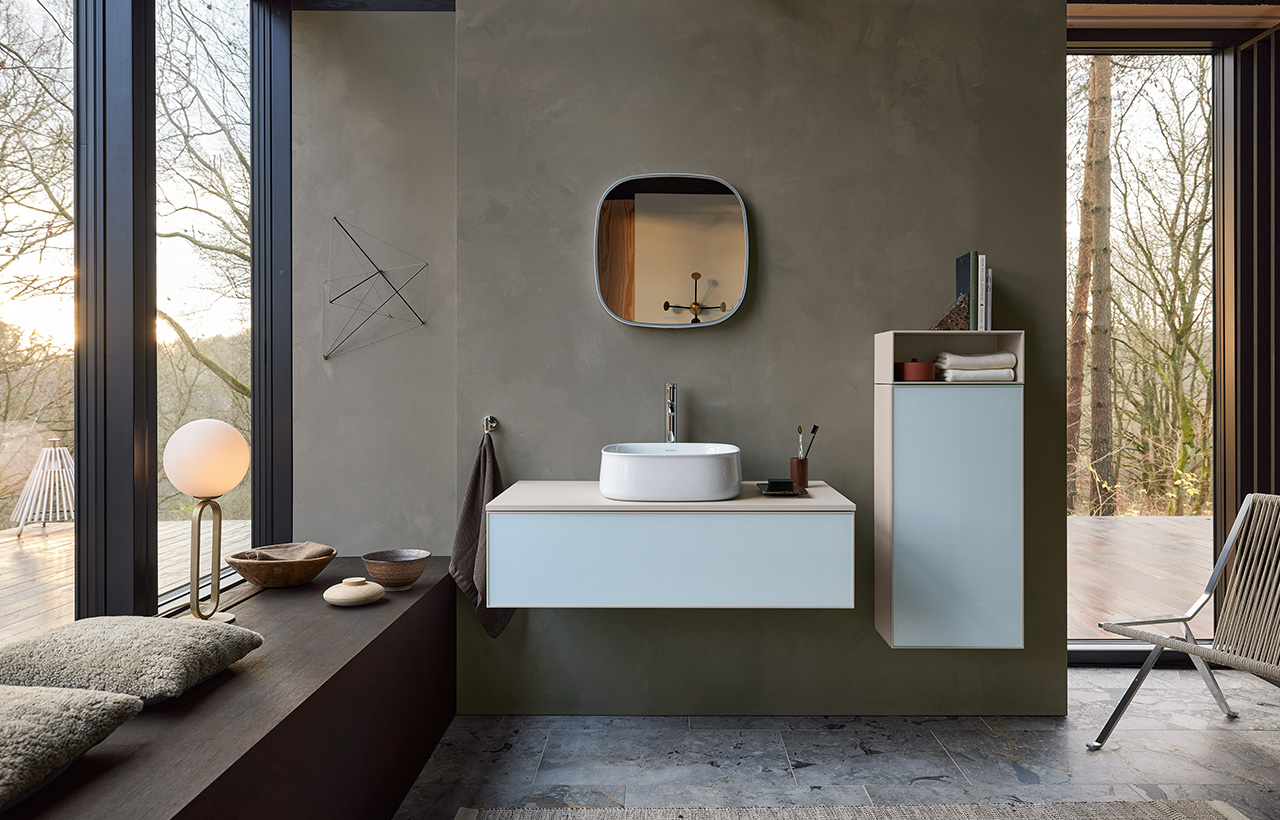 Similarly, the straight-lined design of the furniture creates an intriguing contrast to the organic sanitary objects and complements the collection's subtle material and color concept.
The surfaces of the carcass and frame come with an anti-fingerprint effect, and are available in subtle colors -White Super Matt, Taupe Super Matt, and Graphite Super Matt. The cabinet fronts add a playful element, while the options in Natural Oak and Oak Black produce a warm and tactile effect, White Plate Glass and Black Textured Glass introduce a degree of sensual elegance into the bathroom.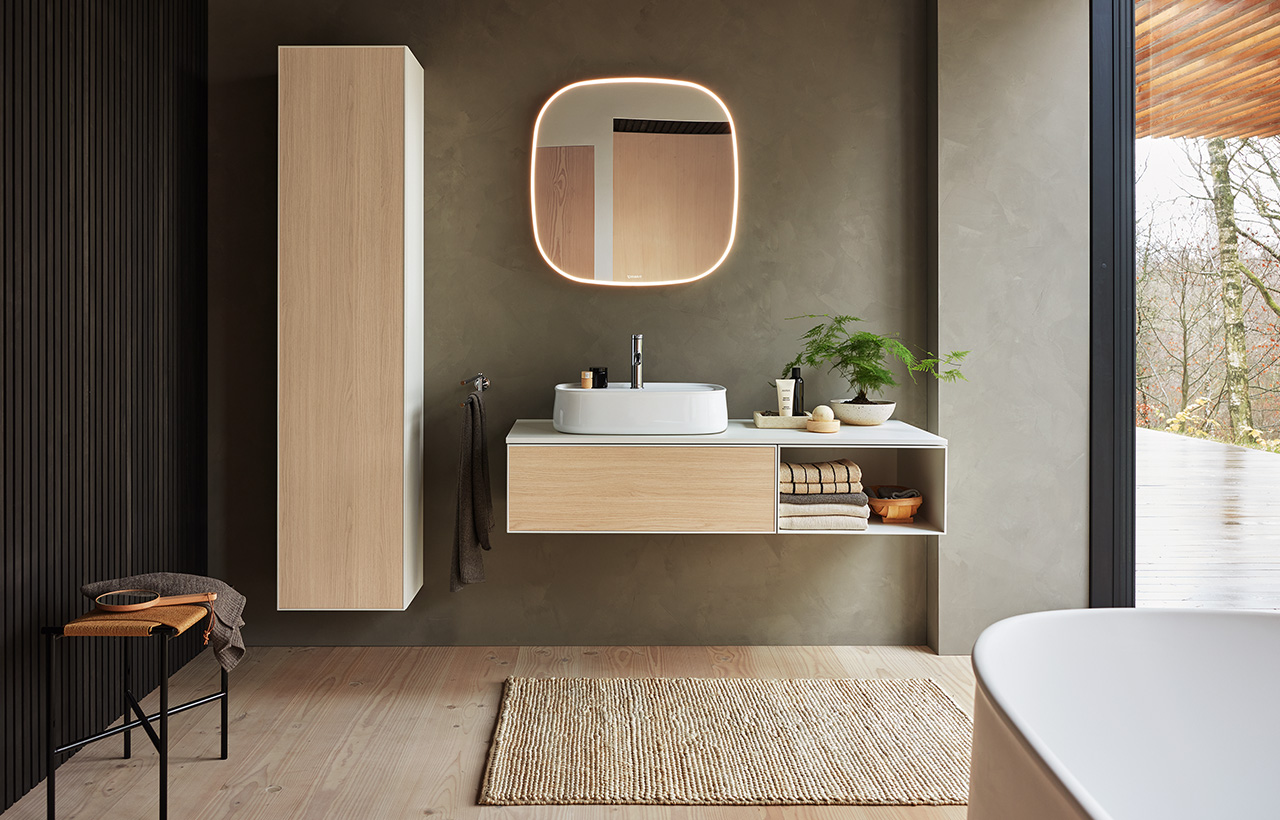 Going forward, the sanitary objects made from DuraCeram® consist of two differently shaped above-counter basins - a curved square measuring 420 x 420 mm and a rounded rectangle measuring 550 x 390 mm – in each case with or without a tap panel, and are available in four colors - White, White Satin Matt, Gray Satin Matt, and Anthracite Matt. Designed as cambered rectangles, the above-counter basins are bulbous at the bottom and taper upwards with an elegant curve.
The square-shaped version of the free-standing bathtub, made from DuraSolid® and measuring 1250 x 1250 mm, is drawn from the square above-counter basin. Bathers are invited to immerse themselves blissfully in the deep water, an experience reminiscent of a Japanese Onsen bath. The Zencha bathtub is additionally available in two compact versions measuring 1600 x 850 mm and 1800 x 900 mm. The bathtub comes with an option of additional features such as an air whirl system integrated into the base for a gentle massage effect.