DUROPLY LAUNCHES INDIA'S FIRST READY-TO-USE PLYWOOD AND BOARD--TECHPLY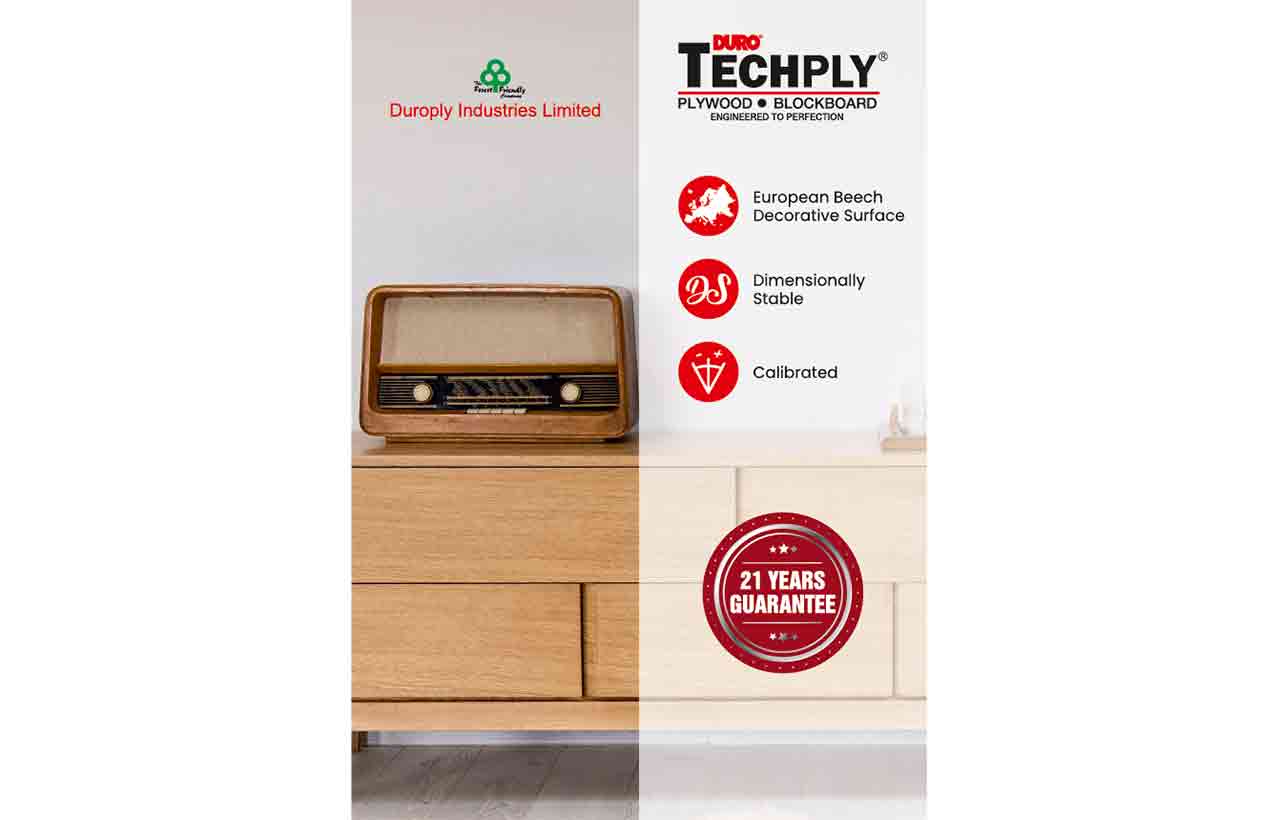 Duroply--India's premium and most experienced plywood manufacturer amongst the leading players--has launched yet another innovative product, 'Techply', India's first ready-to-use plywood and board. Techply is highly customizable product that can be used the way consumer wants.
It has Veneer like finish. So, it can be directly used in furniture. While at the same time, those consumers who wish to use Veneer over it can do so. One can paint over Techply and use. Consumers can do a CNC engraving also to get any design of their liking.
Techply is targeted at aspirational consumers who wish to get their interiors done with branded Plywood. Innovative Company Duroply has offered an industry first 21 years of guarantee on Techply.
The ready-to-use decorative panel, Techply gives total flexibility to consumers: customers can use various types of veneers, such as oak, walnut, and ash over it, while creative customers can get even Laser Engraving done on this product, to get any design of their choice.
Explaining about the revolutionary product, Mr. Akhilesh Chitlangia, Executive Director and Chief Operating Officer, Duroply, said, "We, at Duroply, have customers at the centre of our strategic thinking process. After sensing the need for a product, we go back to the drawing board and craft a product offering that satisfies customer needs. Techply is for aspirational consumers who wish to have their homes or small businesses and offices look like a professional modern smart place. To address unlimited creativity that we see in India, we have made Techply as a highly customisable product. With so much of innovation and research that has gone into making of this product, we have offered an industry first of 21 years of guarantee on Techply to offer, together with quality and flexibility, total peace of mind to our valued customers."
Techply is made from deciduous European Beech Hardwood having a smooth decorative surface. It has highly mechanical properties making it stronger and more solid than other plywood. This makes it highly resistant to stress and can hold screws and nails with precision. It is dimensionally very stable guaranteeing an excellent finish to the product. It is resistant to termites, fungus and other wood destroying insects, tremendously increasing its life span.
Due to its versatility, Techply has practically unlimited usage. It can be used as a separator for Puja Room or Dining Space and after painting, can be used as a door or even door surfaces. With polishing, it can be used in kitchen cabinets or in bathroom furniture. Its very high strength makes it an ideal product for industrial use, such as vehicle industry, ship building, and container floors.
Plywood version of Techply comes with man thickness options of 4, 6, 9, 12, 16, 19 and 22 mm making it widely usable while Blockboard version of Tech Ply comes in 19 and 25 m of thickness.
As Techply is a ready-to-use panel, it saves both cost and time of builders, architects, interior designers and consumers to finish their projects on time, at lesser cost and with excellent finish.
For further information, please contact:
Company: Duroply
Contact No. : 91 6289 123 831
Email Id: vikas.zadoo@duroply.com