Hitachi Expands Its Presence, Opens up a Brand Shop in Dehradun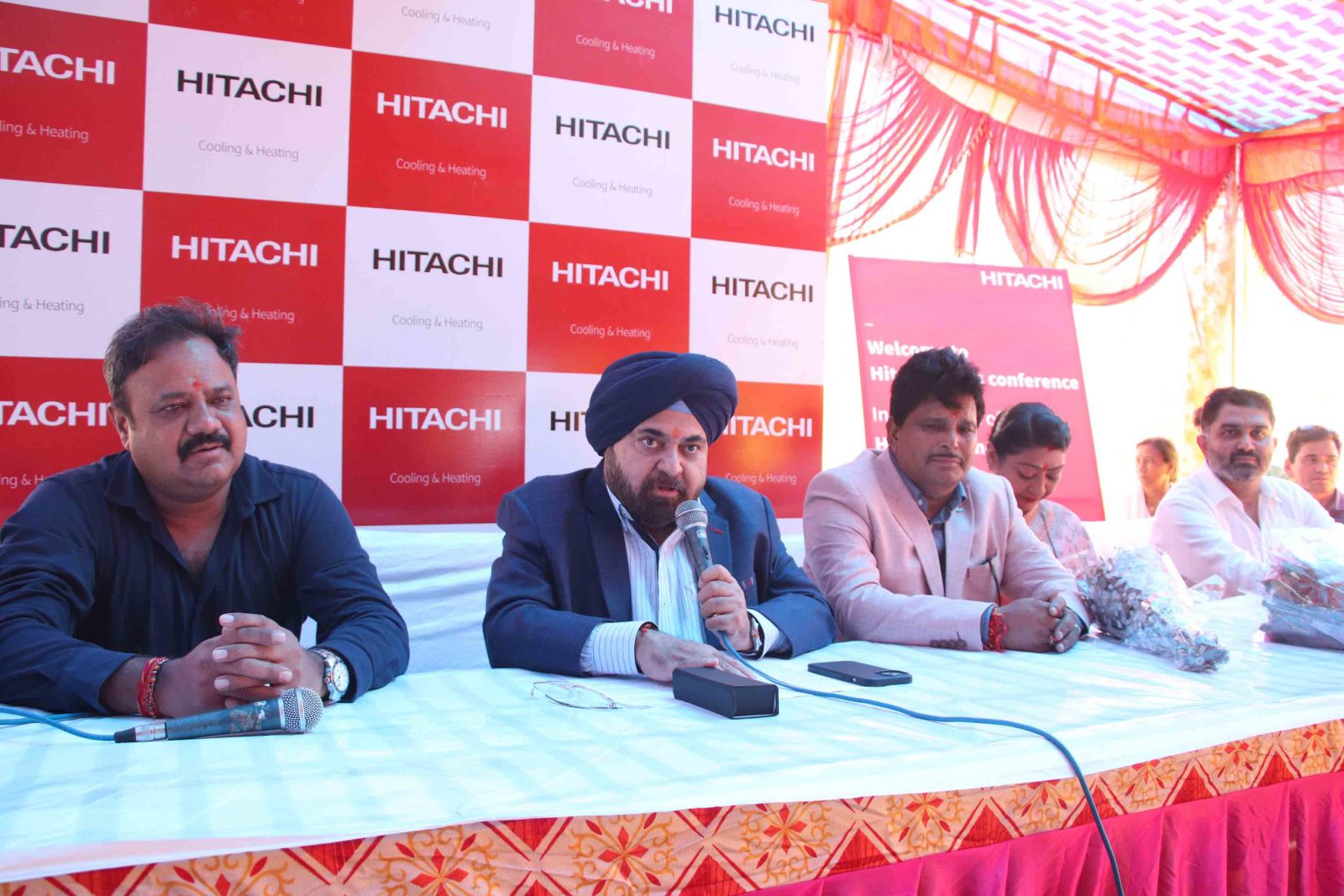 The company is betting big on residential and commercial air conditioning segments in the Garhwal region.

With the altered weather conditions, the need for air conditioning both for heating and cooling have dramatically increased. Staying in sync with this increasing demand, Johnson Controls-Hitachi Air Conditioning India, the manufacturer of premium air-conditioner brand 'Hitachi Cooling and Heating', inaugurated its new 'Brand Shop' in Dehradun. The new Brand Shop was opened in partnership with Garhwal Aircon Pvt. Ltd.

With the growing air conditioning market in the region, the company is betting big on residential and light commercial segment. Hitachi Cooling & Heating India has laid down aggressive expansion and growth plans for next 2-3 years. Promising growth is expected in both residential & commercial segments. A lot many offices, restaurants, hotels, hospitals, shopping complexes, and showrooms are coming up along with increased government spending in the state of Uttarakhand that is enhancing business prospects in B2B sales.

Aiming at sustained growth and increased market share, the brand is working on significant network expansion and widening distribution network in the region over the next 2-3 years. Investment of more than Rs. 6 Crore would be done to nurture the business in the region. The company plans to open more exclusive outlets and multi-brand outlets in the region to establish a better retail footprint.

The new age informed customer is more sure of what they desire from their air conditioner. Tapping into this aspiration to get the best possible air conditioning solution for their space, Brand Shop offers an excellent product experience to make informed purchase decisions. The company offers a wide range of innovative products catering to the needs of end customers, architects, consultants and builders, who are looking for path-breaking air conditioning solutions for all kinds of residential and commercial spaces.

Gurmeet Singh, Chairman & Managing Director, Johnson Controls-Hitachi Air Conditioning India Ltd., said, "Cooling and heating solutions have become an intrinsic part of our daily needs. Altered weather conditions, changing lifestyles and the aspirational need for futuristic technology makes Hitachi a preferred brand with new informed customers. The air conditioner market is booming in the region with demand coming from residential, commercial as well as small commercial segments is creating a huge opportunity for the brand to grow."

According to him, anticipating the prospects, the brand is geared up to increase its presence to cater to needs of the region. "With new Brand Shop we are offering one of the best offline product experiences in the country. We are happy that in this journey Garhwal Aircon Pvt. Ltd. is our partner. We expect brilliant success from this association," he added.

Speaking on the occasion, Vishal Negi, National Sales Head, Johnson Controls-Hitachi Air Conditioning India Ltd., said, "Due to low penetration so far the region has immense potential for business growth. As the demand increases, business will flourish. Combining the strengths of Hitachi Cooling and Heating with Garhwal Aircon Pvt. Ltd. will result in mutual growth. We are delighted that our journey would be supported by such a dependable partner and we are optimistic about the great results we will generate together."

Talking about the launch, Bhawan Singh Bhandari, Director, Garhwal Aircon Pvt. Ltd., said, "Hitachi Cooling & Heating India's superior products match the aspirational needs of today's informed customers, and the innovative features add more to the appeal. The brand commands high acceptance and so it is our great pleasure to associate with it for this new brand shop. Together our strengths would complement each other and translate into great success."

The 'Air Expert', Hitachi Cooling & Heating India is setting new benchmarks in the residential and commercial air conditioning segment by introducing its innovative cooling solutions. North market is rapidly opening new avenues for growth for Hitachi, and it aims to further strengthen its position by offering innovative, futuristic smart solutions, riding on a considerable shift from regular split ACs to more innovative and aspirational premium cooling solutions.

For residential users, Hitachi Cooling & Heating India offers premium looking, technologically advanced Room air conditioners that are loaded with features and innovative technology such as Ambience Light, FrostWash Technology, air Cloud Home for Wi-Fi enabled ACs etc. The company also offers Shizuka Inverter window AC, which offers a silent operation of 44 dB and is paired with Hitachi's own expandable inverter technology to enhance consumer's comfort.

The company also offers cooling solutions with VRF-based technology, which is gaining immense popularity in India owing to the flexibility of usage and energy-efficient cooling merits. With increased adoption of VRF system in the construction sector in the commercial & residential segments, an upcoming market like Dehradun offers great growth prospects. The company offers SET FREE Sigma, Side Smart and SET FREE mini, three innovative products offering a diverse range of application areas, power-packed with the added advantage of choice of indoor units and controllers.

Adding to its list of other innovations in air conditioning, the company has introduced Silent Iconic™ 4-Way Cassette Indoor Unit, air Cloud Pro (an innovative IoT VRF management mobile app), Flexi Split Light Commercial Air Conditioners etc. With its bouquet of diverse air conditioning solutions, the company has "one for everyone".

With a presence spanning more than 10,000 retail touch-points and leading e-commerce platforms, the company is all set to tap into the lesser penetrated Indian AC market, not just in Metro and Tier 1 cities, but also in Tier 2 and 3 cities as well. Bridging the gap of accessibility further, the company offers easy finance schemes & warranty offers for a seamless pre-sale experience and diligent after-sales services for a hassle free post-sale experience.
About Johnson Controls-Hitachi Air Conditioning India Ltd.:

Johnson Controls-Hitachi Air Conditioning is a joint venture company of Johnson Controls, US, and Hitachi Appliances, Japan. Through this joint venture, we have combined the rich heritage and innovative technology of Hitachi with industry-leading expertise and a global network of Johnson Controls. Headquartered in Ahmedabad, with a manufacturing plant in Kadi, Gujarat, Johnson Controls-Hitachi Air Conditioning India Ltd is amongst the top air-conditioning companies in India. It anufactures a wide range of products under the Hitachi Cooling & Heating India brand, such as room air-conditioners (Split & Window ACs) to commercial air-conditioners including VRF Systems, Cassette Air conditioners, Ductable air-conditioners & Chillers. The company is not just limited to making air conditioners but also, into trading of Refrigerators.