Alstone: Designing And Making High-impact Designs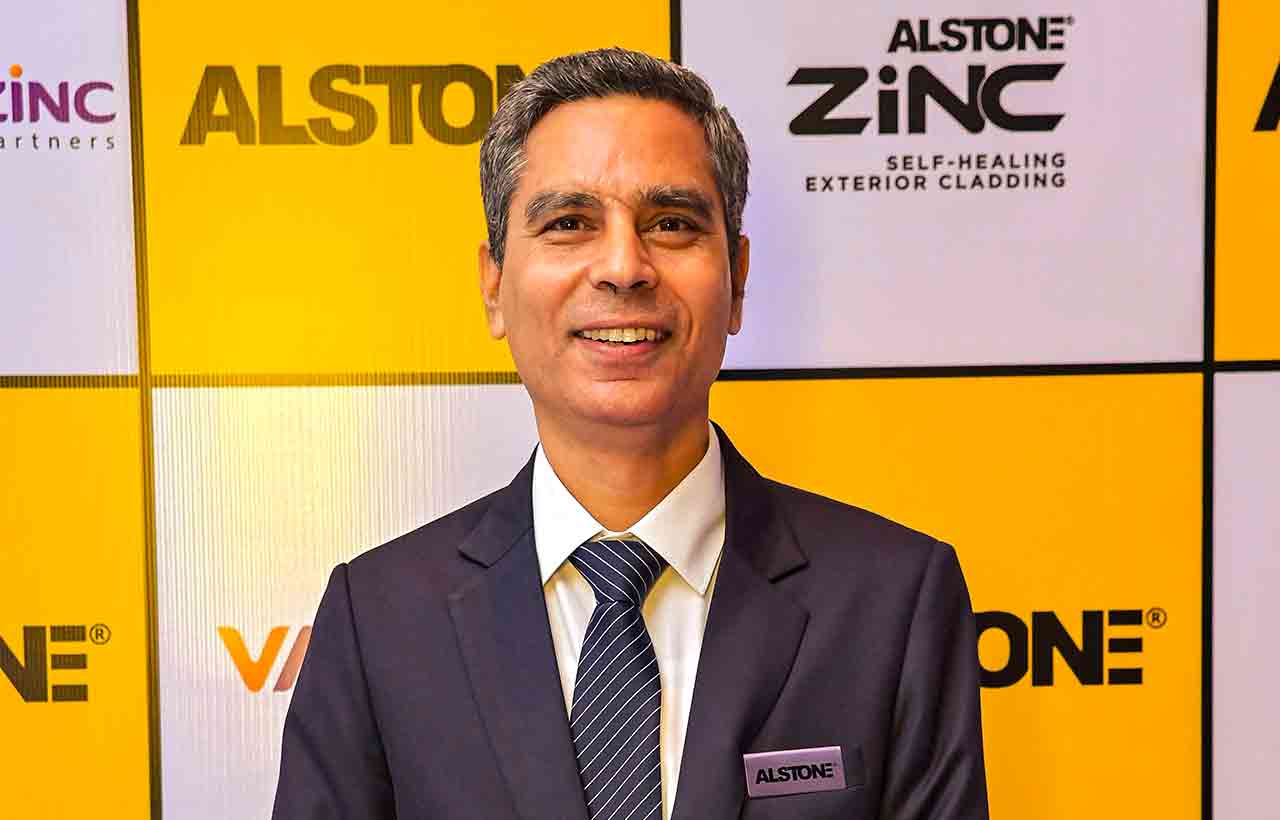 Pankaj Malhotra, National Sales Head
Alstone has a long history of stability, excellence, and quality. After being in the market for at least two decades, it's now the preferred choice of architects, builders, and installers for high-quality aluminum composite panels. If your goal is to make a high-impact architectural statement, with stunning and enduring architecture, Alstone is the perfect material selection. For insights and information on the company's future objectives, read this exclusive interview with Mr. Pankaj Malhotra.
In what ways are your products different from others, and how are they beneficial?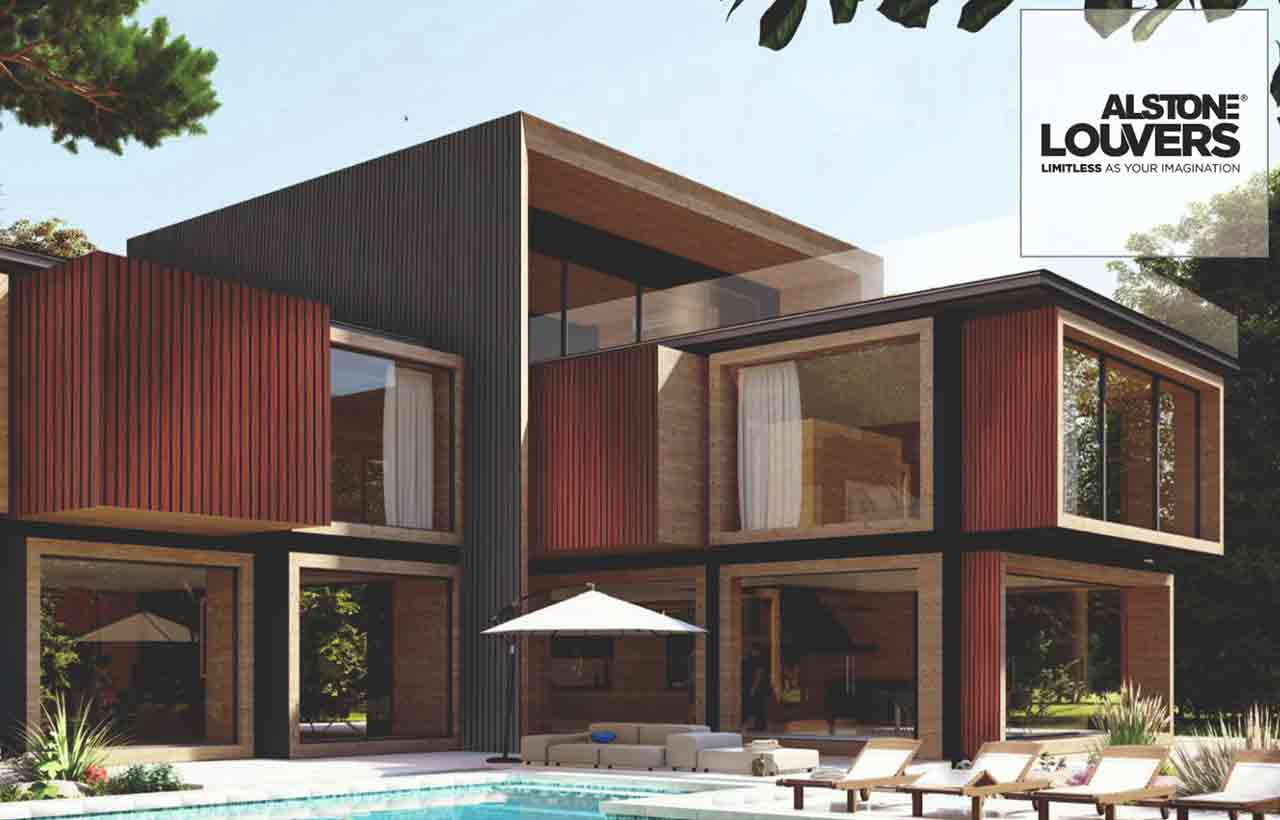 Alstone has been a predominant participant in the manufacturing of a wide range of Metal Composite panels used in exterior Cladding for almost two decades now. We have delivered nearly 500 million Sqft of Aluminium composite panels (ACP) and manufactured set up in India and Dubai catering to the national and international markets. We have our own coating line for providing customised shades to consumers in time. We are a diversified business group having a vertical of clear flat glass and container glass. Also, we are now getting another plant for solar glass (used in solar panels)
The available Product in the portfolio are:

ALSTONE-CLASSIC, EVOLUTION, ANTIQ, STONERA (Aluminium composite panels)
ALCOMB (Aluminium Honey comb panel )
ALSTONE FR grade MCP(Fire retardant Metal composite Panel)
ALSTONE ZINC (Zinc Composite Panel)
ALSTONE HPL(Aluminium based High-Pressure Laminates)
ALSTONE LOUVERS ( Metal composite panel-based Louvres)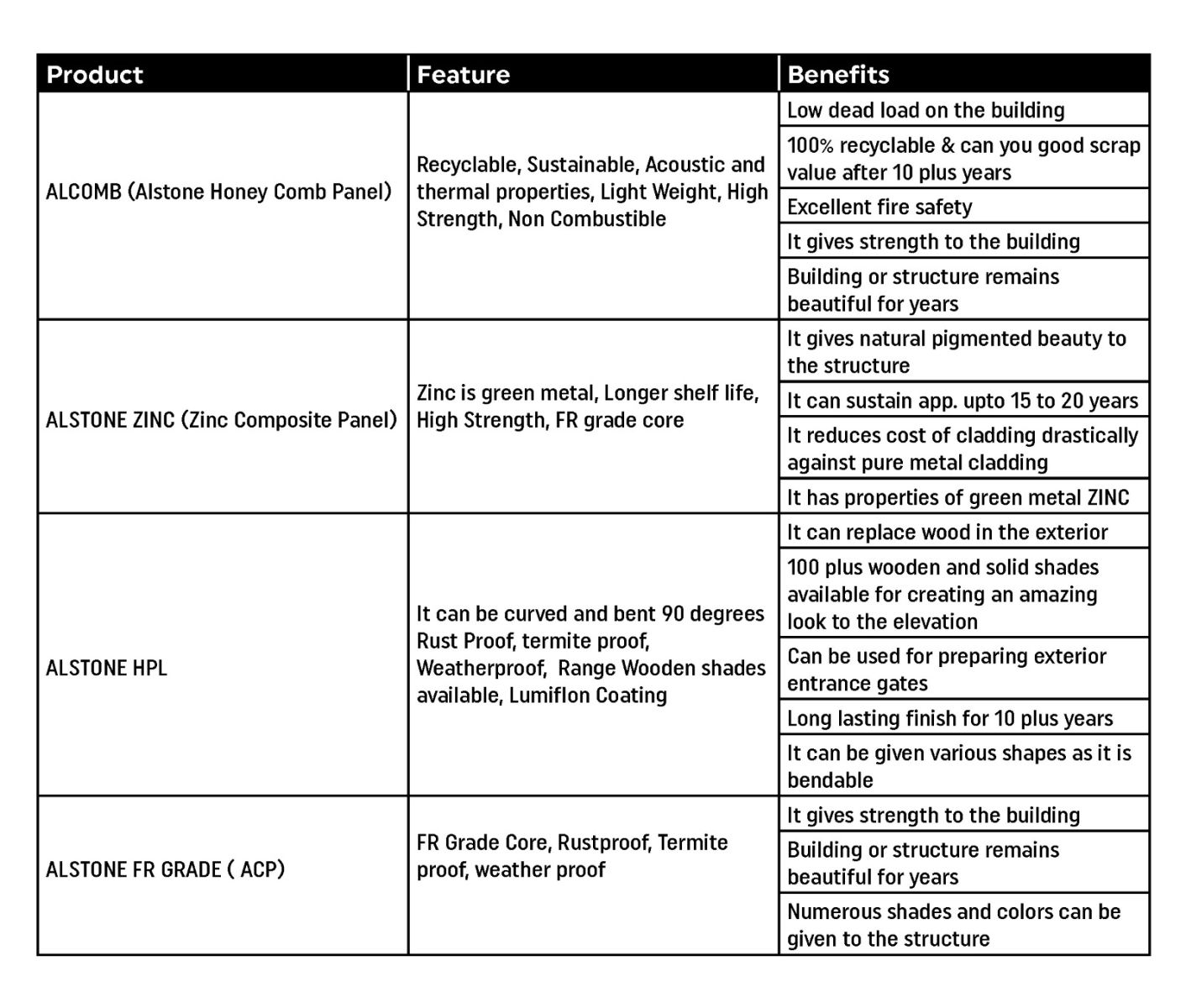 What is your manufacturing process, and how do you ensure the quality of your products?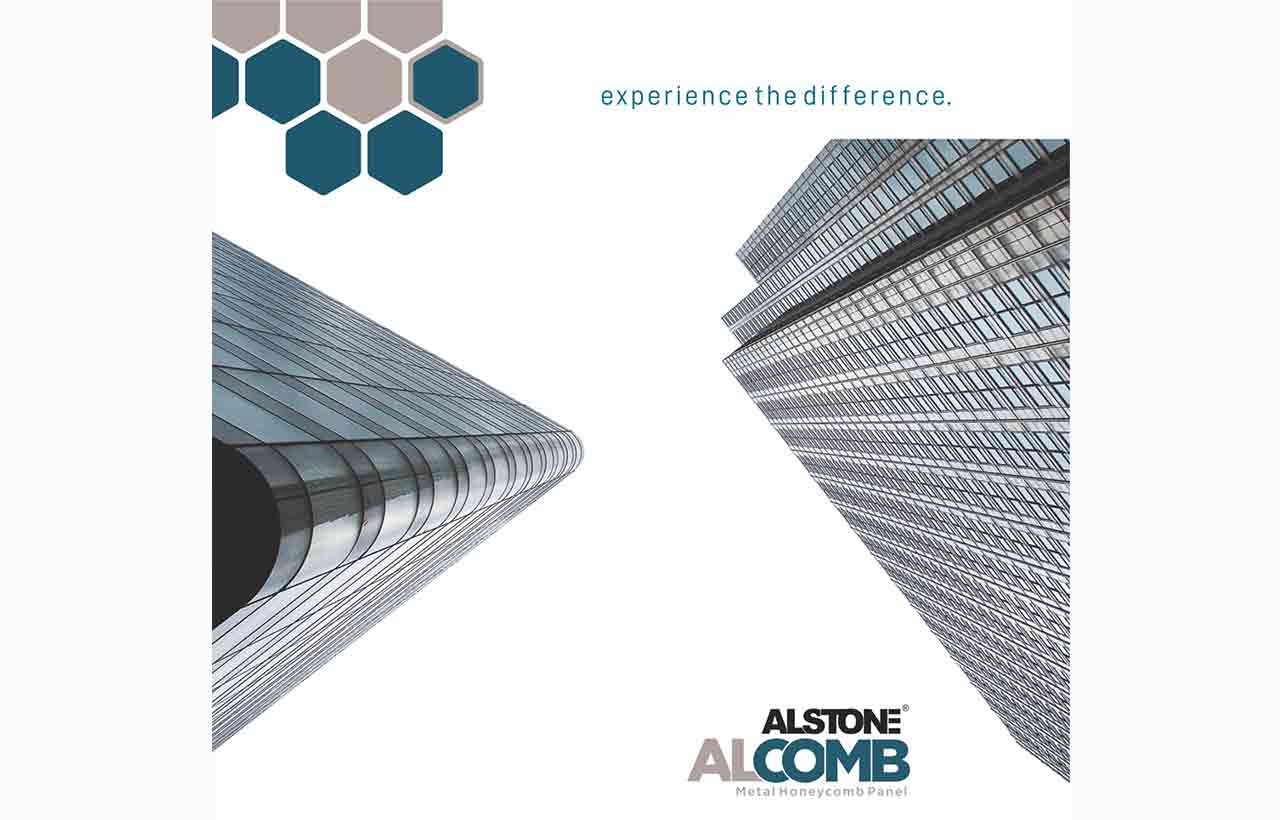 Putting it simply in layman's language, it's a polymer core embedded in between two metal skins with adhesive inside which then are laminated under a particular temperature resulting in an Aluminium composite panel. A few changes are done in the process while we produce value-added products, like ALSTONE LOUVRES, HONEYCOMB PANEL, and ZINC COMPOSITE PANELS.
To maintain the product's quality, three critical parameters

Raw material: We have taken raw materials for almost two decades from certified
Vendors with tested parameters to ensure the same quality and specifications are met every time without fail.

Production Process: We have state-of-art manufacturing facilities one in Dehradun ( Uttrakhand- India) and the other in DUBAI from where we serve international customers with the brand name "EMERGE".

Testing: We have all the requisite certifications from TBW (Thomas Bell Wright – Dubai)
Also, we have coating and paint certifications from international agencies. Further, we get testing done from accredited labs and IIT, etc., as per the project requirement. Moreover, we ensure that all the product lots are tested on critical parameters of strength and durability in our in-house lab before leaving the manufacturing facility, reassuring ourselves that we deliver the same trust and quality to our consumers every time.
How do you innovate and develop new products to meet changing market demands?
We keep working towards providing end-to-end solutions to all the stakeholders.
This makes it simpler for us to innovate for instance let's see some stakeholders and their needs.
Architects are looking for newer aesthetically beautiful shades which are natural yet eco-friendly along with robustness and durability.

Converters are looking for application systems that can help them install our product faster and smoother, with an outcome of a seamless facade and sturdy backing system.

Consumers are looking for fire safety, an aesthetically unique elevation with which they can feel proud along with a sustainable robust structure, which can last longer.

Value for money is the key factor here as well.

Environmentalists & Government are looking for all green and sustainable building materials with Fire safety along with durability.
ALSTONE as a Brand, we keep surprising all the stakeholders with some unique innovative features to ensure that we enjoy the same loyalty and also ensure that we surpass their expectations and get happiness. These stakeholders and our own dream of becoming the most preferred brand in the metal Cladding industry keep us on our toes and hence innovation is just an outcome.

How do you make certain that your products are environmentally friendly and sustainable?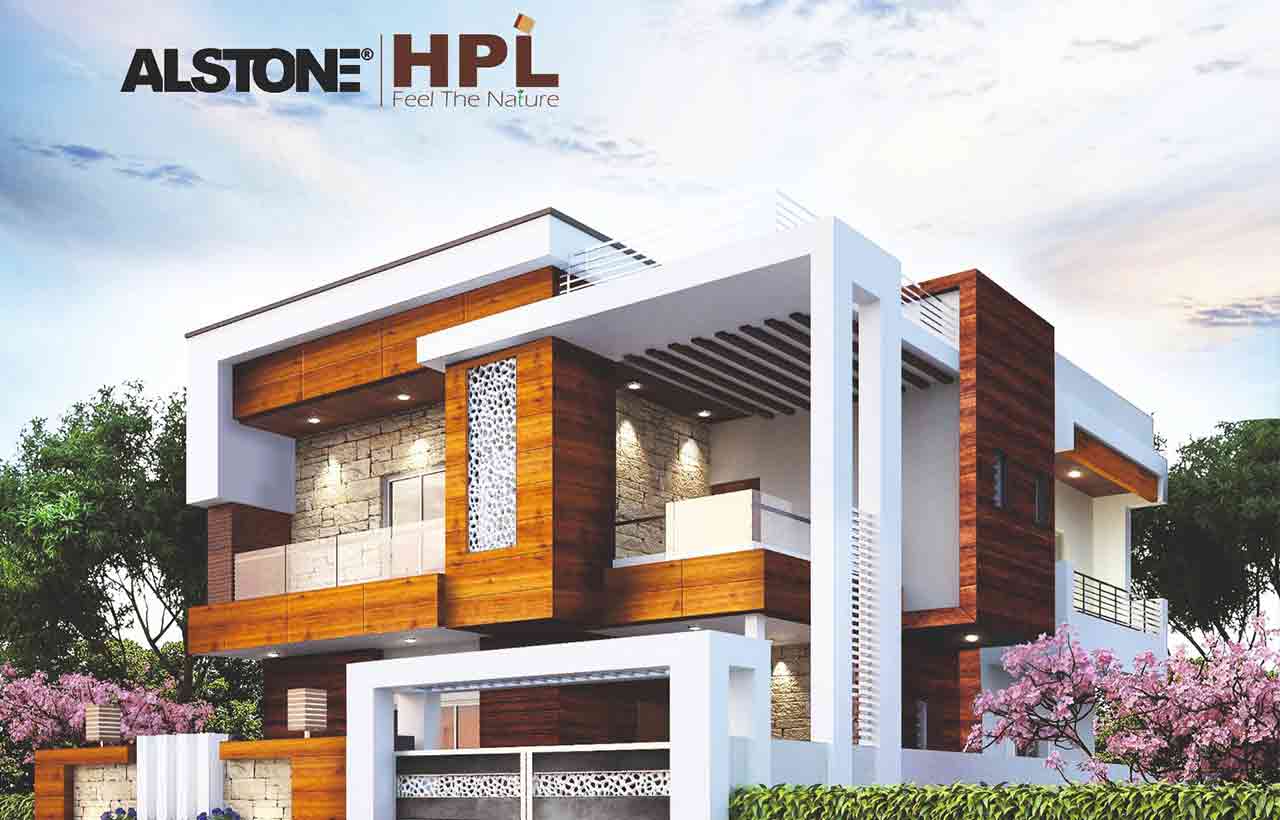 Nowadays, the buzz is all about carbon credit points, green materials, sustainability, and eco-friendly solutions. To align ourselves towards this, we have recently launched ALCOMB—ALSTONE HONEYCOMB PANEL, This is one of its kind metal cladding material, which is completely made up of Aluminium which means both skin and Core.

Sustainable: When you remove the façade, it can simply be put as scrap in the furnace and recycled into aluminum sheets again.

Fire safe: Since it's made up of aluminum metal only, so comes under the A2 category of Fire retardant product.

Acoustic and thermal Properties: Due to the Honeycomb structure, it has properties where it reduces noise to a certain extent and has thermal insulation as well.

Lightweight: It's one of the lighter Cladding materials available in the industry reducing the dead load on the building.

All these parameters make ALCOMB an environment-friendly and sustainable cladding solution without a speck of doubt. Along with this, we can have 100s of beautiful shades to give cladding an unmatched aesthetic effect.
ZINC HONEYCOMB PANEL & ZINC COMPOSITE PANEL: To produce Zinc base environment-friendly Cladding products, we recently tied up with VM ZINC, a 187-plus years old French company that has been a pioneer in Zinc metal roofing and the cladding world over.

This association predominantly allows us to use ZINC as a base material which is treated as Green metal worldwide for its self-healing property and huge shelf life. At ALSTONE, we are surely committed to Green, safe, environment-friendly, and sustainable Cladding solutions for future INDIA.


What's your distribution strategy, and how do you guarantee the timely delivery of your products?

We have 16 branch offices and warehouses across INDIA from where we ensure timely delivery of our products PAN INDIA and our state-of-the-art Coating line to ensure provide Consumer's customised shades in cladding faster and smoother. Also, we have a dealer/distributor network of 350-plus channel partners to serve our customers and consumers (OTIF) On time in full.

How do you identify and evaluate potential channel partners to support your vision in terms of training, marketing, and other resources?
We definitely look into the parameters while identifying channel partners. The requisite financial capability to run our business and Invest with devoted Involvement and Interest in innovating techniques and infrastructure for distribution, manpower, space, mode of transport, back-end management, etc. If anyone scores well on all these basic parameters, we shortlist him to be our channel partner.
We have a sales team that works with the channel partner to help him generate business.

We provide him with all the merchandise and POP ( point of purchase ) material

for ensuring visibility and brand awareness

We do influencer meets for creating awareness and knowledge about products

and applications to provide end-to-end solutions.

We provide them with an innovative product range to be competitive in the marketplace.

We do ATL activities across platforms digital & conventional to strengthen brand recall

We do technical presentations with next-level influencers (Architects& Engineers).

We participate in Exhibitions and Seminars for better product awareness and brand building.
Can you provide examples of projects where your products were used, and how they contributed to the success of the project?
We have cladded structures across--ranging from hospitals, hotels, colleges, Shopping malls, Airports, Metro stations, commercial complexes, residential villas, Petrol pumps, corporate shops, etc. We are one of the eminent suppliers to Indian railways as well. There are numerous projects which have been landmarks in this journey of two decades. But just to exemplify some recent ones, SHIVMOGA Airport. This was recently inaugurated by our Honourable Prime minister Mr. Narendra Modi ji. We have an ongoing project with the airport authority of India in Hyderabad where HONEY COMB Panels have been used extensively (CARO Building).
How do you support your customers in terms of product installation, maintenance, and repair and handle customer complaints or issues?
As we are the only manufacturer of the metal composite cladding material, our sales team suggests experienced applicators to the customers who do the installation. Since our products are in the low maintenance category, yet on a regular building, Façade must be cleaned without any chemicals at regular intervals to keep it shiny and alluring. We believe in providing a quality product as per parameters to avoid inconvenience to the consumers. Yet, in case of a complaint, we have a quality and service department where team member visits the actual site and assess the actual problem and provide the relevant solution. Here, let me also use this platform for awareness purposes. Normally, consumers don't clean the façade at regular intervals causing some shade variations, which, in many instances, are restored just after the cleaning. Our team does this in most cases while the complaint is raised. In case of any manufacturing defect, we do provide replacement of the product.

How do you stay ahead of competitors in the industry, and what's your strategy for growth & Expansion?

Our CMD Mr. Sumit Gupta believes in quality and innovation, which clearly means that we don't compromise on any quality parameter. Hence, we continue to enjoy the patronage of our customers for almost two decades now. Secondly, he devotes most of his time to innovation-- be it product, application systems, Environment-friendly products, providing end-to-end solutions, customer delight and Service, Value for money, process orientation, etc. We are consistently working multi fronts from future-ready products, services, application systems, HR development, automation, and diversification to keep ourselves on a growth path and ahead of industry growth.