Emphasizing On The Need of Good Architecture in Tier 2 & 3 Cities In Conversation with Ar. Parag Agarwal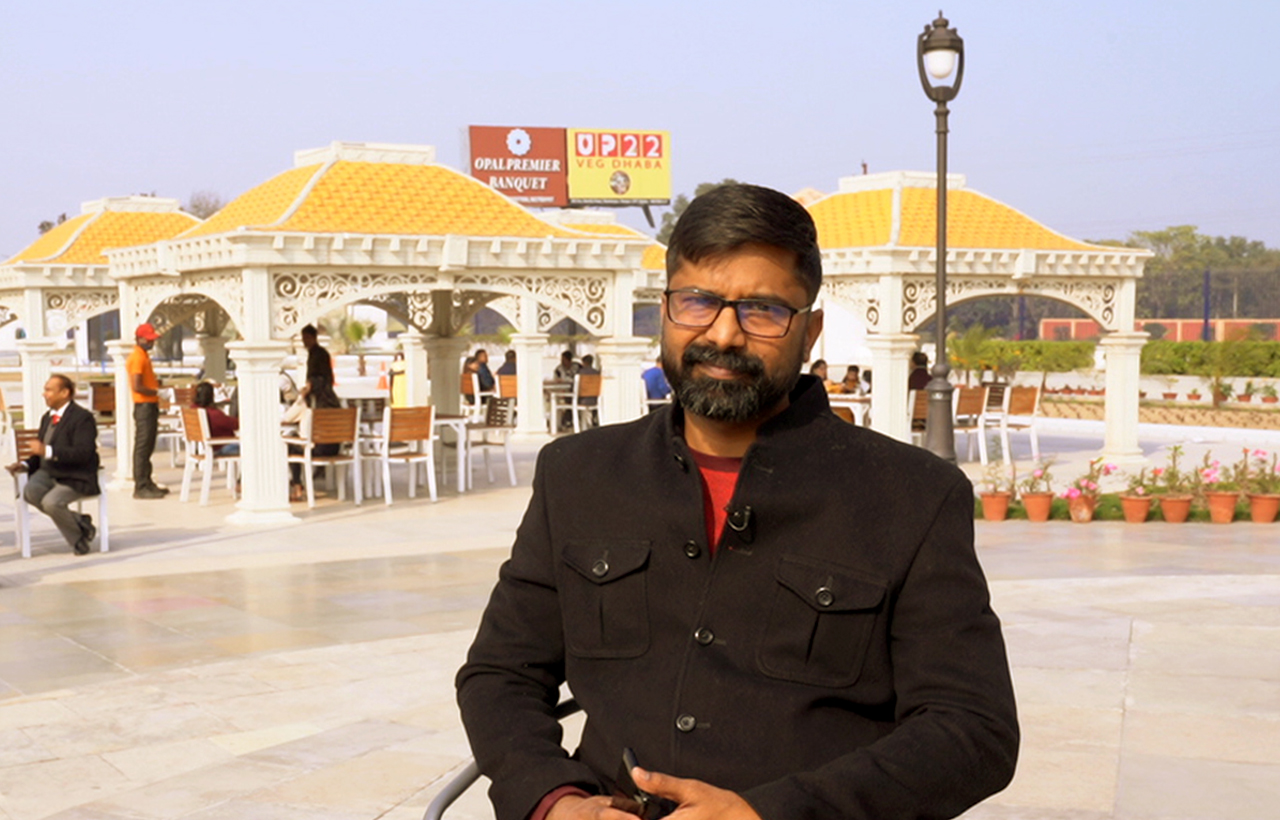 Building Material Reporter chats with Ar. Parag Agarwal from Parag Agarwal and Associates, Moradabad. Agarwal stresses on the need for good architecture in Tier-2 and Tier-3 cities, and explains it beautifully with his new project UP 22 VEG Dhaba in Rampur.
BMR: The design concept is unique and interesting, what inspiration did you have?
PA: First of all when Mr Singhal from Rampur, owner of this property came to me with the project and we had a site visit. When we came there site had green farms and I felt that we could create a unique architecture that will be the highlight and eye catching, for every passerby should not pass the project without stopping and noticing it.
In the mean time I had a chance to visit to Spain and was inspired and fascinated by the country houses and villas. And prompted me to give a unique identity inspired by Spanish architecture. But I was scared about the execution of it, the property has a huge frontage and it was a challenge for me to put the unique Spanish architecture in the given setting.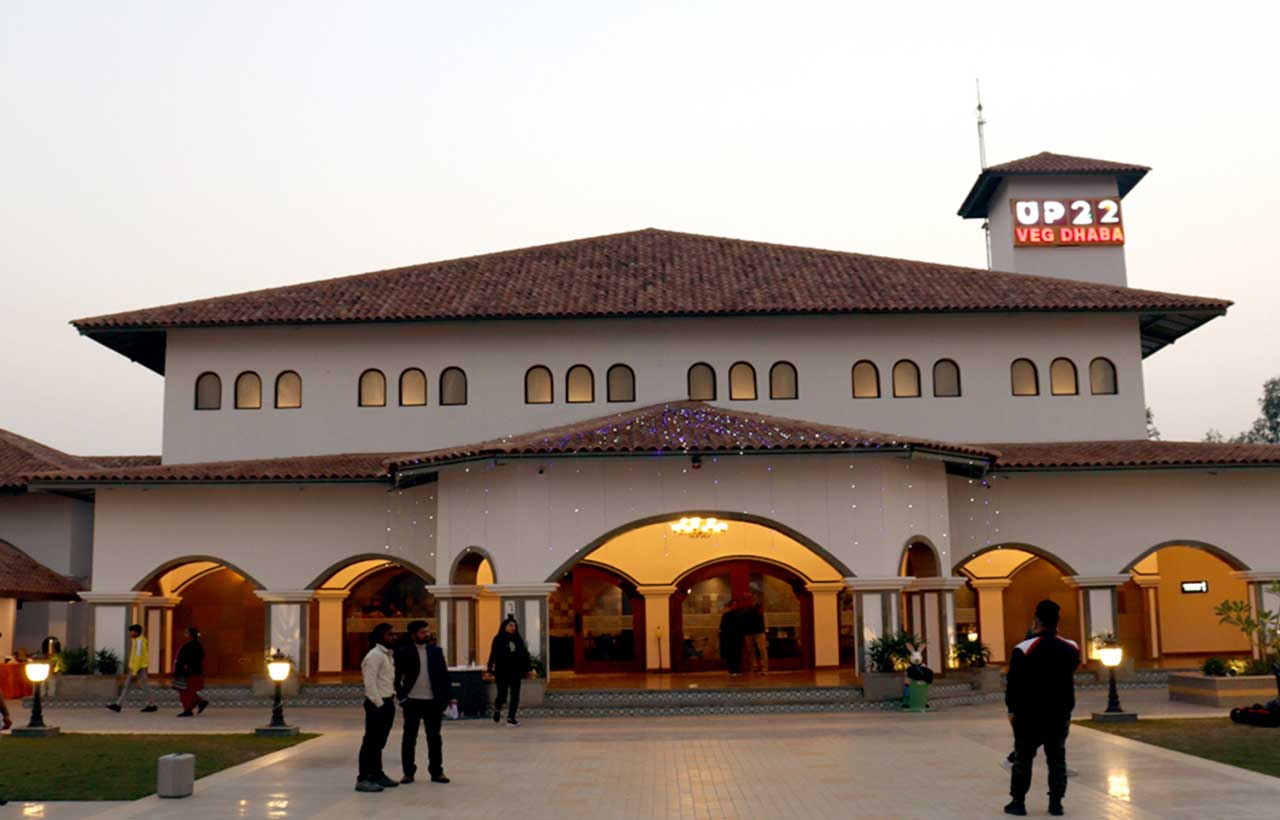 BMR: The design implementation on site is marred with challenges, what were these challenges and how were they overcome?

PA: The main challenge was the materials that we had finalised and we didn't have the skilled craftsman and mason to make the project happen. So this whole building has the flavour of Mediterranean architecture which is very unique and I want to keep it as it is. And simultaneously the material I want to use has an earthen look and is rich in texture and it was a challenge to get it done with local labor.
Read More - Rebounce: Country's 1st Recreational Game Park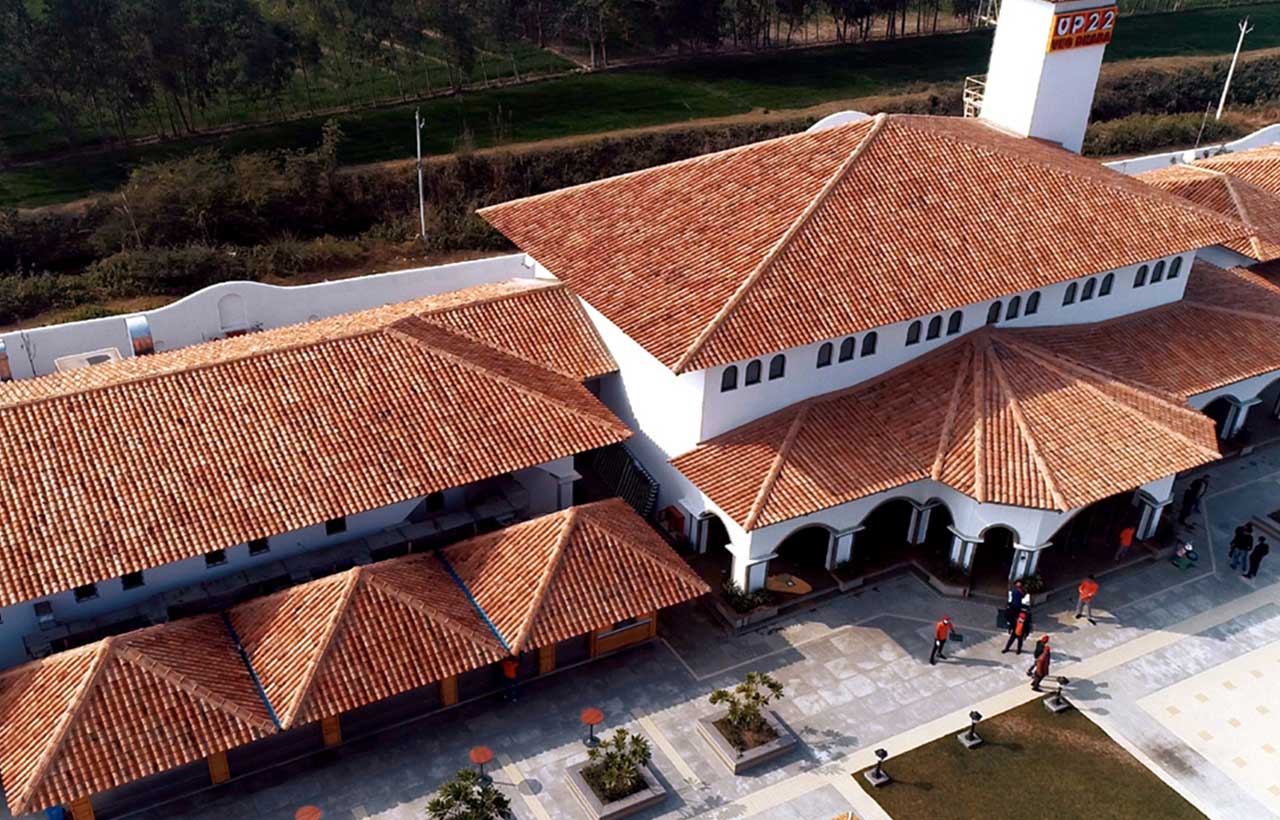 BMR: What are the unique materials that you have used in this project?
PA: The design concept itself dictates the type and quality of materials. In this project, we are talking about Spanish countryside architecture and it need raw & earthy materials, the texture and make of it, and how it is made not processed factory materials. We were hunting for materials like Kota stone on the rougher side of it and not the sheen side of it, and in Kota stone, we have gone for a yellow Kota stone and not brown Kota stone giving a different flavor.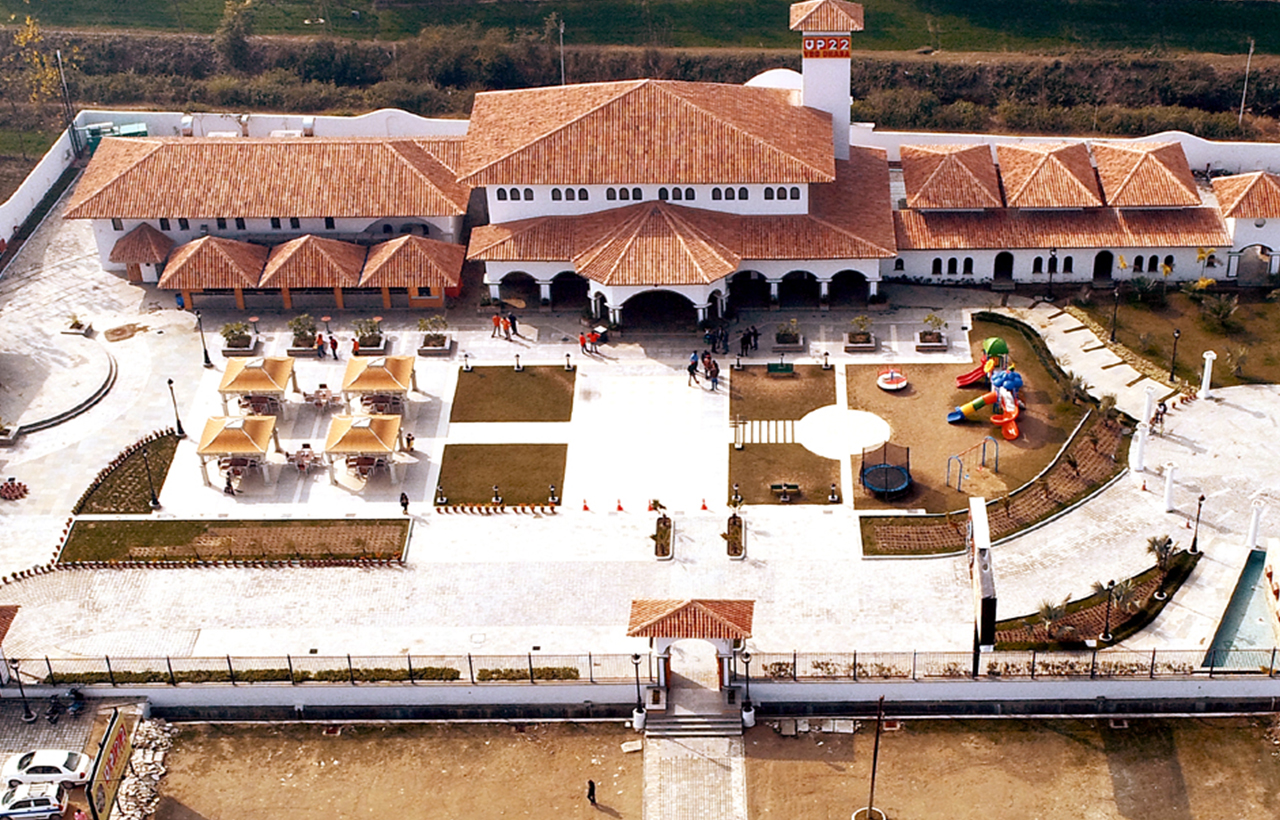 For the roofing tiles we have gone for mud tiles and it was a long search for them. I did a search on the Internet and all the tiles were available, however, I wanted all the tiles to be unique, and it was only possible if its handmade. But if you go with the handmade tiles we could get quantity, details, and perfection of it and it was a big hunt. We saw clay tiles, and concrete tiles but it could not fit the imagination I had for this project. Then my search for tiles finally ended on Tejas Borja. It matches my taste, and earthiness, and the best part of handmade tiles is that each tile is different from the others no two tiles are similar and despite this I wanted accurate tiles and it was rare to get them. In this context, Tejas Borja matches my requirements in terms of texture and earthy color.
Like a baked product and it has a unique color. The owner Mr. Singhal traveled to Delhi and contacted Mr. Dharmendra Dhari of Blooms India and he showed me the sample I was very happy and my search ended for Roof tiles.
Read More - Prefabricated Housing- A Concrete Solution for the New Construction Era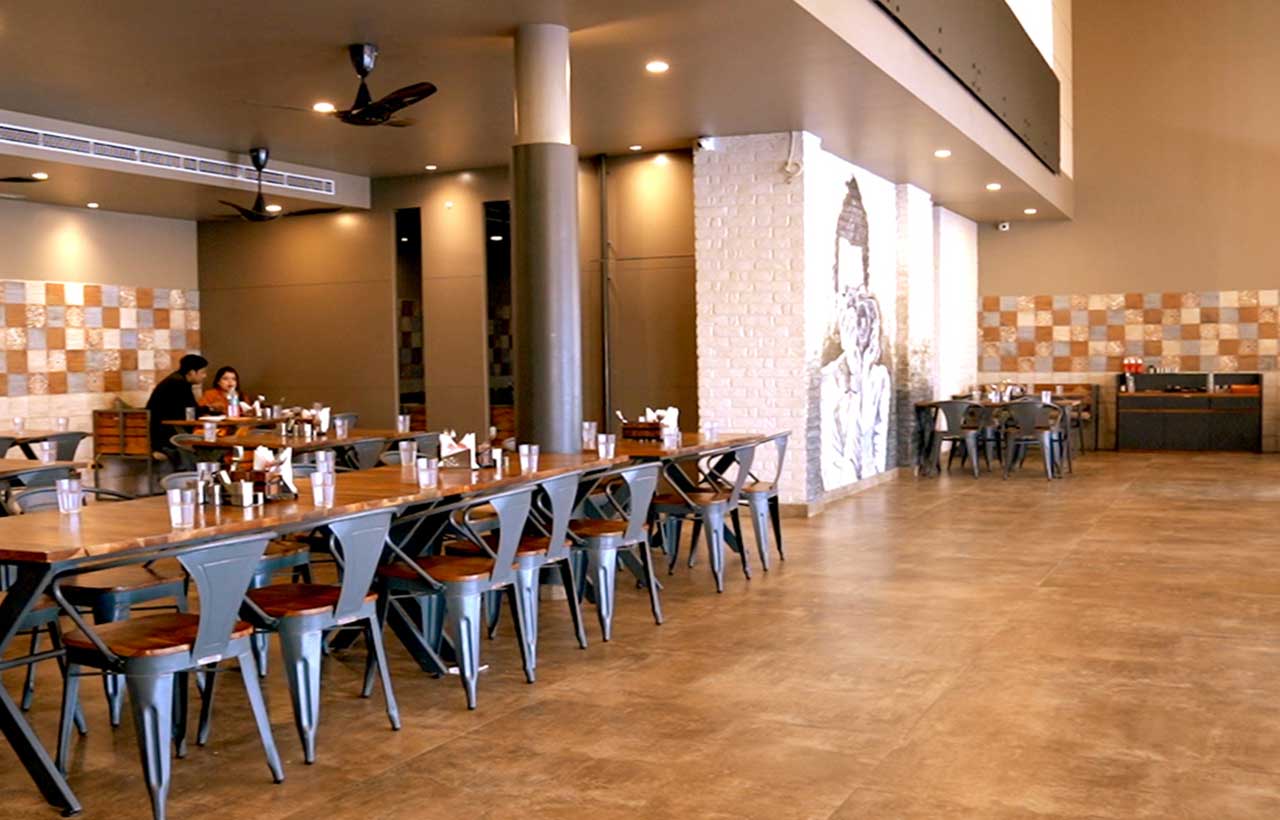 BMR: How did you zero in on clay tiles for roofing from the vast options available in the market?

PA: The concept and theme of the project was that I wanted to depict the rural side as the site was surrounded by farms and I needed a kind of material that matched the site context and nothing better than Mud, which after baking comes out reddish, some are baked and some are half baked can only be done in handmade tile.
After baking mud bakes none uniformly and organically adding a kind of natural texture to the roof giving it a distinct flavor. The importance of these clay tiles was that the dimensions were perfect and accurate making it easier to install the tiles and errorless process.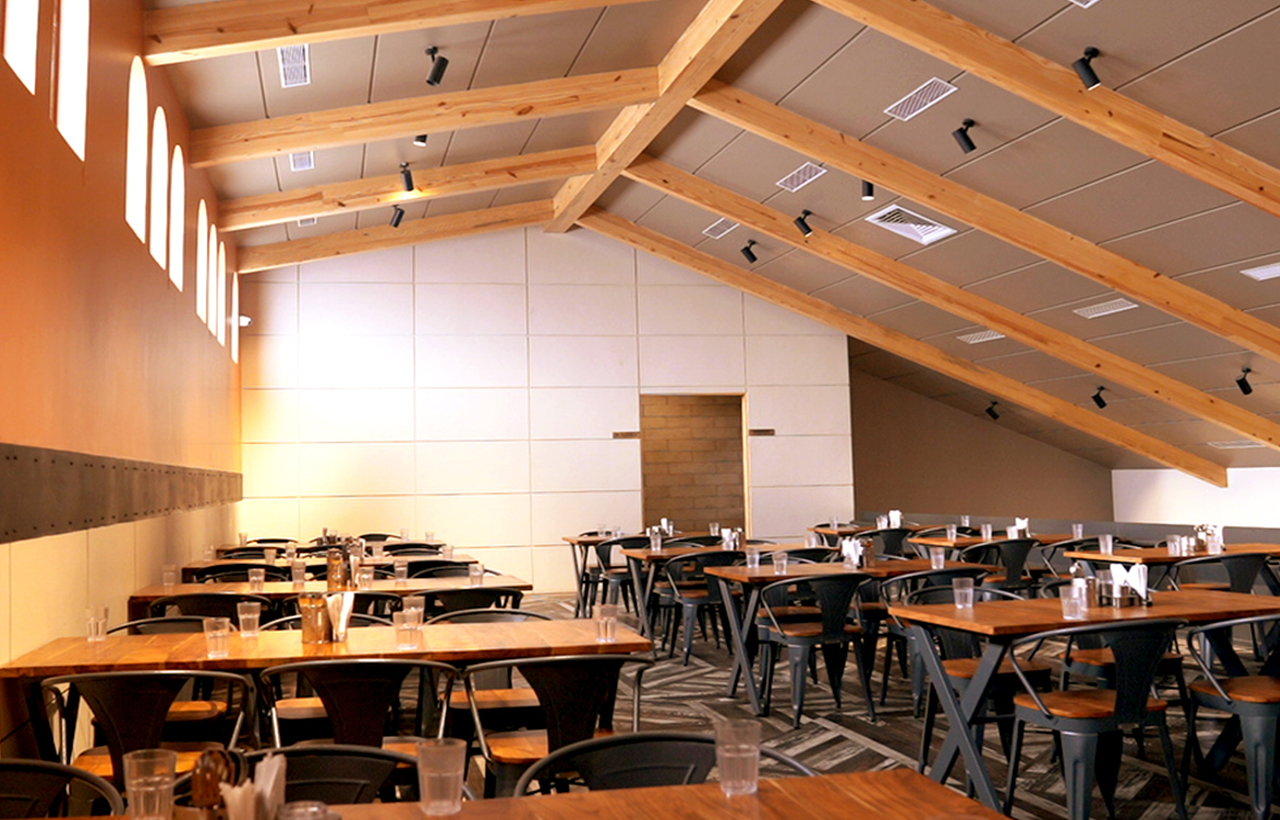 BMR: The interior is rustic and bare, what materials have you used?

PA: Our whole target of material selection was that we keep it low-key and natural materials. For example, in the interior we have used exposed bricks, raw iron railing and flooring are rustic and earthen, the furniture is made of raw wood and steel. The irons are in the original color and not painted. In the lounge, we have used wallpaper look of tin sheets all rotten and natural. Overall material palette is natural and earthen.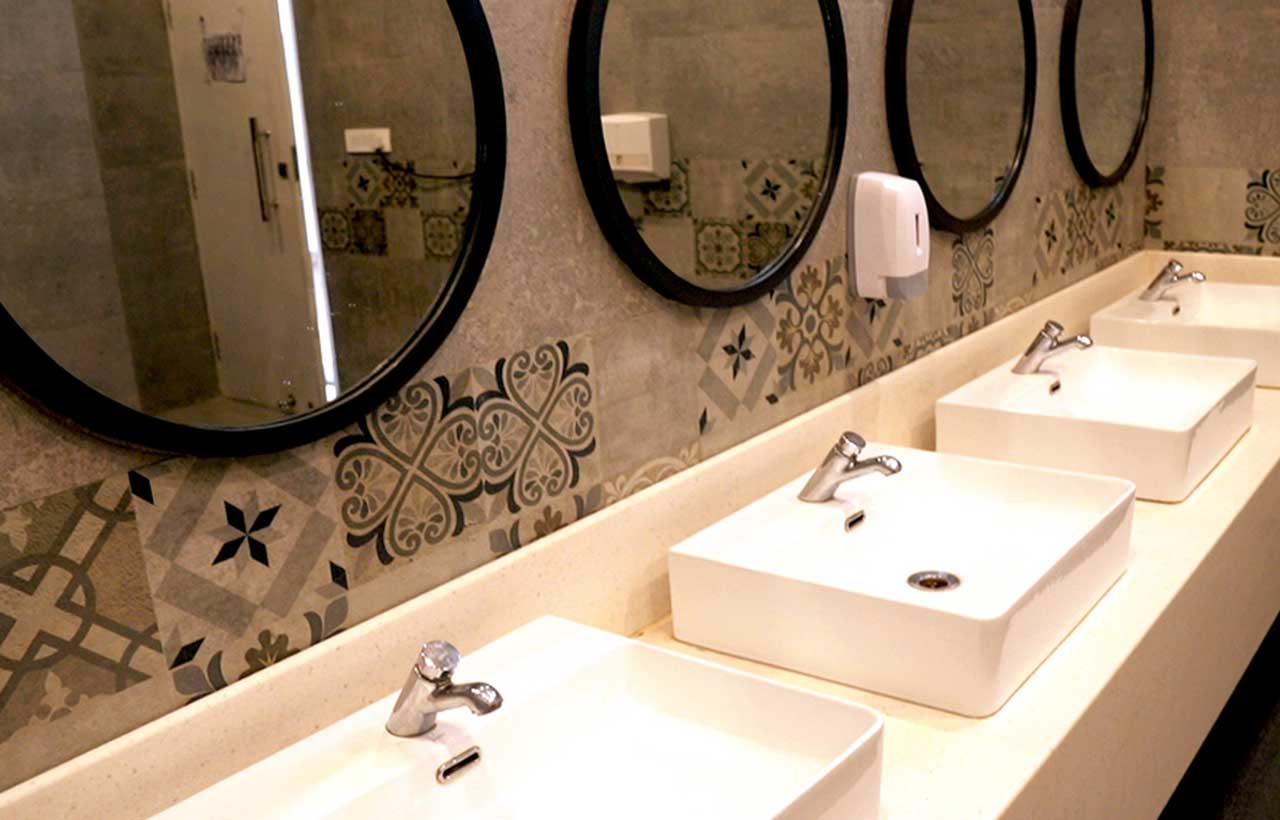 BMR: How do you assess and select contractors and fabricators for this project?

PA: It's a tedious process for us and the natural tendency is to work with known contractors and the challenge for me to employ a new contractor and gamble with them. And sometimes this gamble pays off. Talking about this project, for roofing material we were dicey of which materials to use and the installation process. When we finalised on Tejas Borja tiles provided by Mr Dharmendra we were skeptical about the involvement and execution by his team to give the desired look. However this gamble paid off, we got the best product, perfectly installed and the best support from Mr. Dharmendra.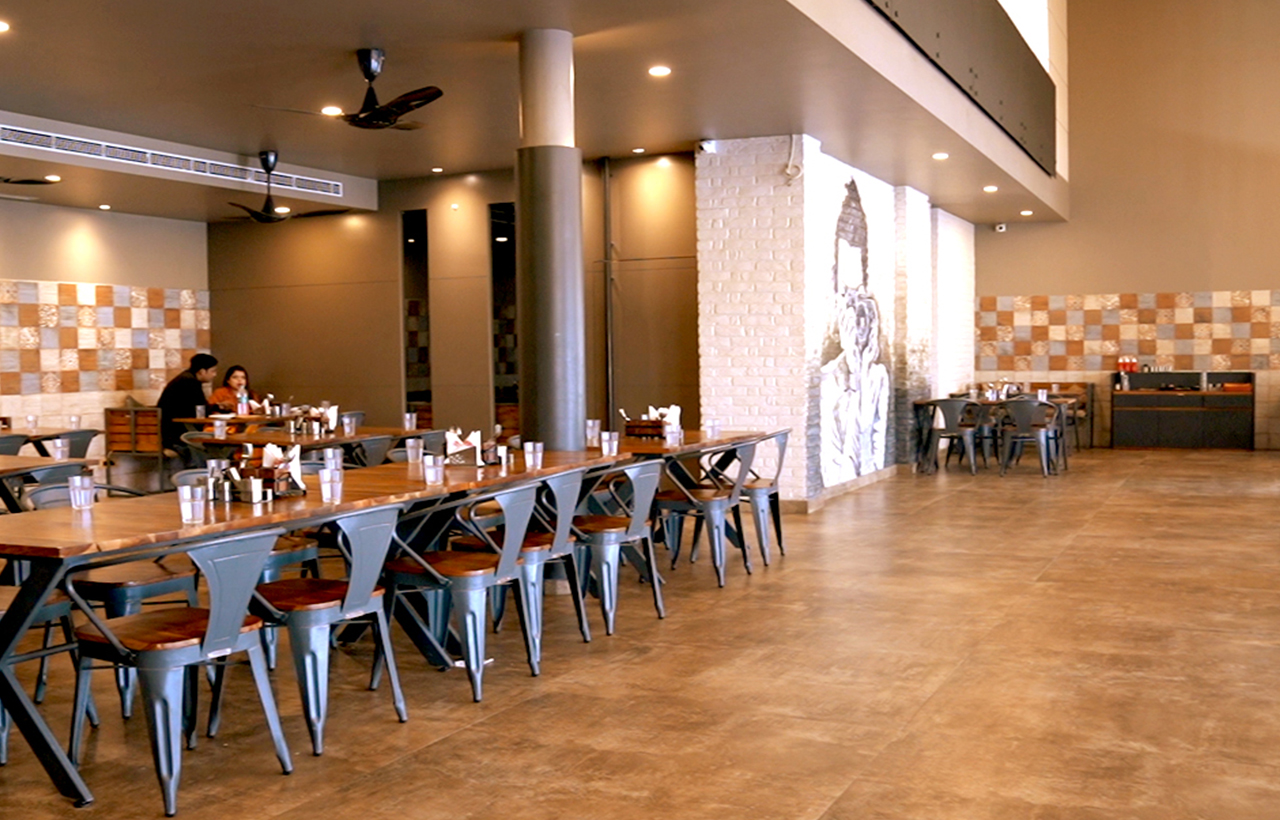 BMR: How is the local market shaping up for architect designed projects?

PA: I feel that this region of Moradabad and Bareily is the vicinity of Delhi and NCR. The advantage is that these places are saturated. A big region with commercial complexes is like NCR and the industrial and residential area with good Air Quality to live and work, for shopping you can go to Delhi. We are witnessing upcoming industrial, residential, hospitality, wellness, and commercial projects and the represent the future of urban growth in Tier 2 and Tier 3 cities. The urban development is mixed and also the entry of MNCs like Walmart, and Bharti are putting big retail outlets in Moradabad, Rampur, Bareilly, Chandosi, and Sambhal. They are focused on these towns as there are new customers and with the research these MNC clients do before setting shops are to understand where their new consumers are because cities like Delhi are full to the brim and over-served.

BMR: How is the material picking of luxury products and materials done in Tier 2 and Tier 3 cities?
PA: After Covid the tendency or mentality of the client is to spend big on themselves unlike in the past. They feel that they can control their expenditure own lifestyle, but now the willingness to spend on themselves has increased giving a boost to the Lifestyle industry which we also are a part of. The project opportunities in the wellness and hospitality domain have picked up and as people are visiting frequently and we are doing a lot of projects like resorts and hotels, and the trends indicate they are picking up and trends keep on changing.
Last few years Industrial Architecture is the keyword, my and peers are doing very industrial heavy structures, brandishing steel, rivets, nuts, bolts, and girders loudly and not covering them. Earlier we use to have a girder hidden in a plywood box, now you see the heaviness of the girder, and edges of steel and this indicates the honesty of material in architecture without hiding the honesty of material like noticing steel or be able to count a number of bricks of a brick wall justifies the material.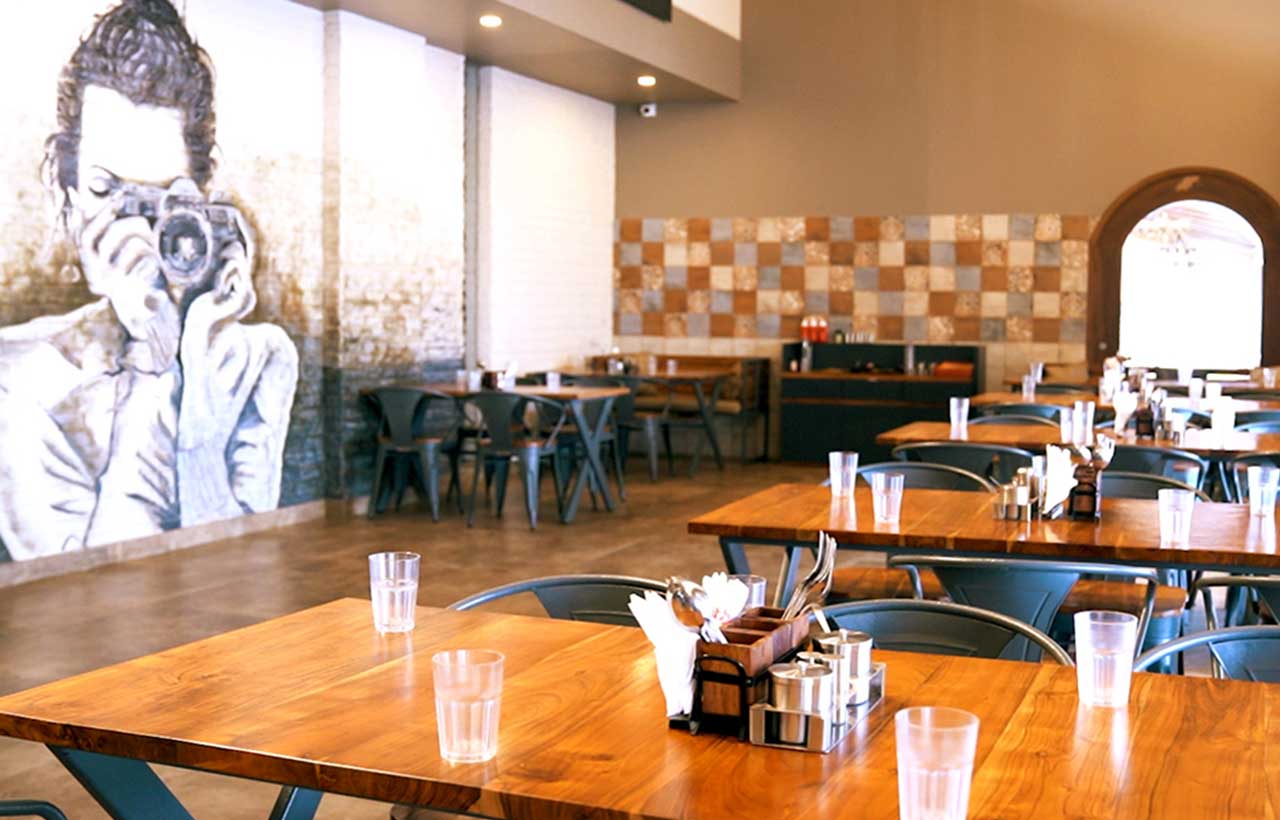 BMR: How do you start the material selection, are online and offline sources required?
PA: Our professional need is to touch the material and feel it. The online website presents a wonderful opportunity but to finalize the material I have to touch it. Even if I finalise the color I have to look at color of the screen and finalize it but it varies with the screen. In the construction industry the role of offline and online plays an important role but finally it the physicality of the product plays an important role. My view is in small towns where I operate from its not possible to have access to the best materials. It is possible to view the best products available everywhere online, select it, and source it locally at our project sites.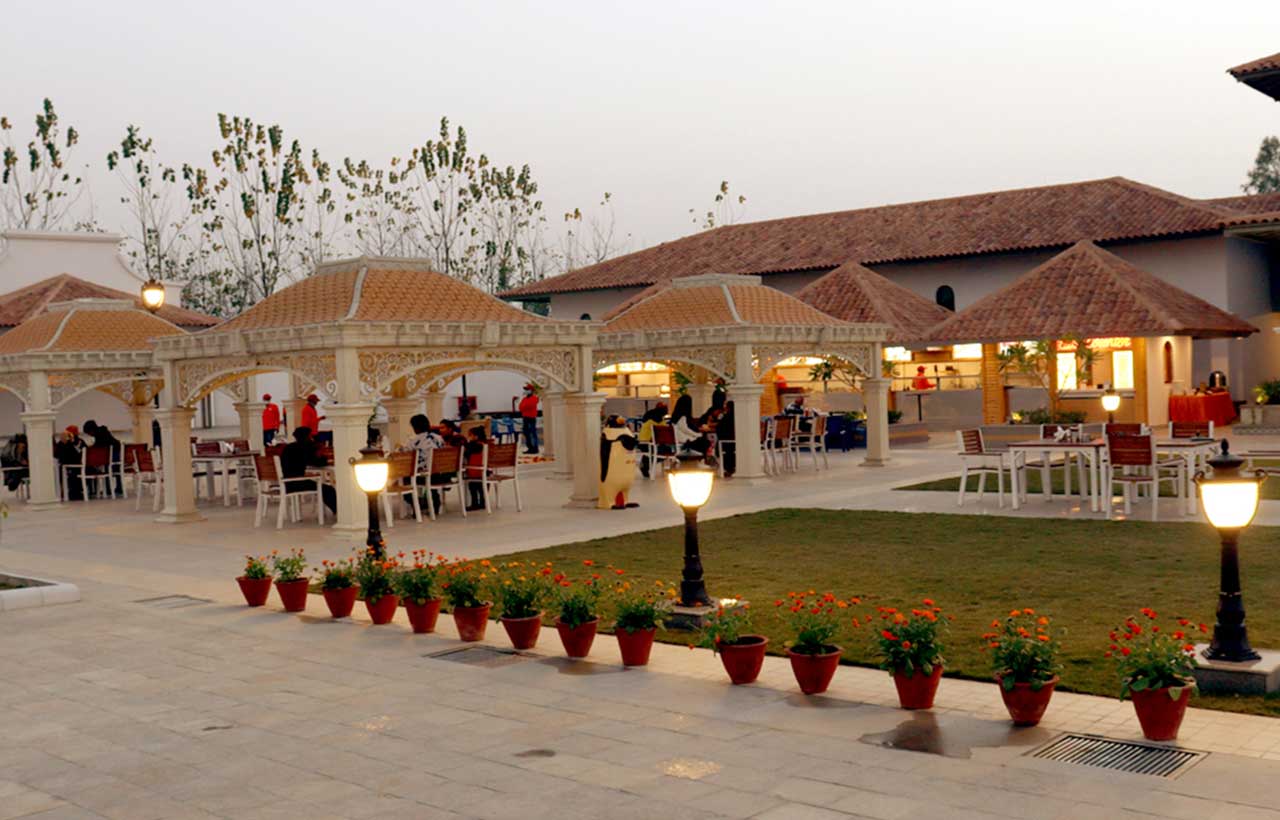 About Parag Agarwal and Associates

Parag Agarwal and Associates is a 23-year old Architecture and Interior Design studio based in Moradabad. The firm is headed by Ar. Parag Agarwal and Interior Designer Rupali Agarwal and does hospitality, residential, commercial, industrial, and institutional projects.

With a comprehensive attention to various aspects of design, the team offers only the high-standard work to its clientele. Their design is a rare fusion of style and functionality as the focus is on not only creating an aesthetically pleasing space, but one that exudes form and function.