Hotel Pandav Retreat: Where Nature and Architecture Meet!
Pachmarhi is a hill station in Hoshangabad district of Madhya Pradesh state of central India. It has been the location of a cantonment (Pachmarhi Cantonment) since British Raj. It is widely known as Satpura ki Rani ('Queen of Satpura'), situated at a height of 1067 m in a valley of the Satpura Range in Hoshangabad district. Dhupgarh, the highest point (1,352 m) in Madhya Pradesh and the Satpura range, is located here. It is a part of Satpura Biosphere Reserve. Pachmarhi is a hill station of central India. It is also famous for Satpura Tiger Reserve, Satpura National Park, Lord Shiva, Pandavas of Mahabharata.

It's almost a cliche The dream of a little haven where we can get away from it all, find peace and spend time with family, all while communicating with nature and ultimately ourselves. What we picture in those dreams, however, turns out to be far less universal.

Hotel Pandav retreat located in Pachmarhi is a destination which is the most loved place in the state of M.P. The property is designed on classical lines and has all modern luxury features; with 13 rooms and two restaurants. Every corner of this property recites a different story.

Representing the best traditions of Indian hospitality and tourism, The Pandav Retreat offers its guests the finest picture of Pachmarhi. Exploring the lands of Pachmarhi, the pristine splendor of its undulating hills and valleys. The name of this splendors resort originated from its majestic view of the golf course this place; and is spread over four acres of land. The Pandav Retreat was well known for its colonial architecture, historical ambience and star rated modern facilities. It offers luxurious air-conditioned rooms and suites decorated with period furniture and has a beautiful view of its lawns with a convenient jogging track for the fitness lovers.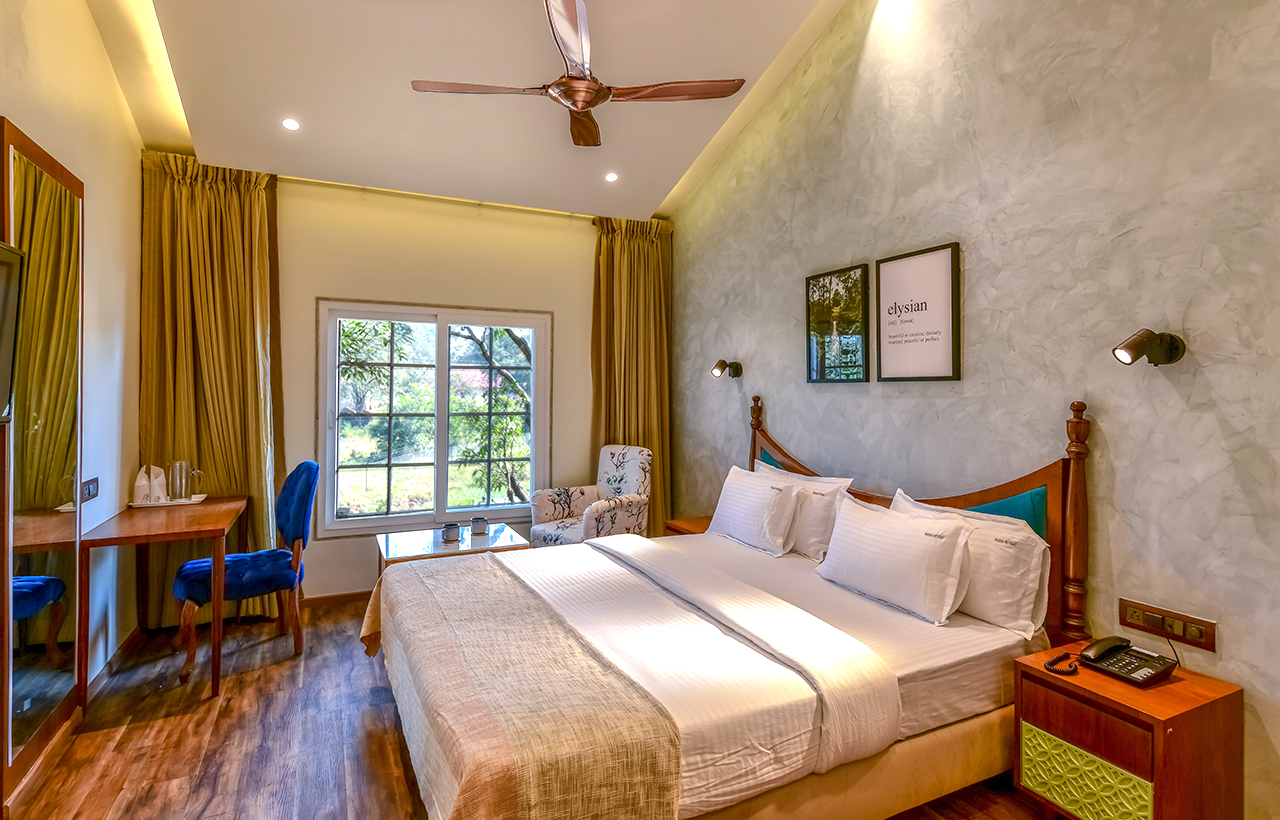 For their guests to enjoy the holiday in a comfortable way. Enjoy a specially selected luxury holiday where quality, attention to details and incredible experiences will take the centre stage. Enjoy a romantic evening overlooking regal mountains blending with the clouds, or celebrate the elegance and grace of the majestic landmarks of history, our heritage hotels offer you world class features and modern facilities. Elegantly appointed rooms blending uniquely with the colonial architecture would be your fairy tale experience in sophistication.

The interior blends with architecture of the hotel and every room is a different experience to stay in Machan, the rooftop; where all the magic is done by nature, offers the best view of the city. An amazing merging of nature and built form. The design and architectural elements that have survived the years are surely elevated in this newly constructed hotel as it includes breezeways and verandas, and open. So, plan layouts that celebrate communal living and allow multiple generations to interact.

The Challenges

The town is not very large, and most of its area is under the administration of the Pachmarhi Cantonment Board, serving the Indian Army. Availability of material was a very big task so all the materials were procured and transported from nearby places (area within 200 km range).

Getting skilled labor was also a tedious task. Maximum labors and workers team was sent from Bhopal.

Designs Inspiration for This Project

Pachmarhi being a tourist place, greenery all around. The resort has to have the best view from all sides. Our main focus was to provide all the luxury amenities with the best view possible.

USP of The Project

Pachmarhi being a hill station requires a design that is close to nature adapting its shapes and forms. So we designed the resort with slope roof. Resort area had century old trees in surroundings which are retained and merges beautifully with our landscaping. Material selection was done keeping the local climate and nature in mind.

Specifications

Designer: Ar. Akshay Selukar
HPAC: Mr. Amit Dubey Water proofing
Installation of Outer Finishes: Mr. Nandan Sarkar & Mr. Manoj Adgaonkar
Area: 6000 sq.ft. Manufacturers: Mr. Amit Dubey, Mr. Nandan Sarkar & Mr. Manoj Adgaonkar.
Clients: Mr. Rajesh Kabra & Mr. Gopal Das Kabra
MEP Consultants: Mr. Amit Dubey
Location: Pachmari, Madhya pradesh
Photograph Courtesy: Sameer Chawda
Fact-file: designed keeping nature in focus ie; trees that are more than 100 years old are retained.