Action Tesa's HDHMR - Ex‌tending Panes of Usability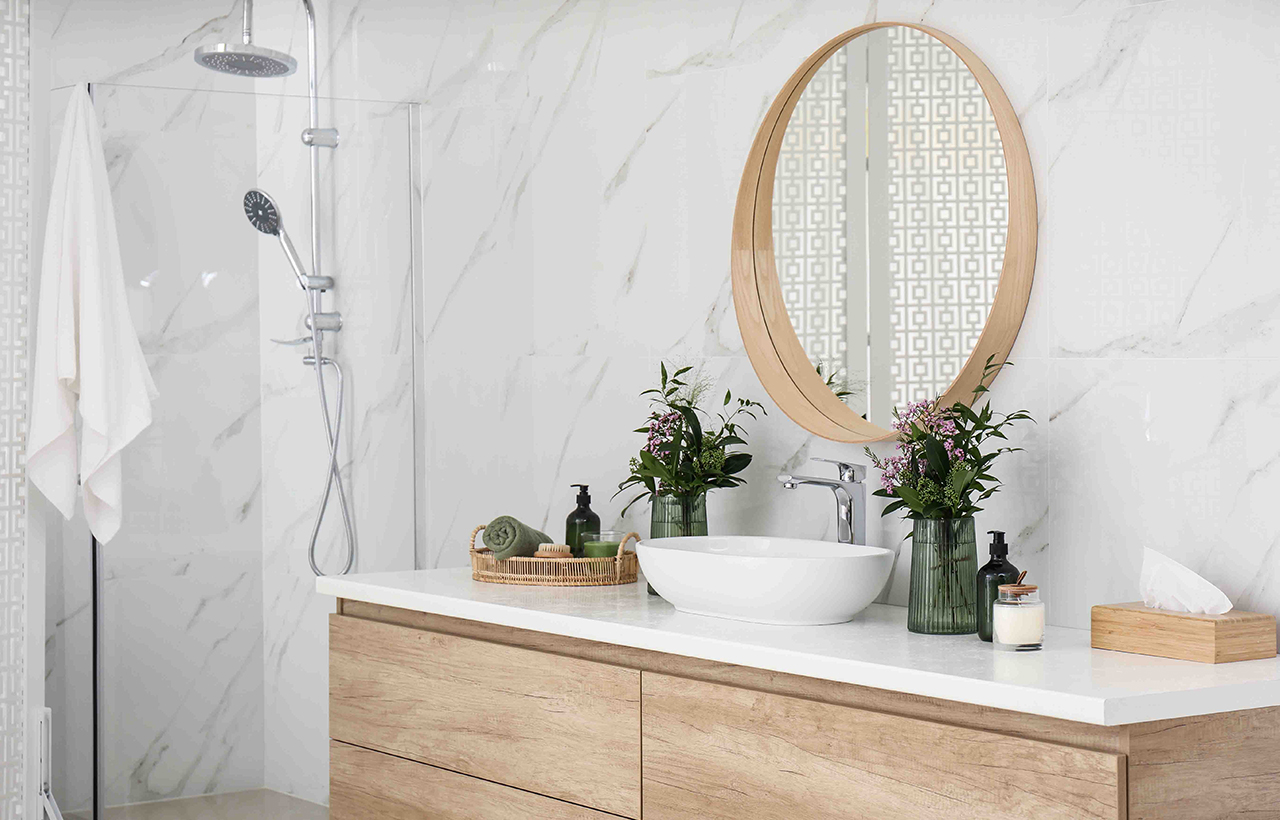 Building materials have been experiencing uninterrupted innovations, where HDHMR is emerging as the first choice for not only specifiers but also home owners who want to give aesthetic look to their projects or houses. HDHMR, as the name suggests, stands for High Density High Moisture Resistance, is made of plantation wood by combining fibre chips & in-house made glue following a homogeneous manufacturing process wherein these materials are pressed together to form a robust higher density board.


Because of the multidimensional bond, HDHMR boards come with extensively higher screw strength when compared with other usual boards and plywood. Due to pressing technique, small unusable particles get removed from these boards making them homogenies without air pockets. Where normal plywood catches moisture and the layers start peeling off, the HDHMR board doesn't lose its strength due to modern technology. These boards are mainly used in kitchen shutters, partitions, furniture, packaging industry, outdoor fixture, etc.
In the quest to delve into HDHMR's rising popularity, BMR editorial team met with Mr. Avdhesh Jain, GM-Marketing & Projects, Action Tesa. He talks at length about how and why HDHMR has been gaining attention of the building products fraternity. Excerpts:

Homes come with far more emotional weight than any other investment that we make. At Action Tesa, how are you catering to this particular need of the home owners?
See, when we touched upon this industry and tried understanding its needs, we got to know that a house consists of innumerable items for which a common man keeps wandering in the wake of converting his dreams into reality. This leads them to ask for suggestions from local consultants, even from carpenters and furniture shopkeepers.
Considering this, we developed a portfolio comprising topics related to panelling, furniture, and to some extent ceiling wherein MDF was then the base product. But to keep ourselves abreast with the rapidly changing needs, we continued exploring products falling in line with transforming tastes and preferences of the generations to come. This led us to develop products with glossy finish like UV, acrylic and embossed panels to keep meeting and fulfilling the dreams of our beloved customers for their wardrobes, kitchen, living rooms, etc.
Our boilo is the world's first-of-its-kind product, which has been developed indigenously with twin properties – fire retardant and boiling water proof. We have already applied for the patent of this product that has slowly been emerging as a must for spaces like kitchen. Going forward for kitchens, we have come up with HDHMR, which has become the cynosure not only of the industry stakeholders like interior designers, architects and kitchen manufacturers but also end customers.
Today, we have a portfolio comprising three lakh SKUs under the Action Tesa umbrella wherein all the products have been developed indigenously with the highest level of R&D.

We understand that Action Tesa has been emerging as one stop solution for interiors and HDHMR is expected to play an important role. What is HDHMR? And what's the secret behind its success?
We scrutinised very minutely and tried learning the pains of the market. We found out that the lack of quality products with features like moisture resistance, stiffness, hardness, screws withdrawal capacity, etc. are the actual foes. We sensed this as an opportunity and with great deal of R&D developed HDHMR - a product with density as high as 850 kg/cbm against the readily available 650 kg/cbm and screws withdrawal capacity up to 2200N compared with 1200N for the products that were present in the market. Adding more to its features is it being pre-laminated which makes it fit for direct applications.
We have observed that Action Tesa is not able to meet the current demand of HDHMR. What's the reason behind it?
You are right. But, that it's a myth and is miles away from the reality. You know the minds behind this innovation have been a great visionary. They also kept propositions about probable applications like wall panelling, furniture, wardrobes, kitchens, etc. in their mind while developing this product. But, to our surprise, it has increasingly been gaining attention of architects, specifiers and consultants advocating its usage in almost each and every application wherever seems possible.
In fact, we are overwhelmed with such a response. Out of our three plants that are meant for MDF manufacturing, we have dedicated one for HDHMR board. Furthermore, we have enhanced the production to around 250% compared with last year's figures and are trying to turn every stone to meet its rising demand.
Like language, weather keeps changing every 100kms here in India. How has been its response to the changing weather scenario so far?
Having developed with all weather conditions in mind, this product is equally suitable for both dry and humid areas, and hence, perfectly fit across the country provided it is applied following complete instructions. For sensitive areas like coastal ones where humidity and resultant moisture touch a record high, we have applications manual with "Dos and Don'ts". This, we have uploaded on our website. Besides, we are also circulating it to industry stakeholders in the form of a booklet to add to their knowledge.
We have learnt that duplicate products are making a round in the market. Which all ways do you suggest to differentiate or identify the original ones?
We have come across such complaints and are forced to do some different things. We have developed some special labels over our products. We are rapidly enhancing the awareness level of our associates, specifiers, architects, interior designers, contractors, and of course, end customers through our website along with the presentation, in whichever form possible. Through our 15 branches, our teams proactively working at district level to enhance the knowledge not only of the industry stakeholders but also end-customers on how to distinguish Action Tesa's HDHMR from the green-coloured replicas.
Talking of your presence, tell us about your network of associates/distributors/dealers in the country?
In 11 years of our existence, we have penetrated as deep as tier three cities with quite a few stocking points of our dealers and distributors to feed the market at any point in time. We have 1800 distributors spread across the length and breadth of the country. Apart from that, over 500 furniture manufacturers are sourcing materials from us.
How do you tackle the complaints, if there comes any?
Broadly, we categorise complaints in two parts – service and quality. Under the first category, we include the damages caused in transit, thickness different than what was asked for, colour contrast, etc. For such complaints, we try and make up in the very next supply. Under the second category, which actually is related to bending, chipping, etc., which force us to analyse things up to our manufacturing level.
How does the company support 'Make In India' movement?
For most of our products, we use plantation wood where in trees like Eucalyptus are planted and grown by farmers like they do for veggies. We try to process all such woods in India or use products which are processed indigenously except for the manufacturing equipment which we are forced to purchase from outside.
Why someone buy Action Tesa?
We are closely attached with the ground and have been able to create a connect with our clientele for the indigenously developed products. Our management is highly concerned with the quality and feasibility of the products so that it can't remain a luxury for common Indians. All these are followed by uninterrupted services to even at the lowest level. Together this makes Action Tesa a trustworthy brand amongst all Indians.