Buddhist Rock-cut Caves: Treasures of India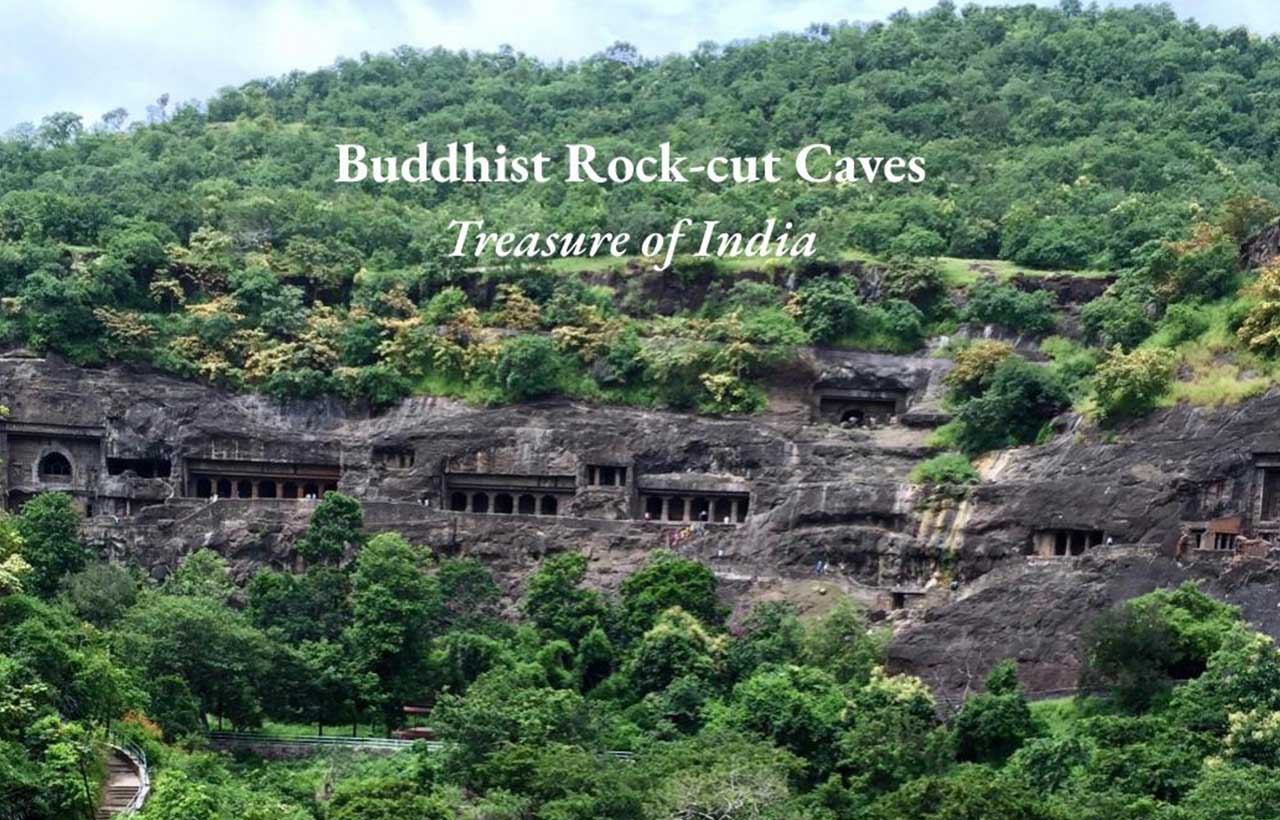 India attracts a significant number of tourists every year due to its rich cultural legacy. This rich past is well portrayed by outstanding historical structures and magnificent temples. When it comes to ancient monuments in India, rock-cut temples and architecture are the most primordial and spectacular examples. These magnificent rock-cut temples and buildings are must-see sights for both Indian and international visitors. Discover more about famous rock temples of India in this article for an once-in-a-lifetime experience.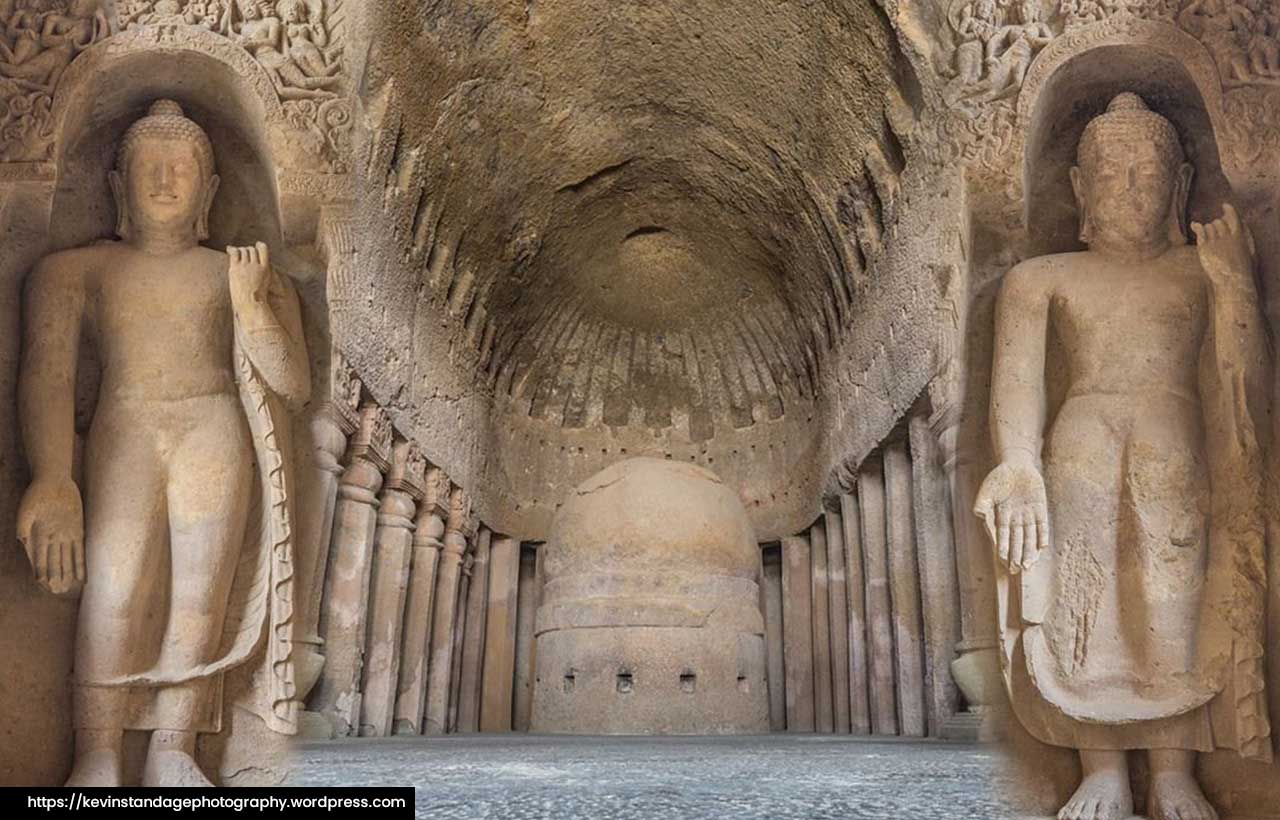 Kanheri Caves, Maharashtra
Kanheri Caves are collections of caves and rock-cut structures carved into a massive basalt projection in Sanjay Gandhi National Park, Mumbai. These caves contain Buddhist sculptures, relief carvings, paintings, and inscriptions spanning from the first century BCE to the tenth century CE. Kanheri is derived from the Sanskrit phrase Krishnagiri meaning "Black Mountain."
These are one of the subcontinent's earliest Buddhist caves that weren't built or supported by any major power, but rather by merchants and businesspeople from local trading locations. As a result, the cave inscriptions are typically new of that age or talk about charitable commoners, making it unique in its own manner.
Cave 1 is a two-story Vihara with pillars and chambers with beds dug directly into the slope. Cave 2 is a lengthy cave with two stupas in the corner and writings on the roof. Cave 3, also known as the Great Chaitya, is more elaborate than the former two, with a distinctively carved ceiling, pillars with elephant and cow themes, a massive stupa in the center of a massive arcaded hall, and a portico with two life-size stone sculptures of Avalokiteshwara Buddha.
This cave's front facade also contains several human sculptures and inscriptions that teach about the era when this Chaitya was erected.
Ellora Caves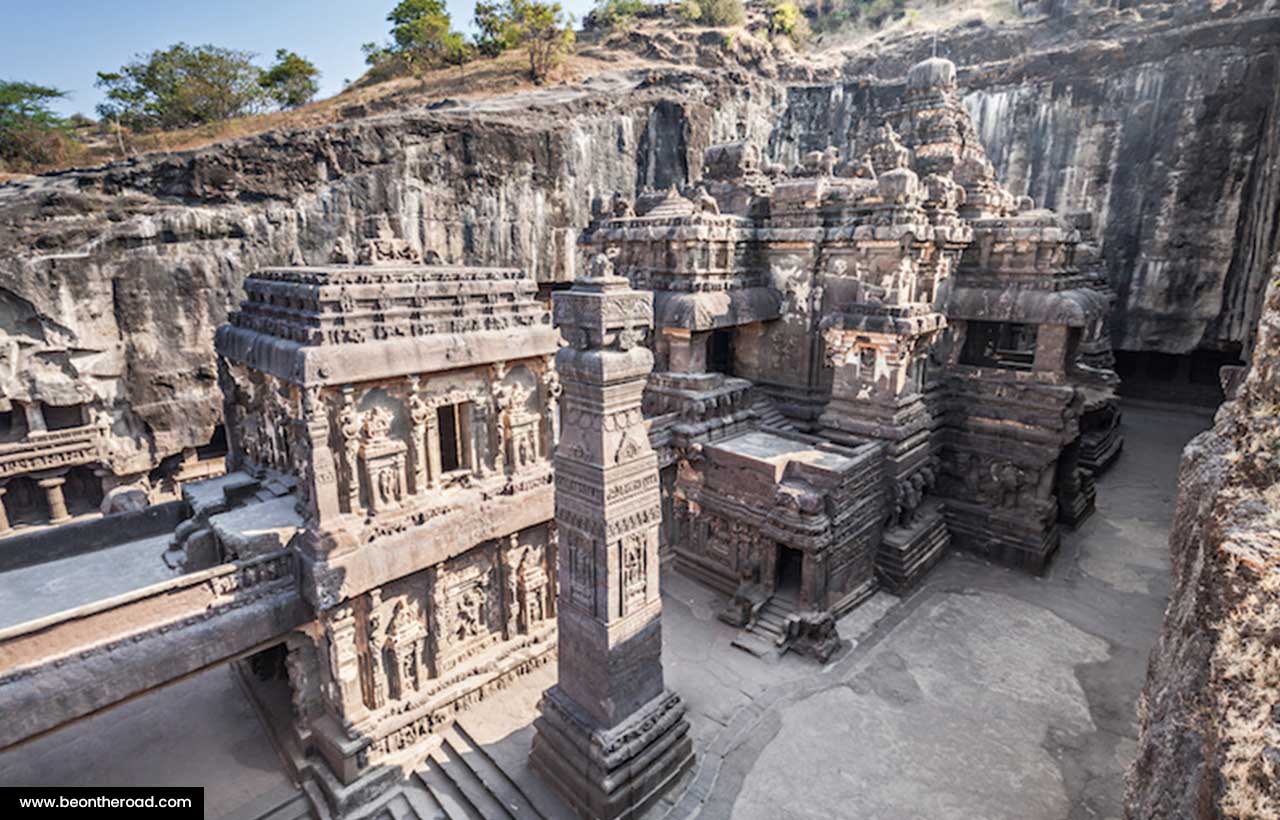 Ellora Caves, Maharashtra
Ellora Caves, located in the Maharashtra region of Aurangabad, is one of India's rock-cut architectural marvels. The Rashtrakuta dynasty built this archaeological monument, which consists of 34 caverns. It is the world's biggest rock-cut monastery-temple cavern complex, dating from 600 to 1000CE. This sequence of 34 monasteries and temples constructed out of single basalt rock was recognized as a UNESCO World Heritage property in 1983.
The sheer volume of stone scooped out just by hand to construct this work of art will leave you awestruck. The ornate facades, inner walls, and detailed sculptures bring old India's culture to life. The most distinctive feature of this cavern is that they represent an excellent blend of Hindu, Jain, and Buddhist rock-cut temples.

Ajanta Caves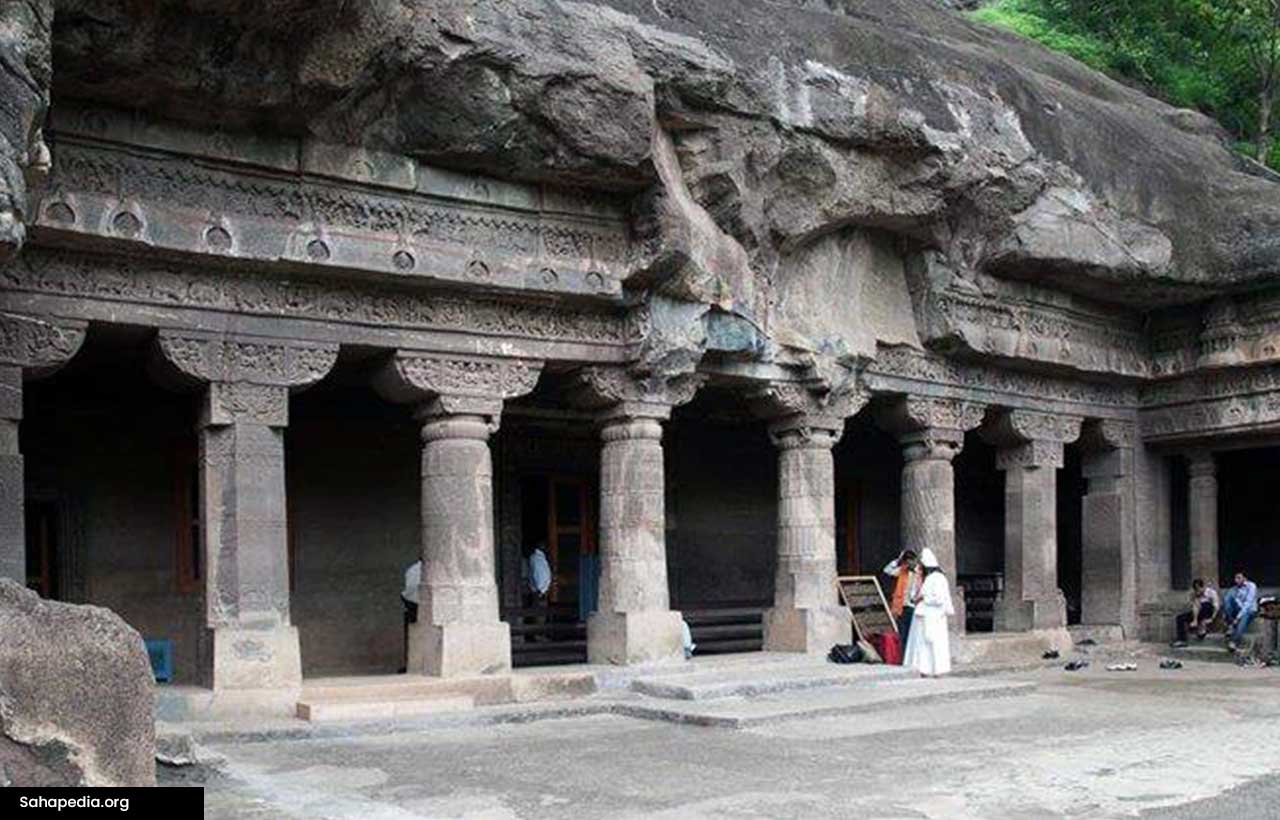 Ajanta Caves, Maharashtra

Amongst UNESCO-listed World Heritage Sites are the Ajanta Caves. There are 30 Buddhist cave monuments included in the complex of Buddhist temples. Amazing paintings and exquisite sculptures may be seen in these caverns, which are said to have the best specimens of Indian art now in existence.
These caves are made of a coating of mud, cow dung, and rice husk was applied to the surface initially, followed by a thin application of lime wash. They sketched an outline of the composition on this and then filled it in with various palettes of crimson, greens, ochres, and blues. The goal of the architecture was straightforward: to motivate worshippers to follow in the footsteps of Buddha.
The bizarre setting of these paintings—they cover the murky guts of "caves"—adds to their magnificence. Not natural caves, but caves carved using hammer and chisel from the Indian Deccan plateau's living basalt rock. In the case of Ajanta caves, they are inside a 76-meter-high horseshoe-shaped rock that lines the Waghora river valley. The existing approach to the caverns was built in the 1920s.
Elephanta Caves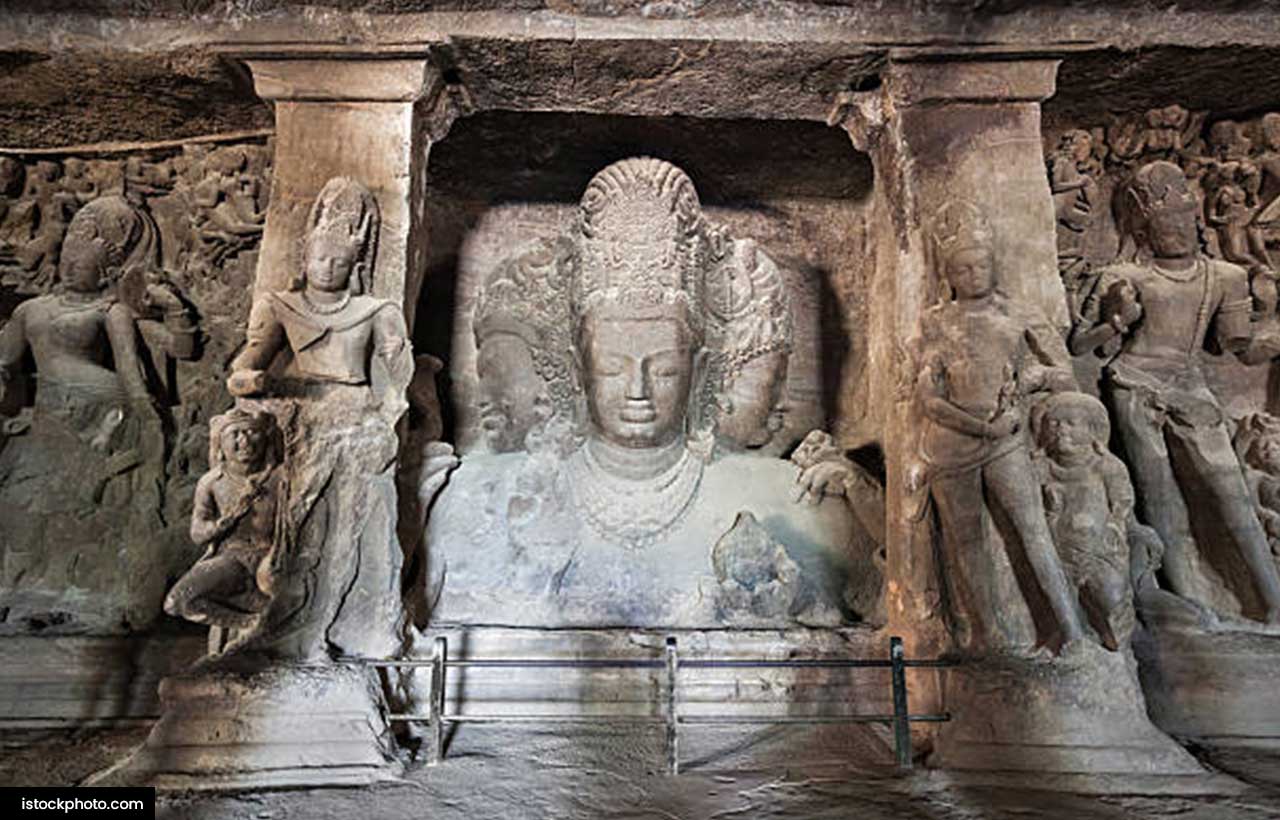 Elephanta Caves, Maharashtra

Elephanta Island in Maharashtra is home to the network of exquisitely carved caves, known as the Elephanta Caves. Five Hindu and two Buddhist caverns are included in these two primary groupings of caves. Beautiful Lord Shiva rock-cut stone sculptures can be seen in Hindu caves.
Each cavern has been fashioned into a little time out of the rock, complete with a large main room, courtyard, lateral chambers, and small shrines. The largest of these, Cave 1, sometimes known as the Grand Cave, measures 39, meters from front to back. The sculptures and constructions of this cave temple, which is primarily devoted to Lord Shiva, celebrate the god and his various manifestations.