A House Merging Elements of Nature and Design Aesthetics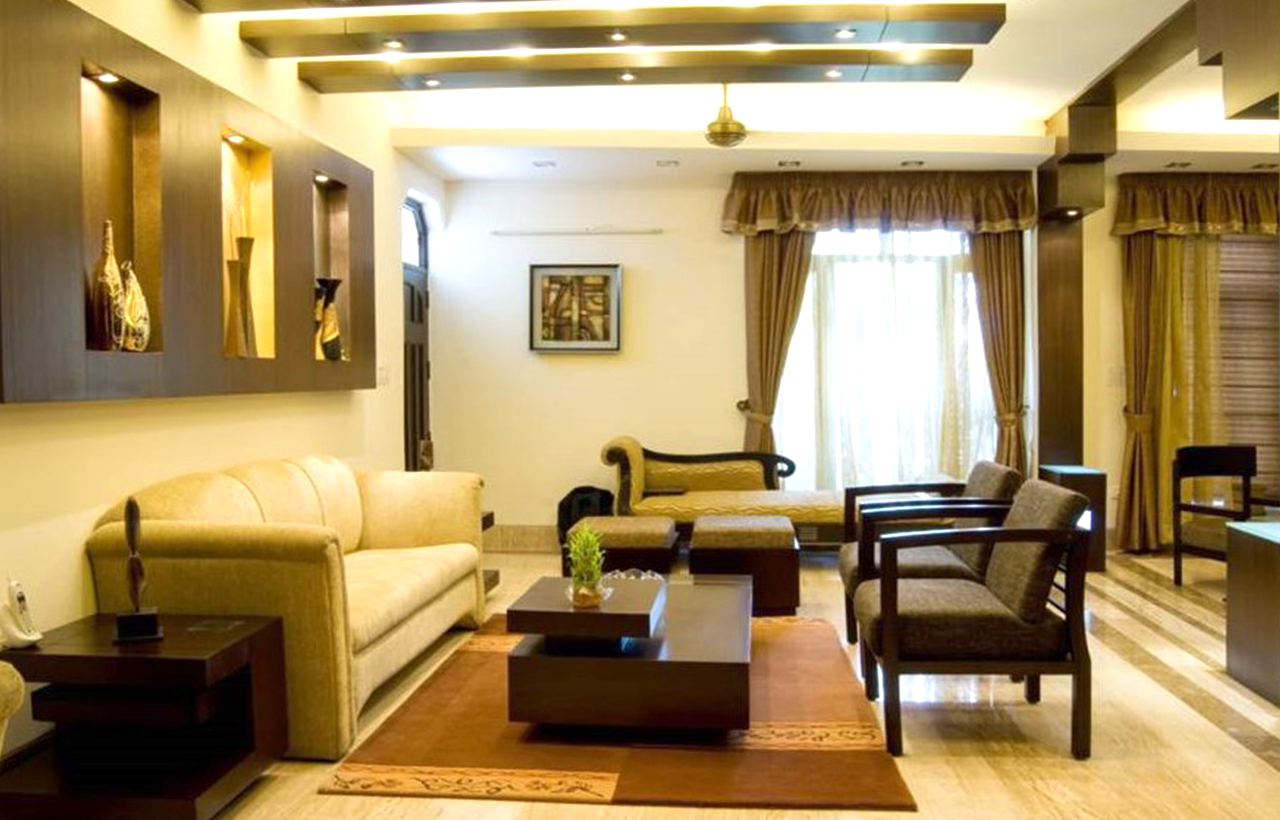 This contemporary Residence in Faridabad was designed by New Delhi-based architectural and interior designing firm called Ar Harish Tripathi & Associates. This house is a total revamping of the ground floor, of a house. The client's brief was to re-design the house's interiors to add a contemporary design aesthetic while fulfilling Vastu criteria. Major modifications were undertaken to fulfill the client's requirements. As a result, the house has undergone a major transition allowing a lot of natural light and ventilation to invoke a feeling of openness and fluidity into the spaces.

The interior framework is contemporary with a flair of homeliness, which has been achieved by using various elements in the design.

The house comprises a drawing room, lounge and Pooja room, kitchen and dining area, living area, and four bedrooms.

Interior designer Jyoti D Tripathi states, "Large doors with designer glass have been used throughout the house, segregating different spaces, such as the drawing room and living room and lounge areas which are typically kept open. The doors divide large open spaces of the house into smaller segments.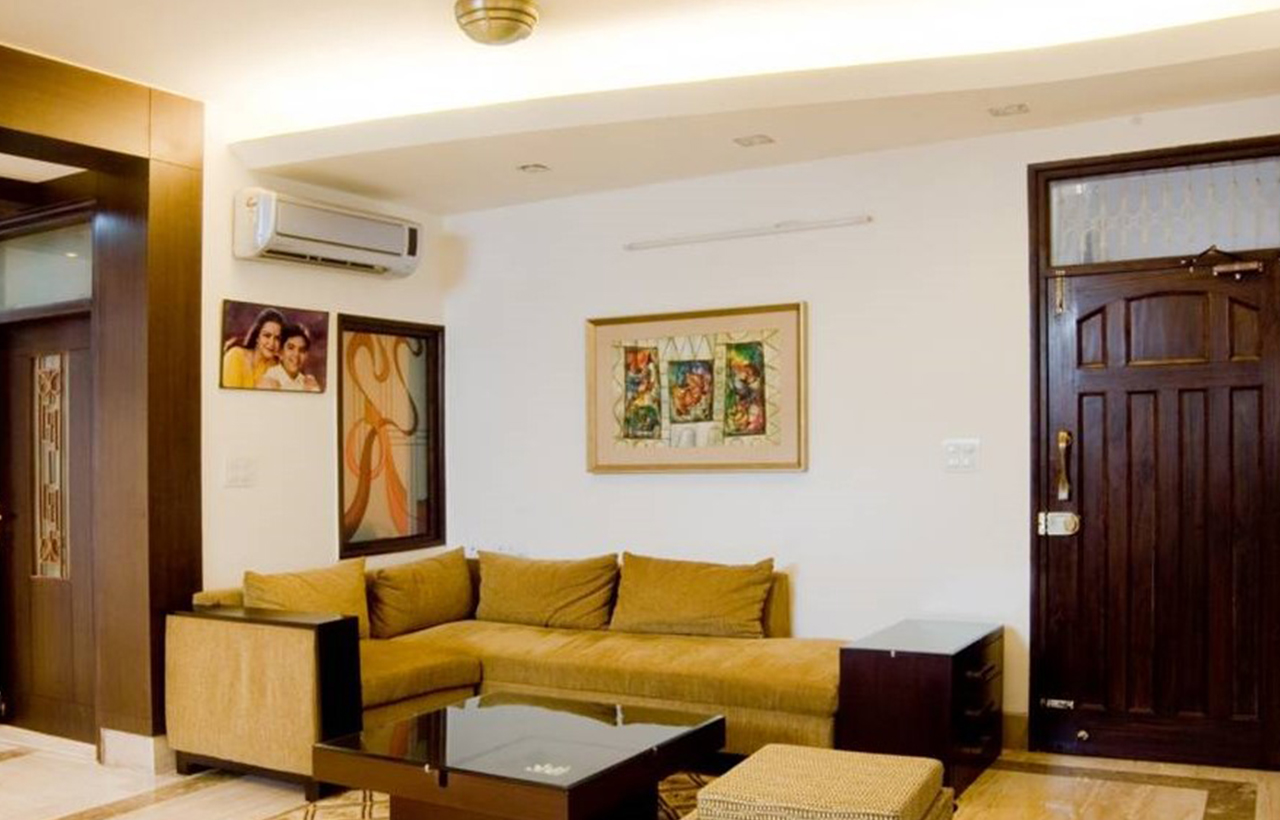 She adds, the formal atmosphere created as a result of the contemporary design has been toned down throughout the house by establishing a homely environment using elements, such as wood paneling, warm lights, textures in subdued and natural colors such as white, beige, brown, etc. and niches highlighting artifacts, The furniture is fully upholstered. Sofas, recliner sofas, bean bags, armchairs, etc., are in beige, brown, and coffee colors, complementing the ambiance of the interiors. Contemporary design center tables and side tables have been used. Textured fabrics have been used in the fully upholstered Teak wood furniture.

The living area has been furnished with an L shape sofa with a center table and TV.

Dr.Harish Tripathi states, "A lot of wood has been used for wall paneling and in ceilings. This paneling of wood throughout the house acts as an attractive element and focal point, adding a vertical dimension to spaces. The heaviness of wood has been toned down by natural light which can pass through these panels at places."

Temporary treatment to the interior spaces. A Classical style chandelier adds a touch of traditionalism to it.
In the dining and living area, wooden wall paneling and ceilings have been provided, highlighting the walls, adding depth to the spaces. The dining table is six-seater teak wood with teak wood chairs, partially upholstered with a glass top.

The flooring throughout the house is in Italian marble, with a light imperator border. Center tables along with woolen and silk carpets are used.

In the drawing and dining room areas, a lot of niches have been created, highlighted by warm LED lights and cove lighting, decorated with various artifacts, finished in metallic copper finish have been created to personalize these spaces and add a homely touch. The walls are finished in light pastel colors.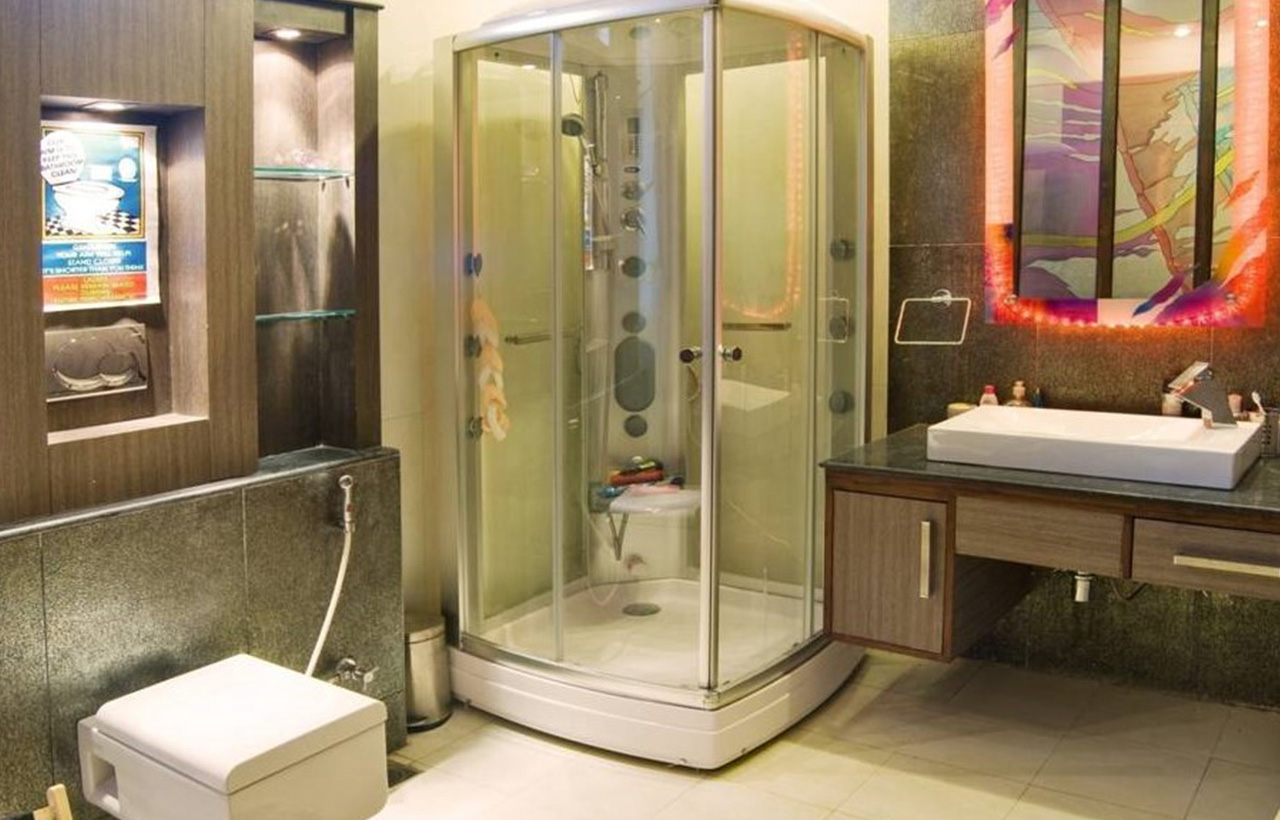 In the toilets, niches have been created in wooden paneling, decorated with artwork. Shelves have been made in these niches as storage spaces. Black copper metallic tiles have been used as a wall treatment. Cove lights have also been used.

A shower is a separate unit. The dressing area & toilets are designed as a combined unit in all of the bedrooms.

The kitchen is a modular open kitchen with all functions and a large storage capacity. Frosted glass, straight lines, cove lighting, and wooden ceilings have been used. Wall paneling is in wood finish.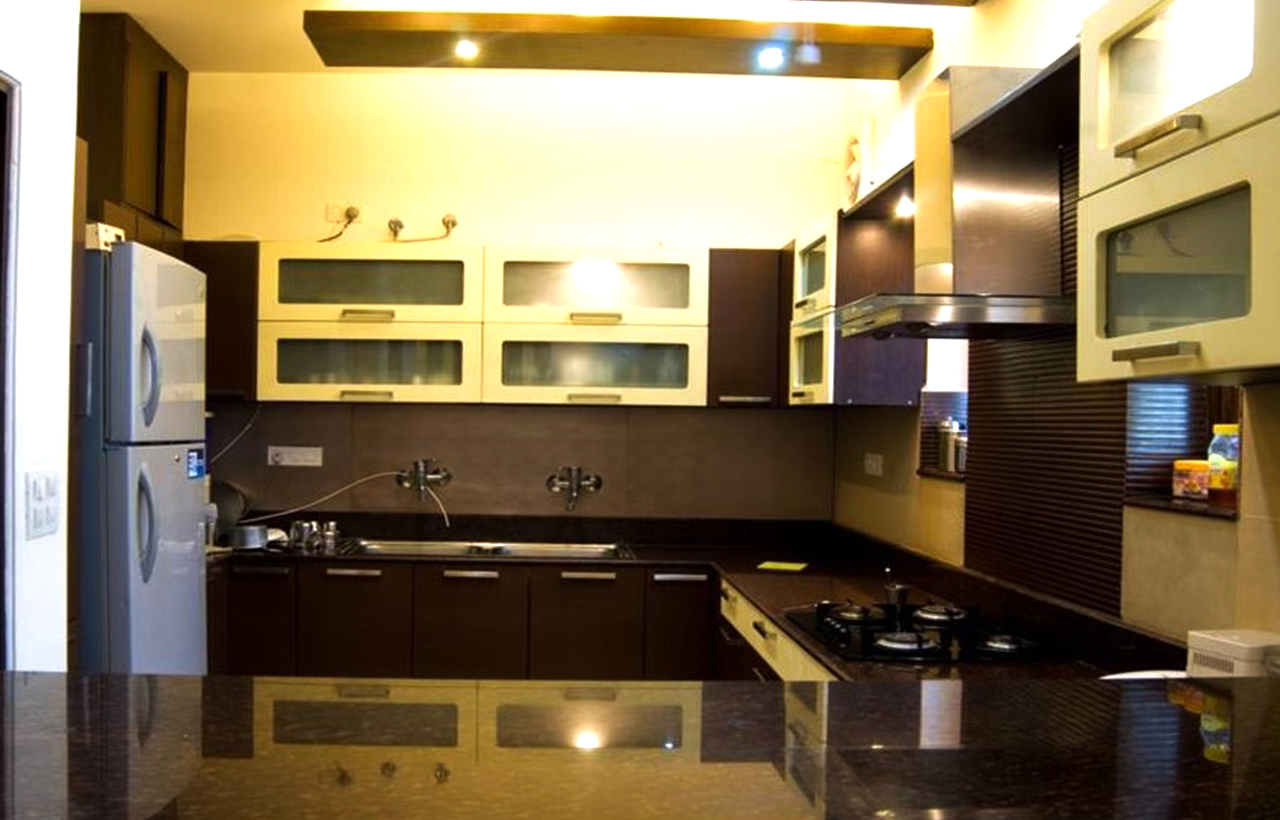 The master bedroom, for the parents, has been designed with a classical approach, a classical style bed has been used with a cushioned back, cane and teak wood chairs have been used, with heavy curtains. Most of the color scheme is white, beige, and gold.

In the backdrop of the bed, a niche has been created with golden duet paint highlighted by cove lights, enhancing the feeling of the space.

The floor finish is wooden, and cove lighting has been used in the ceiling.
In the son's bedroom, a curved ceiling has been designed above the bed. Niches have been used for decorating artifacts. Cove lights have also been used.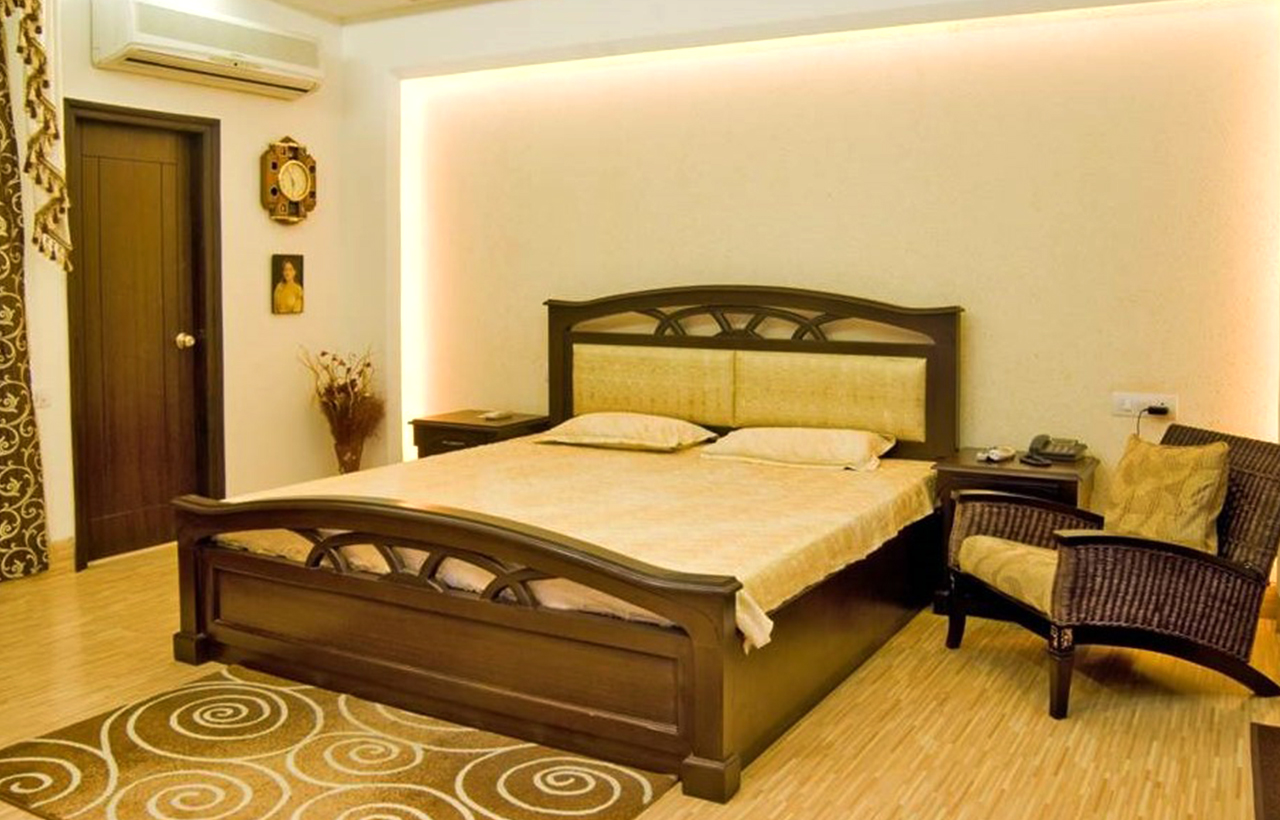 The bedroom and bathroom have been separated by a colorful partition wall decorated with designer glass which creates a vibrant and youthfulness ambiance. Frosted glass in the door with grills has been used.