Green Abode - Nature Infused 3BHK Apartment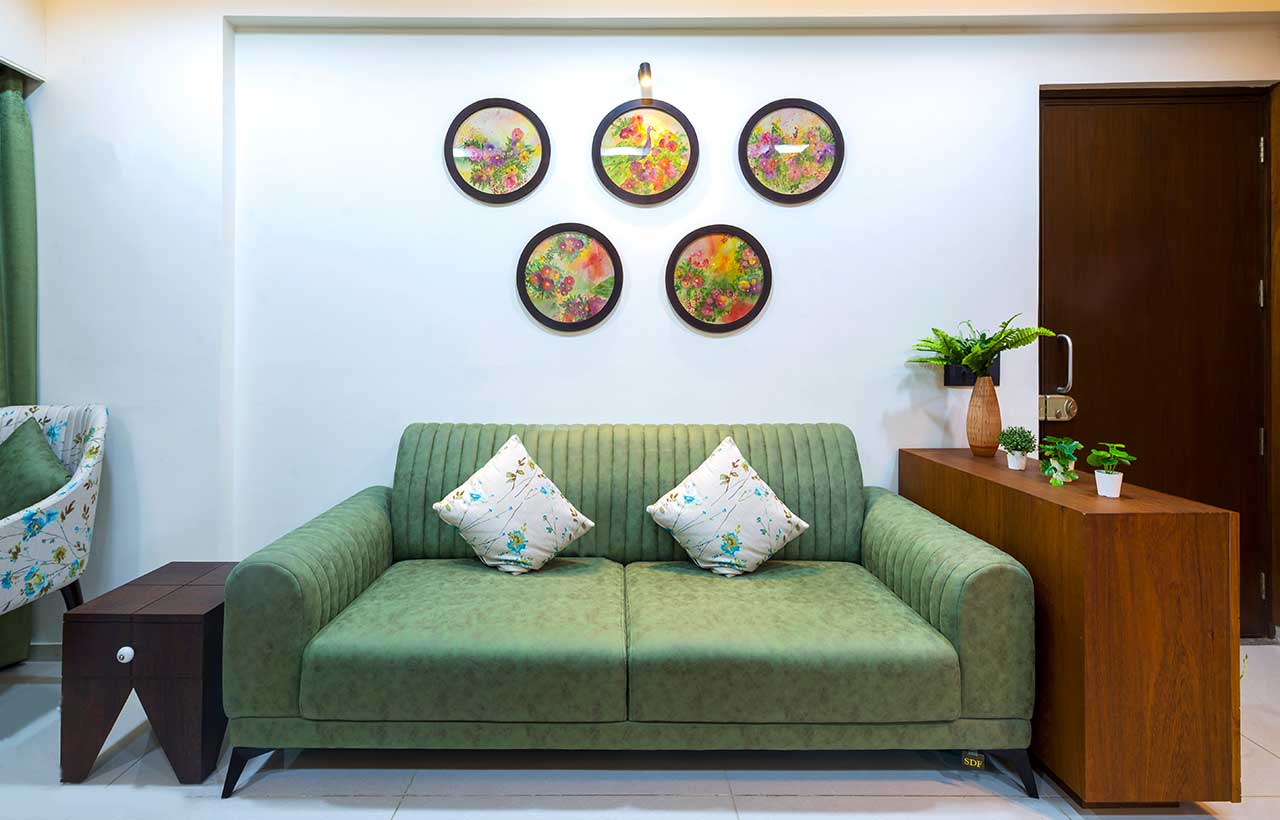 The interiors of this compact unit with only 900 sqft of a floor plate are inspired from the lifespan of a leaf for which the design team couldn't afford to miss even a square inch of the floor space.
Client had approached Ojas Trivedi Design Studio (ODS) for an interior design work of a 3-BHK Apartment at 15th floor. As the family comprised of three generations, the challenge was to create an interior that can cater to all tastes and requirements accordingly over and above the design quotient.
As this was a compact unit with only 900 sqft of a floor plate and the family had a huge storage requirements, the design team had to come up with the best suitable layout plan using every square inch of the floor space in all directions.
Following our design philosophy, we wanted to take maximum advantage of natural daylight and scenic views available. In detailing part, we also had to take care of offsets in walls due to structural elements and lift walls alignment issues which were smartly integrated for element designs.
We worked on elements and colours inspired by nature for interiors and everything revolving around colours and phases of a leaf as the motif of design. Inspired by vintage elements in the dining area to veneer and leaf motifs in metal powder-coated screen, entrance name plate to art work proposed in the entire project, we tried to offer 'Nature Infused' interiors in every sense.
Living room offered two different looks of the same space with the help of change in curtains from sheer to blank outs. Kitchen was made well connected with dining space and corridor approaching to individual bedrooms. Corridors were also well integrated by proposing the best abstract art work.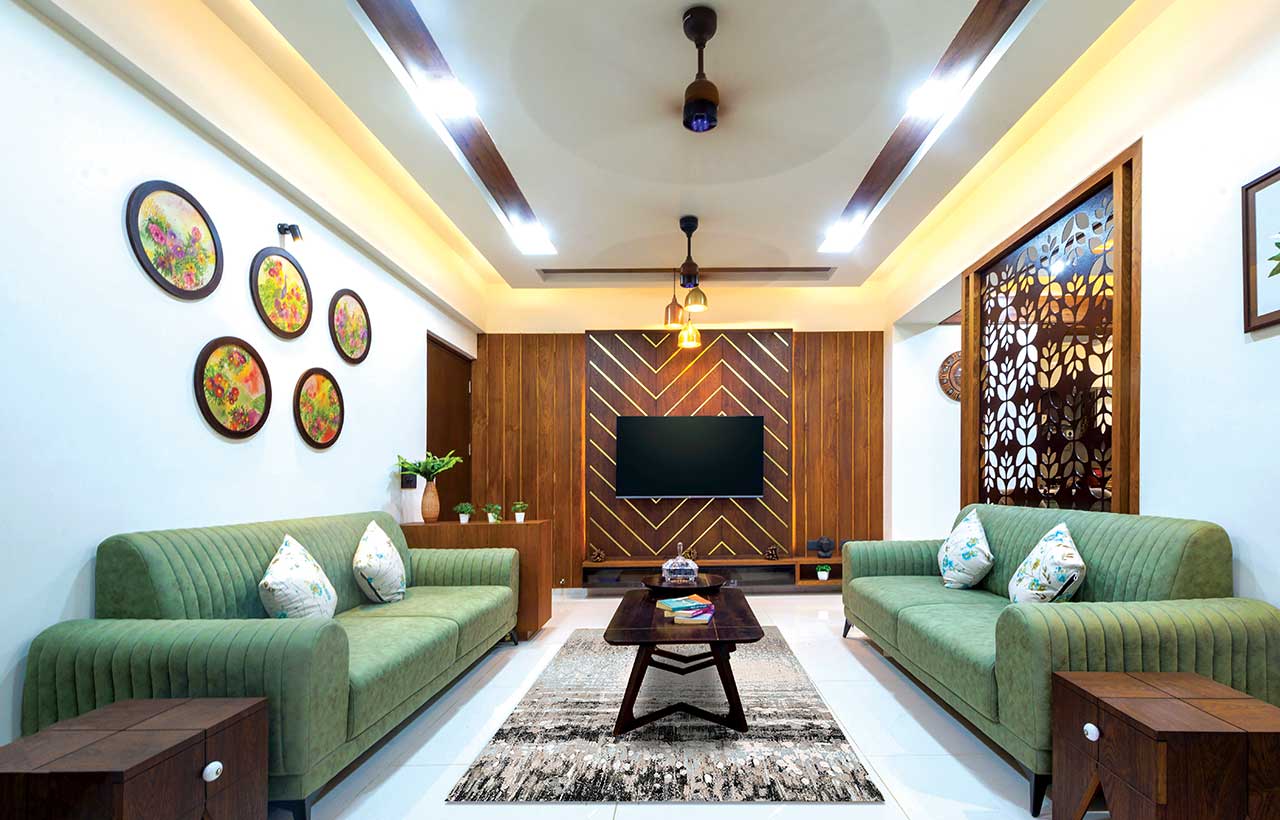 Green products like water-based nature coat and low VOC materials were used while all other materials were shown in its purest form possible. For example, veneer pattern and grains were made visible which provided more richness to the interiors. Herringbone patterns to metal elements all got coordinated with the central theme for the interiors.
All art works were sourced through an NGO supporting artist wellbeing and rural talents, which required wellbeing and help. All artwork was originally painted in close coordination with interior designer and art curator running the NGO.
Kids' room was designed with vibrant colour hues of yellow, deep blue and pink as this room was shared by the younger son and a daughter. Names of both kids on bed panel offered a playful nature of roman letters too. Books and soft toys were displayed in niches created thoughtfully due to offsets in the wall.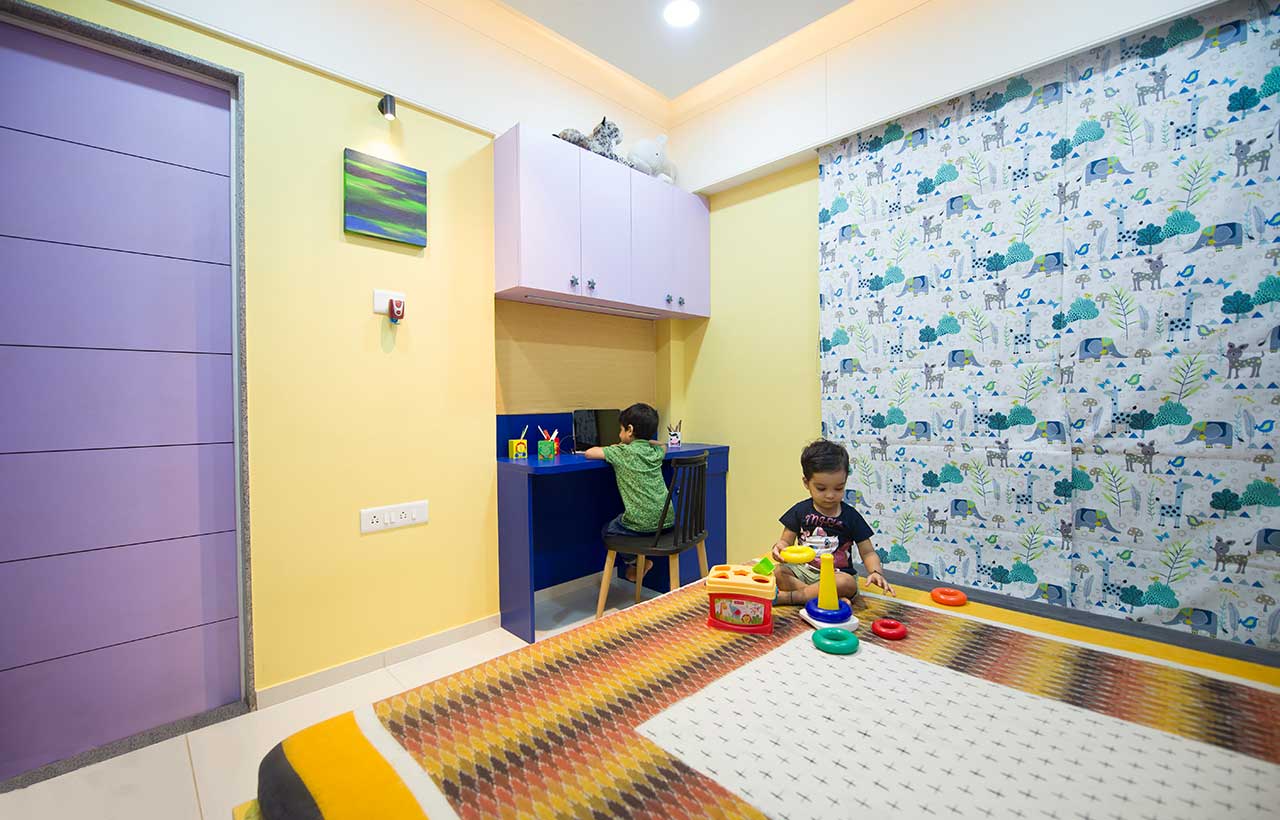 Master Bedroom offered woody grey rustic textures and back painted profile shutters in same theme of colours. Soft cushions in bed back and bed side panelling contrasted with study space and book shelves and TV panelling unit. Flexibility of furniture placements for 'Love Seat' offered the best choice of preferences either near witnessing sunset from the standing balcony window or near the bed front.
Grandparent's room had subtle hues of Moroccan inspired motifs, designs and mud stone textures with wood grain highlights. Groove patterns and sharp lines defined the language for panelling and central vibrant floral motifs.
Hardware were best chosen for this project as most of the knobs were made of ceramic and shaped like pumpkins thereby highlighting further details. Modular kitchen was all about offering best storage possibilities and compartments required.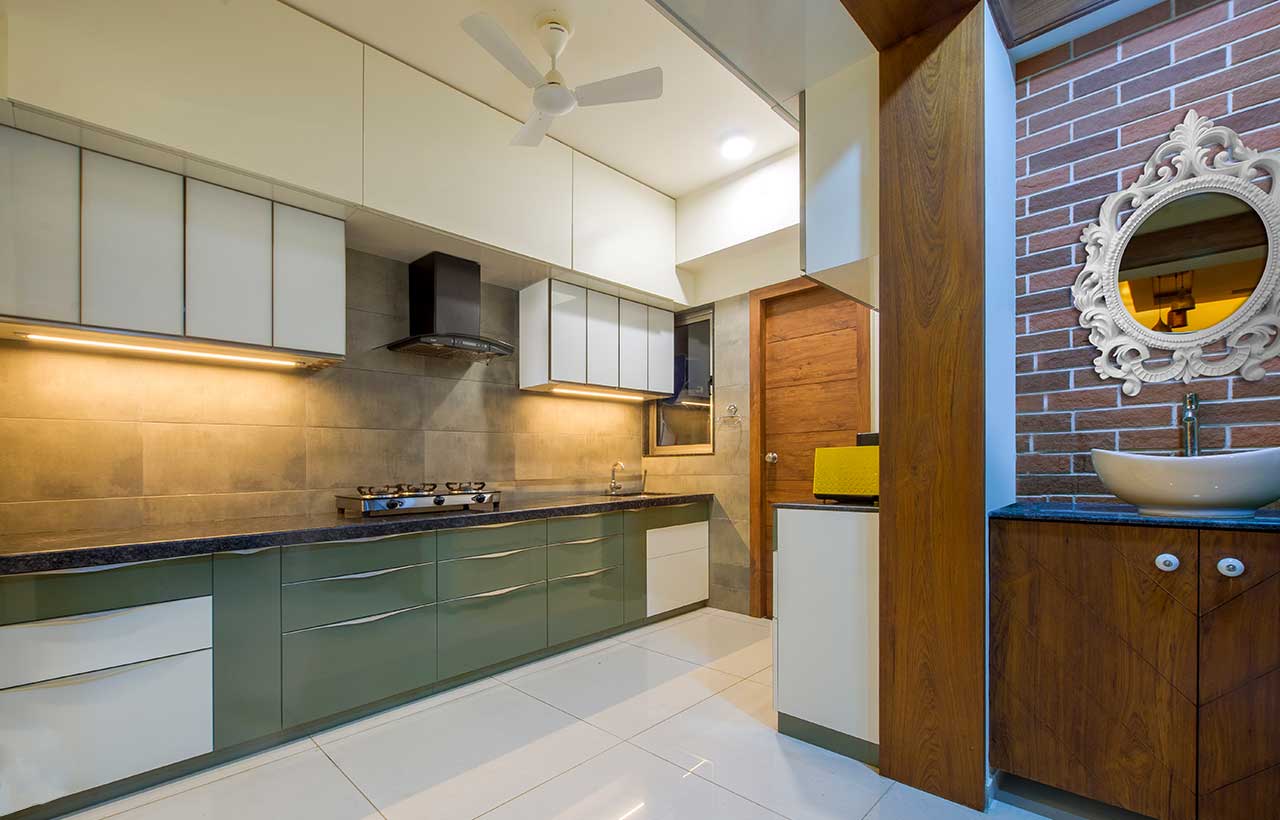 As everything was 'Vaastu compliant' as per ODS Design philosophy, we created nice puja space in one of the extended space of living room with a customised designed bench by ODS further completing the space with moss greenery cleverly covering the shaft louvers and offering amazing views of outside sunsets.
Safety was utmost important due to its location being at 15th floor. We provided invisible grills as protecting feature in all the balcony spaces for kids. Main entrance offered as nice 'Pause' before unfolding the nature infusing journey. Witness it here!!
SPECIFICATIONS:

Project Name: Green Abode
Architects/Designers: Ojas Trivedi Design Studio (ODS)
Lead Architects/Designers: Ar. Ojas Trivedi and Team
Project Location: Ahmedabad, Gujarat
Gross Built Area: 900 SQFT
Client: Mr. and Mrs. Khemka
Photo Credits: Manas Bhatt Photography