A House Includes Comprises Nature & Tradition Together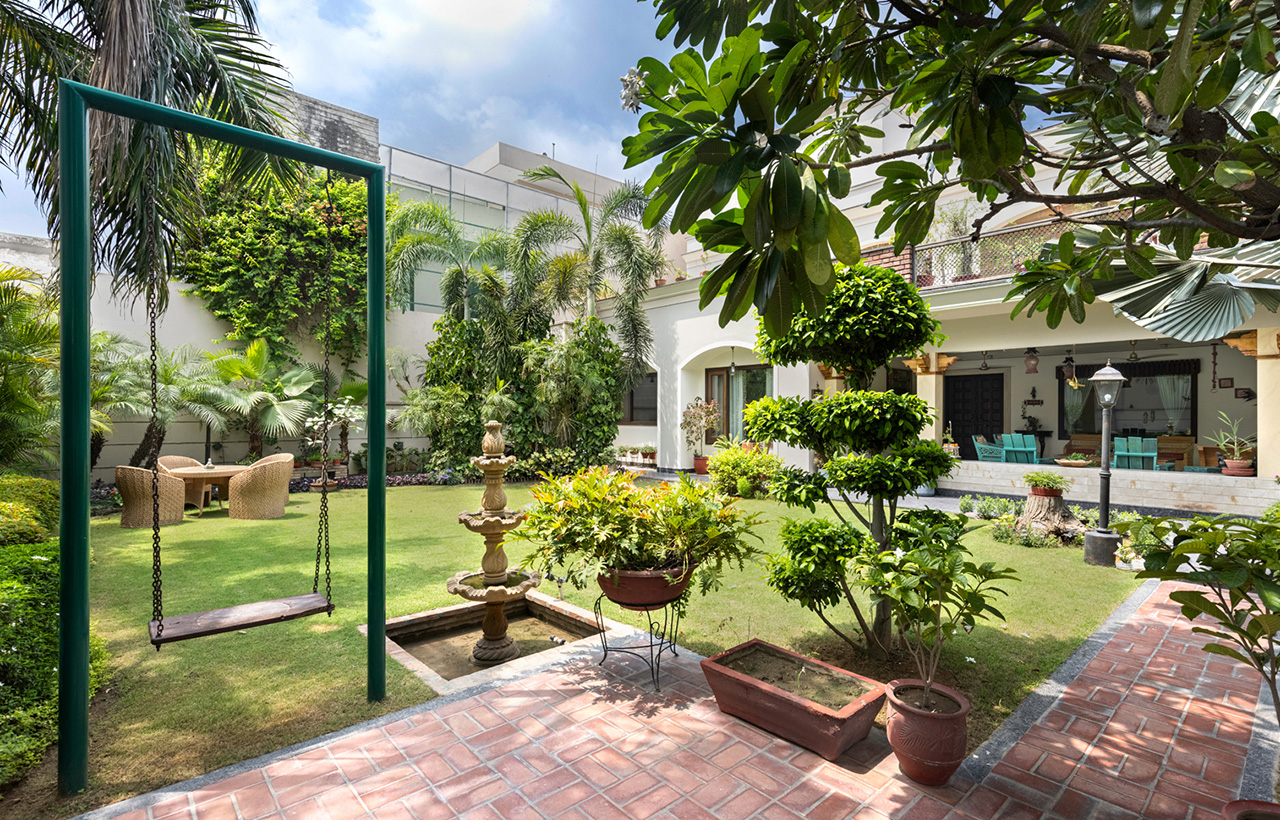 Brick House 88C is designed by Ashok Sharma Architects in Ludhiana. This single-family residence was designed on the lines of traditional Indian houses with big terraces and recessed opening.
Ashok Sharma Architects is an architecture and interior design studio based in Ludhiana and Gurugram. The studio was established in the year 1998 by Ar Ashok Sharma.

Over the past two decades, the studio has built a reputation of delivering high-quality user-friendly designs. The practice offers both architecture and interior design expertise. ASA works at all scales and in all sectors creating transformative cultural, corporate, residential and other spaces that are site responsive and work in synchronicity with the surroundings.

The team is motivated by architectural innovation, bringing together diverse expertise to collaborate to work. The diversity in projects and experience yield favorable outcomes which solidifies belief that combination of human interaction and visualization produce work of lasting value.
The residence gives an outlook of rising amidst the landscape. This 4BHK house has 2 bedrooms on the ground floor and two on the first floor. Before entering the house, one experiences a recessed family sitting area overlooking the landscape. This even helps in reducing the heat gain inside the living and dining area. Recessed verandahs were a key element for family gatherings in the traditional Indian houses. When you enter, the foyer separates the two living areas of the house, the main one on the right, and another smaller seating space overlooking the dining area on the left. The kitchen area has been planned with direct visuals to the landscape for enough natural light and ventilation.
The first-floor terrace overlooking the landscape makes it the perfect place for winter sun. The addition of the vernacular elements bundles up the overall outlook of the residence being a traditional Indian house. It is a residence with infinite visual connection to the landscape. The design also emphasizes free flowing spaces and internal connectivity providing interactive spaces; with the front lawn welcoming the guests with tranquility and peacefulness. The movement patterns start and end with open spaces in all directions. Ceiling volumes and textures are used to create zones within the whole structure. The exposed brick as a vernacular element is used to stand out from the context and give a tropical touch to the residence. The boldness of the red balances the subtleness of the greys and compliments the indoor and outdoor greens in the most natural way.
Specifications:

Project Name: 88C Brick House
Location: Ludhiana, Punjab
Studio: Ashok Sharma Architects
Principal Architect: Ar Ashok Sharma
Photography by Purnesh Dev Nikhanj