A Place in Bharuch That Lets You Unwind Like No Other: Pizza Greece Cafe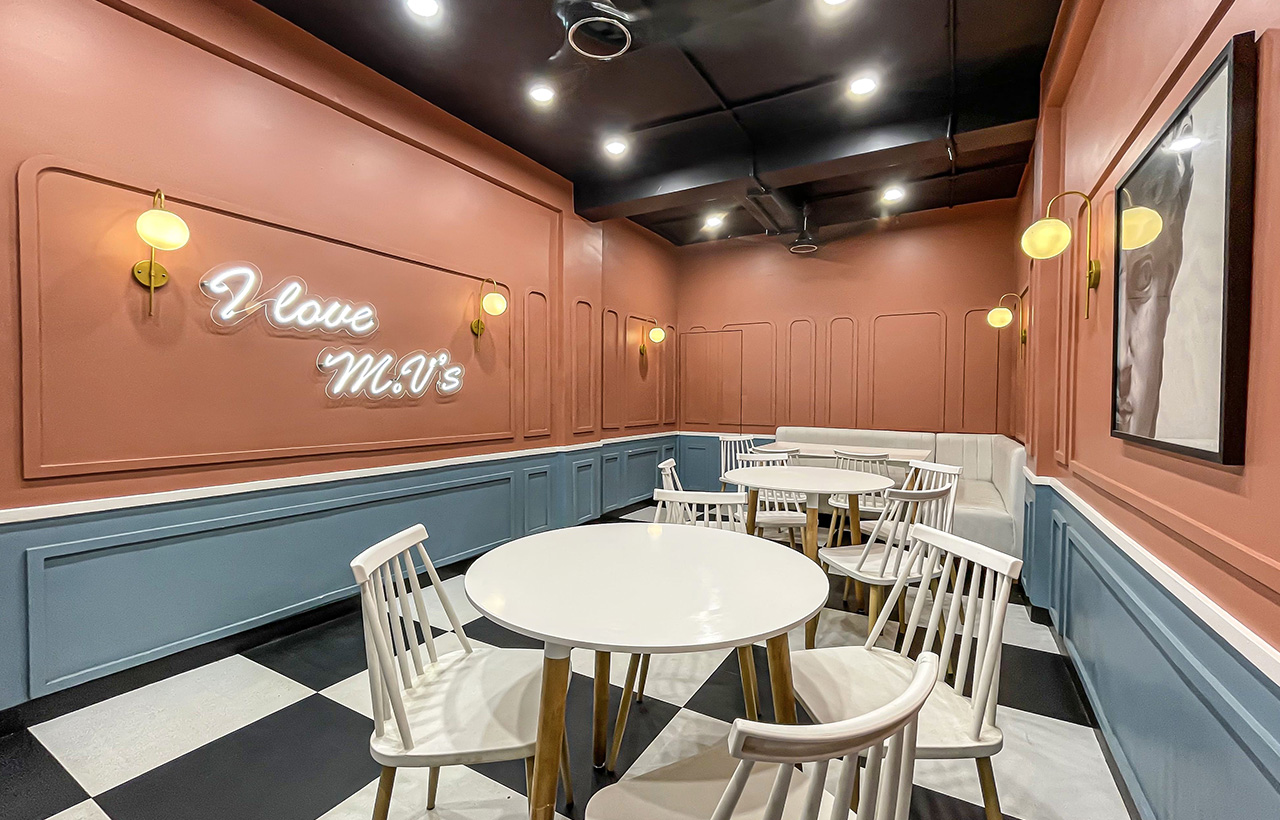 Designed for the millennials and located in the Bharuch city of Gujarat, Pizza Greece Cafe is located at the heart of the city. So the greatest challenge for Aarunya Architects, the design firm behing this project, was to convert a shop into a Greek-themed Cafe.


The Thought-process
No wonder the psychology and mood of a customer visiting a Cafe are different from those of a restaurant. Cafe business owners need to tap that psychology and reflect it in the Cafe interior design. While a target audience exists, it is still fluid and vague. Unlike restaurants, no single ambiance is offered in a Cafe, and people are free to do what they want as they sit behind their laptops or binge on a book. Coffee accompanies every age group, and simple meals which are rather affordable create an atmosphere for both partying and reading. Hence, Cafe interior design becomes valuable, defining how people react to the Cafe.
The Design Process

The architects decided to renovate an existing shop with a Greek theme by adding a boxy rectangular volume to the inside of the building. The idea was to design a Cafe that juxtaposes the old and new era. According to team, the studio's design process involved combining the necessary functions of the Cafe into the rectangular volume, such as a seating area, a bar, a store, and a kitchen. The designers have taken extra care of ambiance, and color palette with French door and lights make way for a cosy setup. They sourced a mix of new and vintage Thonet chairs to create a classic Cafe feel if we talk about the furniture. These are paired with sculptural round tables.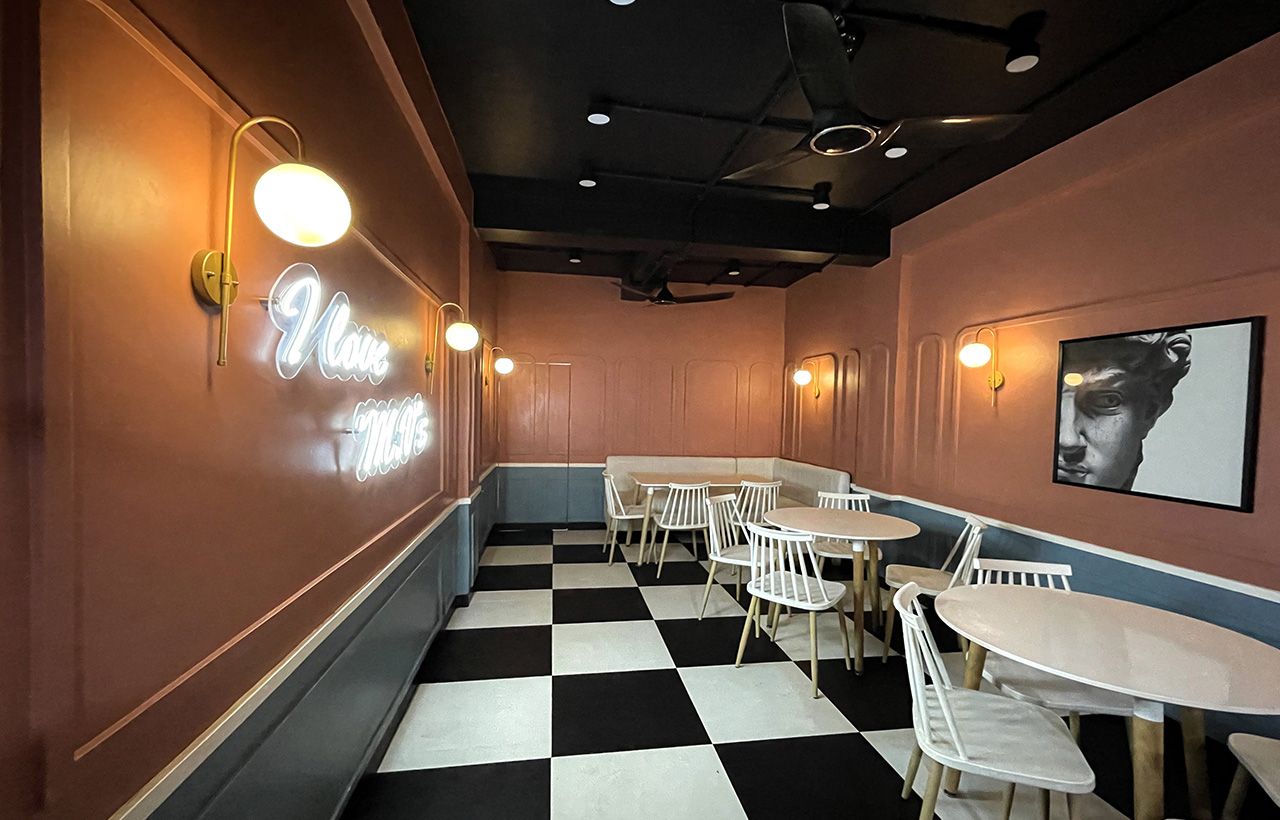 .

Providing minimal seating, uncomfortable chairs, or more impulsive colors like reds or yellows will trigger customers to grab a quick bite and go. This will bring you a step closer to a QSR. On the other hand, pastel colors, relaxing music, Decent furniture, and sofa sitting or comfortable chairs will prompt customers to stay for longer durations. And this is what the team used here for the environment to make this Cafe.


The motive was a create a mood that will make visitors of the Cafe feel like they just got into a separate zone, away from the everyday world, but make sure that there is enough light to see comfortably and relax.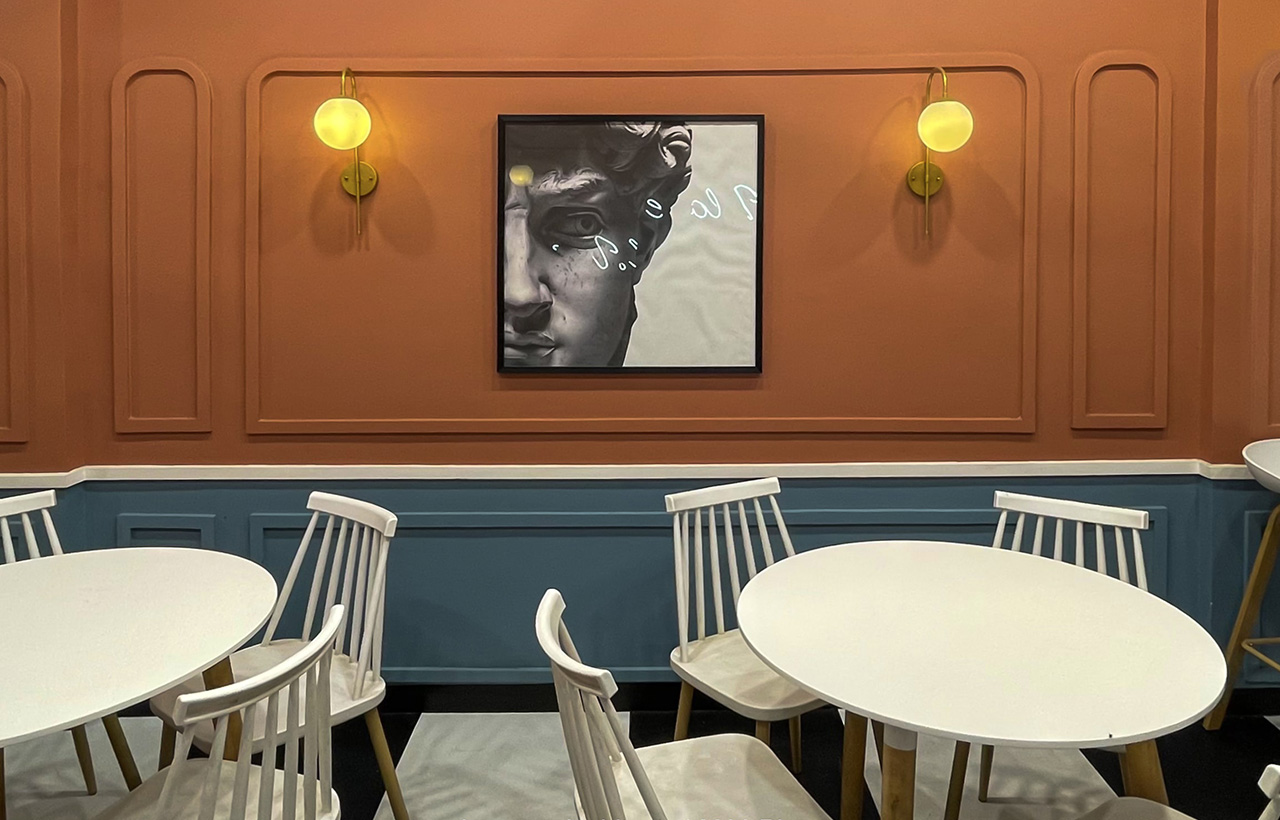 Materials Used

The designers think simplicity and color selection plays a bigger role in making the interior elegant and public-friendly. They've used MDF on a wall. Existing tiles were retained and paired with patterned vinyl carpet.


Designer Team: Ar Raxit Shah and ID Rutvi Trivedi
Note: This is provided by the mentioned design/architectural firm.