Today Guwahati Has Many Buildings with 10+ Floors: Ar. Ritul Sarma, Aakriti Construction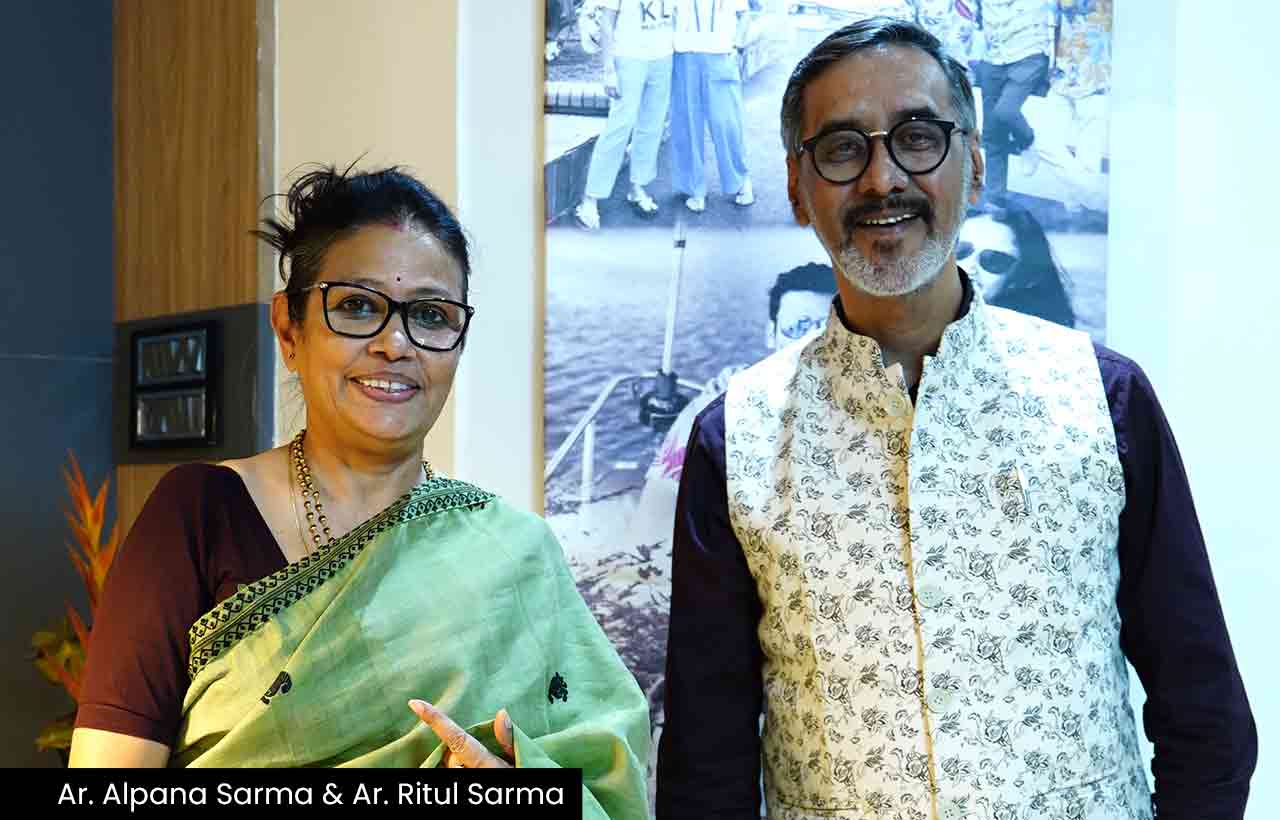 Ar. Ritul Sarma and Ar. Alpana Sarma--the architect-designer couple from the Guwahati-based Aakriti, well-known for making unique designs with the newest technology--are practicing architects. They started their firm way back in 1986 when not many people in their area really knew much about their profession, and most local people often didn't know the difference between 'architecture' and 'architect'.
Over the years, the Sarma duo has expanded their footprint across Manipur, Shillong, Arunachal Pradesh, and Assam. They deal with residential, commercial, and institutional projects.
We recently spoke to them and had a freewheeling chat during which they shared their thoughts and spoke about both the challenges and the opportunities in their field, Assam in particular and North East INDIA in general.
Excerpts:
BMR: What challenges do you face as an architect-designer in your area?
Ar. Alpana Sarma: In Assam, we don't have skilled professionals we need for the work we do and this creates an issue for us numerous times. Besides, here in Assam, we have plenty of rain almost throughout the year, or at least for 7-8 months. This every so often restricts our creativity and scope, and so, in the majority of cases, we have to make 'Assam-type houses' (structures with sloping roofs) for our residential and even commercial projects.
BMR: How Assam in general and Guwahati in particular have changed over the years, in terms of building construction and architecture?
Ar. Ritul Sarma: Earlier, Guwahati didn't have many skyscrapers, but today the situation has changed a lot. At present, Guwahati has many buildings with 10+ floors. At present, the area also boasts buildings with entirely new designs and there is also a noticeable change in the way today's bedrooms, puja rooms, and other areas are designed and built.
Nowadays, we also find lots of changes in the kind of materials that are being used for construction as we are exposed to new building products not seen and found earlier. Besides, today, solar lighting and solar heating systems are used for sustainability. People are also more aware and more exposed at present. They know about the latest trends and want their projects to be based on those.
BMR: How you go about your work—do you design and plan on your own, or do you do what your clients ask you to do?
Ar. Alpana Sarma: We move on the basis of our client's requirements though we keep in mind the structural requirements of the entire designing process as well. We ensure that we have at least 2-3 discussions with our clients before we plan or suggest something related to our project. We look into our client's family's lifestyle and also how many members there are in the family, so that we can do a good job and fulfill their requirements in the best possible way. In addition, before we begin with a project, we see the site, survey it and study it thoroughly.
BMR: Do you do only the designing part of a project, or do you work and take care of its execution part as well?
Ar. Alpana Sarma: We handle the execution part of only those projects which are based on our own visions and designs. It helps that my husband, Ar. Ritul Sarma, too, is from the same profession. He often takes care of the execution part of our projects, visits the sites, while I work on and handle the designing part.
BMR: How is technology shaping and influencing design and architecture at present?
Ar. Alpana Sarma: Technology is playing a key role in designing and architecture nowadays. Through 3D and walkthroughs, today's clients know, in advance, what's coming for them and this helps.