Buildings Are Designed to Depict An Era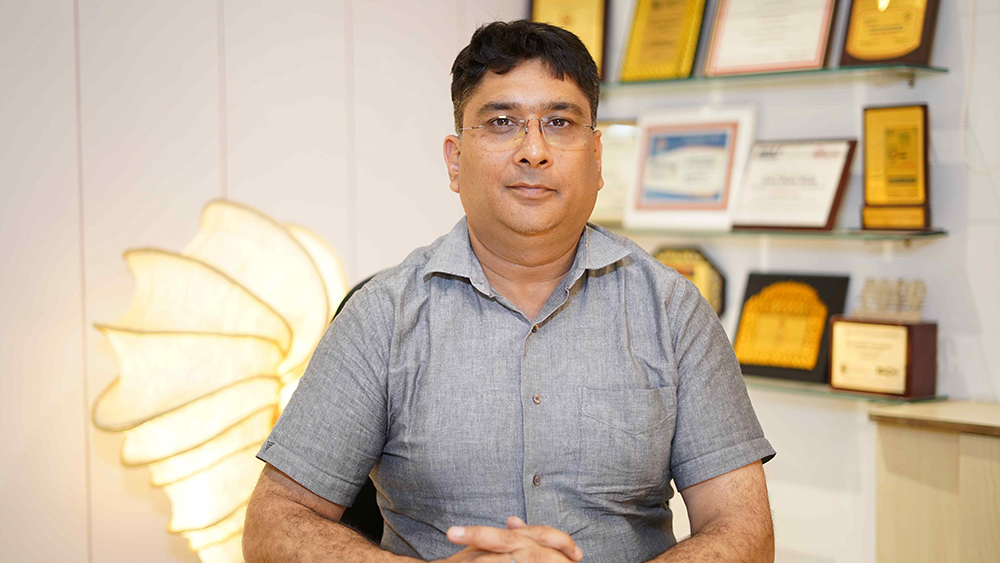 PDA Consultants, a renowned MEP and Green Building Consulting Engineering Firm, works with a clear objective of providing innovative and sustainable designs that recreate the built environment. In its constant & dedicated pursuit for technical excellence, PDA has earned the reputation of providing quality engineering services in the field of designing and coordination of HVAC, IBMS, PHE, Fire Protection and Detection, Electrical, ELV, Lighting, IT, AV and Green Building Certification.
Having its well-equipped offices at Ahmedabad, Mumbai, Bangalore, Delhi, and Indore, PDA coordinates and executes wide range of projects right from residential, commercial, educational, to institutional and industrial set ups. In our endeavor to explore how MEP and Green Building Consultants perceive the future of building construction, BMR Editorial Team met Rajnish Aggarwal, Partner with PDA. Here are the edited excerpts.
Which kind of buildings has PDA done so far?

We have worked on all types of projects such as Hotels & Resorts, Offices, Pharmaceuticals, Hospitals, R&D Labs, Textile Plants, Commercial Buildings, Shopping Malls, Multiplexes, Software and IT Parks, High-Rise Apartments, Banks, Large Educational Campuses, Manufacturing Plants & Factories, Showrooms, Exhibition Centers, Libraries, Banquet Halls, Studios, Cold Storages, Warehouses, etc.
What is the role of MEP consultant in the construction industry?

While an architect designs a beautiful body, an MEP consultant ensures good health of that body. We are the people who try and put organs and the flow into that body. Whether it is plumbing or electrical design or even HVAC, if any of these is not designed to perfection, the whole project can't be a delight.
Our clients definitely need beautiful buildings but at the same time they have to have buildings which are functional and energy-efficient. In the life span of a building, it may consume 20 to 30 times more power and energy as per its initial cost. This is where the role of MEP consultant comes in and we make the buildings comfortable and energy efficient to operate. Additionally, with rapidly increasing use of AI in the construction industry, today's buildings are intelligent and are more secure for the occupants.
What benefit does AI bring to the buildings?

There are numerous benefits of AI. The buildings today are much more secure. For instance, the cameras installed do not wait for the incident to happen, but are efficient enough to predict the crime and proactively raise alarms at various levels so as to enable security not to let the crime happen. These are just small examples as how AI is becoming important in our life and is changing the panorama of buildings. In another 10 years from now, we can't even imagine how intelligent our buildings will be.
Do you think Indian construction industry is ready to adopt AI?

AI is something which is getting into our life in all the spheres, why not buildings. Today's buildings have the capability to understand the needs proactively. Earlier we thought that automation of lights in toilets or corridors is AI. But it's not limited to that extent. Today, AI has augmented the possibilities. There are buildings that depict the behaviour of the occupants by closely watching their movements that too without letting them know. In fact, these buildings are going a step ahead and use this knowledge to enhance their efficiency. In case of fire, the buildings can not only raise the fire alarm but also activate the firefighting process much before the occupants come to know. It's all because of the incorporation of AI.
How has the construction of buildings evolved over the years?

Buildings depict an era. Looking at any building one can judge in which era it was built - ancient era, mughal era, roman era or heritage building. Today's buildings are modern and contemporary. While we are making our buildings we don't even note what changes we are incorporating in them. For instance, 10 years ago, almost all the buildings used to have false ceilings as a common feature. Today, architects, interior designers and consultants have eliminated the false ceiling and people are comfortable with it. Similarly, the exterior of the building is not directly visible in today's structure. It is covered with another layer of screen which protects the building from heat and other environmental turbulences like rain.
How important is the selection of materials?

Selection of material of construction is as important as products which is made out of those materials. Today, we have fire survival cables which don't get burnt even after hours of fire which ensures that our smoke alarm or public address system continue to function. Similarly, we have good quality PEX pipes which are easily bendable and do away the use of angle joints. These pipes can be bent thus any leakage which may arise due to the presence of joints is avoided. We do have composite pipes which come along with good thermal quality and mechanical strength.
We do have a lot of eco-friendly materials which are very important. For instance, the HVAC insulation was highly anti-environment because it used to exhume fumes and was corrosive. Even the glass wool was not eco-friendly. Today, the MOC (material of construction) which we use, make our things more energy-efficient which turn our life healthy.
How has HVAC evolved over time?

HVAC is a vast domain. Ideally, it's not just cooling as we consider in north India. Most of the Indian cities require cooling. Some of them may require heating. But all of them also need ventilation. This is an important factor but generally not taken into account while designing HVAC for a building. Another important factor is humidity, which is also vital. At times, humidity has to be very precise. For instance, in process engineering like pharmaceutical facility, a small change in humidity level can destroy the entire process of manufacturing. Similarly, it is very important that HVAC design also must comply with the fire protection and smoke management thereby providing a safe passage. Therefore, along with proper cooling/heating, HVAC needs to provide proper ventilation to the space it is installed into.