Graff's Topaz Exudes Rhythmic Aesthetics Inspired by Art Deco Design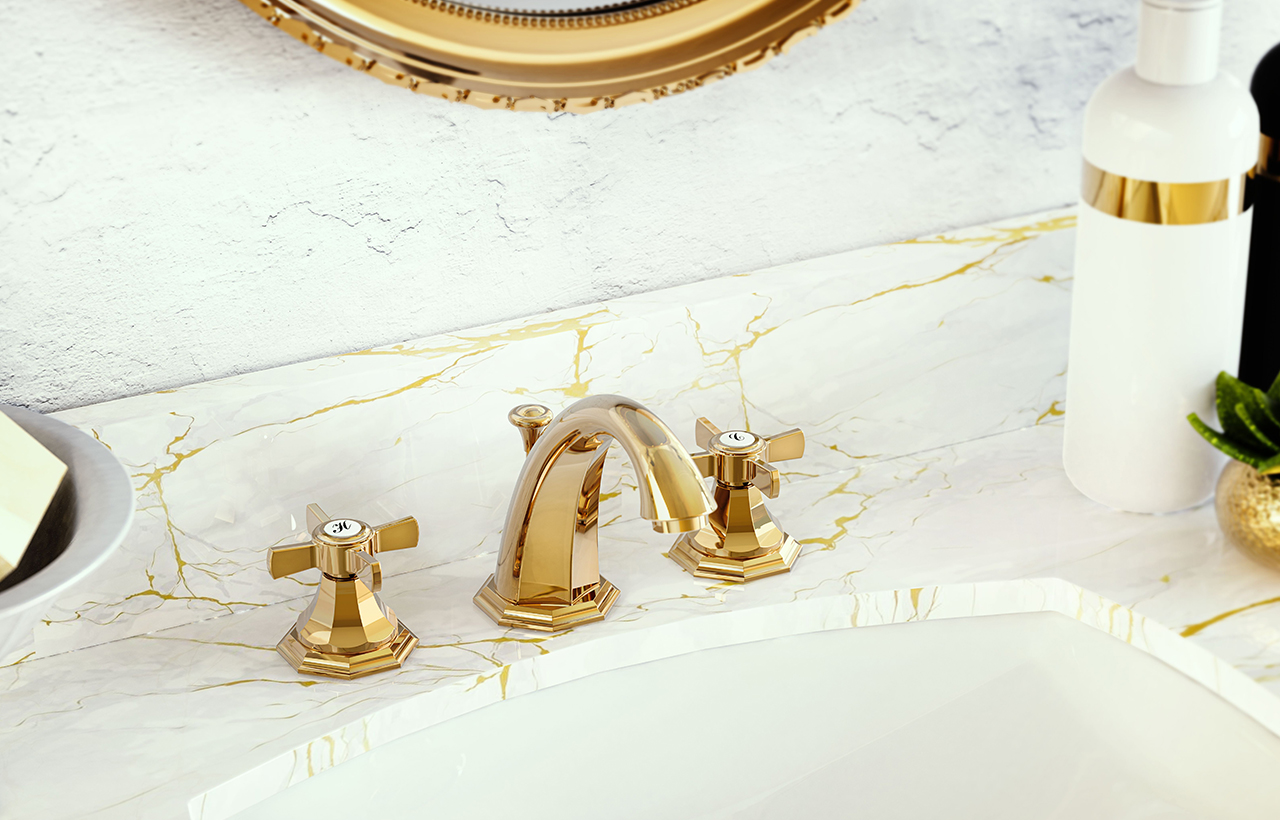 GRAFF, the worldwide manufacturer of innovative faucets, introduces the newest gem 'Topaz', an art deco-inspired collection, designed by G+ Design Studio, with an unmistakable hexagonal handle and spout base for the bathroom. All the elements of the Topaz collection are characterized by rhythmic aesthetics, made up of pure geometric shapes and enriched by stylistic details. The coordinated accessories define the design for a harmonic and functional environment.
The Topaz faucets and fittings by GRAFF are produced with brass containing minimal nickel and lead content and also made in compliance with drinking water regulations that comply with the most restrictive criteria for the protection of health and the environment. The Topaz Collection by GRAFF is offered in 20 finishes including Vintage Brushed Brass (VBB), a liquid epoxy finish, Gunmetal (GM), a living, transforming finish and Polished Chrome (PC), a galvanic finish.
All faucets are made from an internally-emptied solid brass block. Due to this manufacturing technique, the lever and the spout provide a unique proportion to tap, together with an ergonomic grip while still maintaining the classic, geometric shape.

The Vintage Brushed Brass finish showcases a vintage brass base with a detailed brushing finish that varies from yellow to dark brown. Vintage Brushed Brass is a liquid epoxy coating with properties similar to powder finishes. All GRAFF brushed finishes are completed through hand manufacturing with an intense eye for detail.

The Powder Coated finishes are developed with a dry process called electrostatic spray deposition in which a fine powder is applied with a gun on a metal base and then dried at high temperatures. Powder coated products are resistant to moisture and ultraviolet light and have a long service life. In addition to giving a pleasant texture, the powder coating treatment reduces the risk of scratches, chips, abrasions, corrosion and other signs of wear.

The Gunmetal finish is transformative and unique to each environment. This finish requires special care and attention. Designed to change in appearance over time, Gunmetal develops a unique warmth and character. Gunmetal and Gunmetal Distressed are completed with an industrial waxing process which gives it a more natural appearance and a warmer, velvety texture. If not treated with wax, Gunmetal and Gunmetal Distressed tend to lighten especially around the edges.
About GRAFF

Headquartered in Milwaukee, Wisconsin, USA, with locations throughout Europe, GRAFF is globally recognized for its trend-setting products and unique vision. Supported since 1922 by extensive plumbing and hardware manufacturing experience, GRAFF has positioned itself at the forefront of design creating collections for the luxury bathroom and kitchen markets. Utilizing the latest manufacturing technology and thanks to a tradition of old-world craftsmanship, GRAFF's commitment to creating cutting-edge, premium-quality collections is evident in each and every product. GRAFF employs over 1000 dedicated professionals and has total control over the full production process, making it a truly vertically-integrated manufacturer.

GRAFF's parent company, Meridian International Group, is an ISO 9001 and ISO 14001 certified company, comprised of several business units. Meridian strategically combines a strong European OEM faucet and valve production history with over 30 years of American excellence in OEM machined parts. Meridian's prestigious customer portfolio includes many global plumbing companies as well as the number one American manufacturer of motorcycles.

Availability: GRAFF India, www.graff-designs.com