Flooring Trends & Ideas for 2024
Ever thoguht of a space that is genuinely exclusive and one-of-a-kind? Choosing the flooring design is surely the first step. Depending on the material, color, and shape, these give the house's overall appearance a particular atmosphere. It's crucial to make thoughtful decisions when creating a specific atmosphere because the floor serves as the backdrop for every element in the home, so your choice will have an impact on the decor.
Read More: Translucent Concrete: What is it all about?
Flooring design trends change as a result of new standards that must be adhered to. Furthermore, an increased range of options is made possible by the advancement of the technologies in use. Modern floors from 2024 are ideal for rooms with a minimalist, chic aesthetic. For the larger space, whether flooring design for bedroom or flooring design for living room, the floor is laid uniformly throughout the house in such a way that it creates the illusion of extremely large rooms. In terms of color, neutral shades go well with any type of furniture; light gray, anthracite gray, or sand are examples of these. Whether you put a carpet in the space, flooring will eventually make the space look beautiful.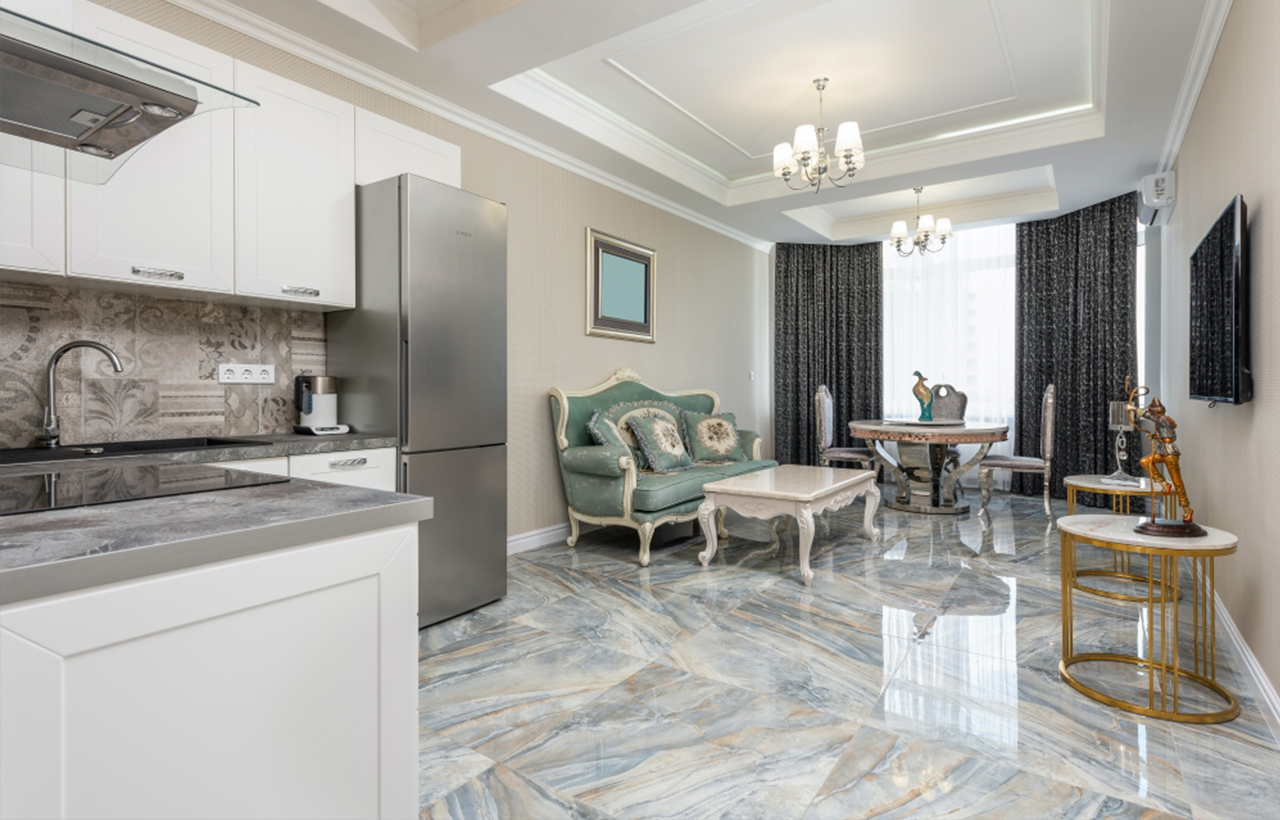 Our homes are a dynamic mix of all the things we love, from flooring options and paint colors to living room accessories. Are you thinking of a new renovation? Building Material Reporter suggests these top flooring design trends to watch out in 2024:
1. Concrete
Concrete is a very versatile, economical and durable material over time. A concrete flooring design for home is modern, minimal and allows for smooth and non-slip surfaces, resistant to impact and stains. It is a durable and easily cleaned material. This material has transitioned from industrial settings into sophisticated, modern homes. Because of its superior conductivity, cement is ideal for underfloor systems. In order to prevent the buildup of dirt and contaminants, it also permits continuous applications without joints. With this material, you can produce a wide range of visually stunning effects. Also, the grey tone of the concrete is now becoming the trending hue which is going to stay in 2024.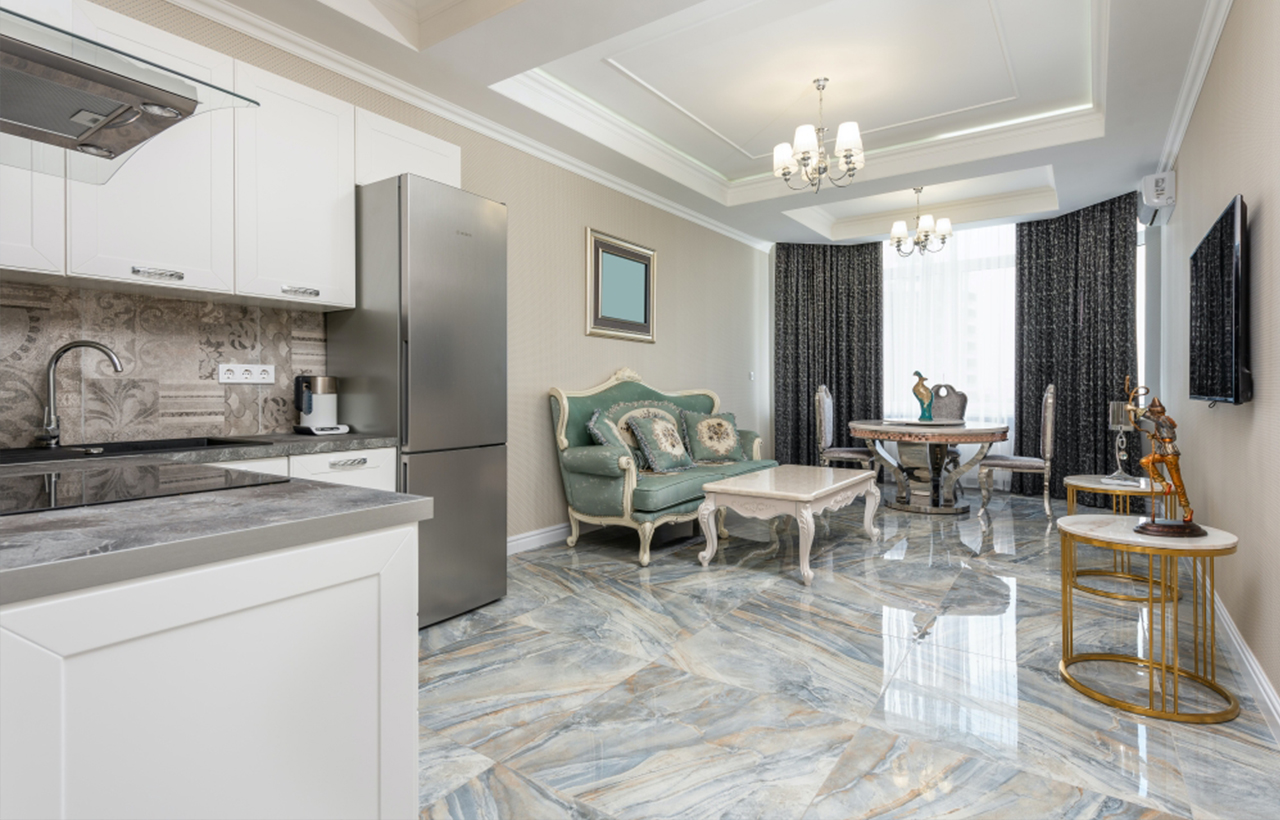 2. Wooden textured flooring
Wooden flooring will remain a top choice for 2024. Natural colors, fibers and texture all create a gentle aesthetic that is the perfect ambience to relax and unwind. And there's no better way to complement a relaxing space than with natural wood flooring.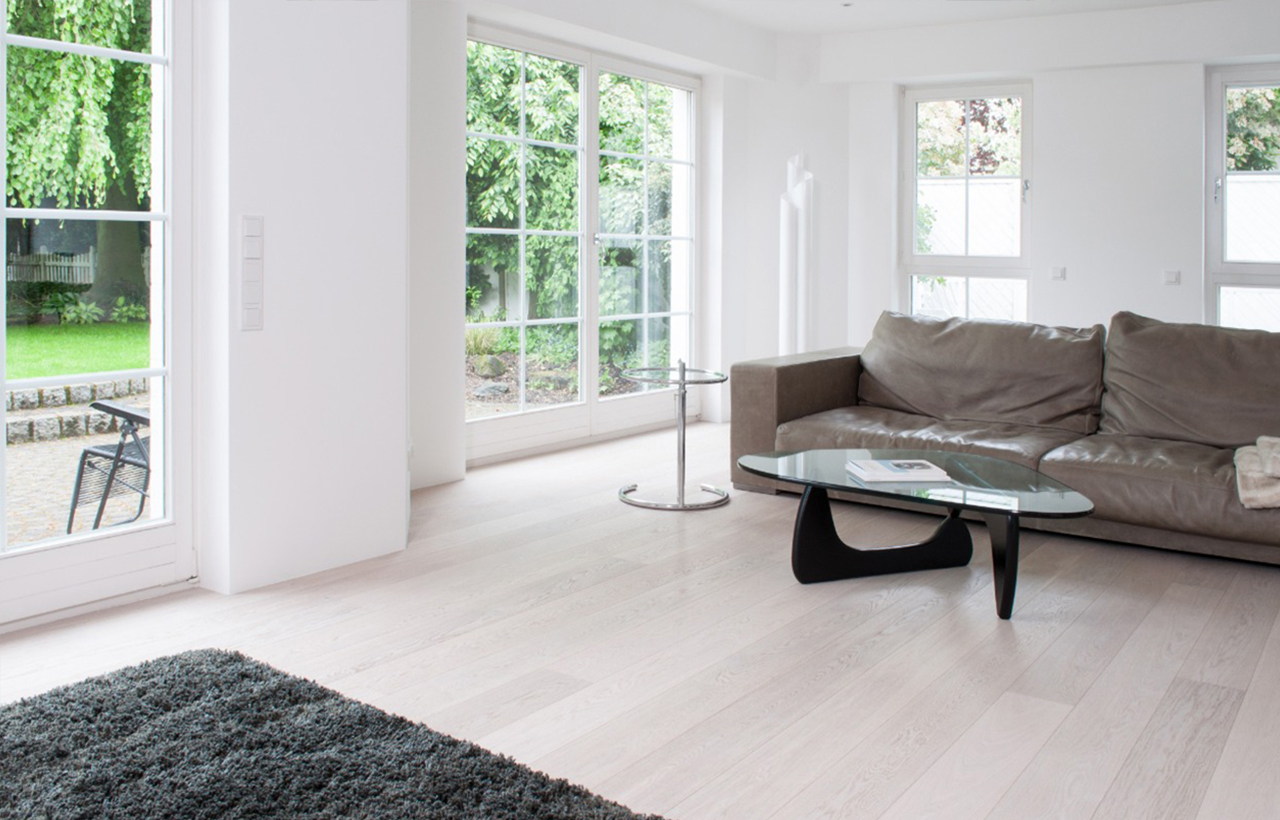 Traditional wooden styles are also back such as parquet and herringbone influenced designs to add depth and character. Throughout 2024, wooden aesthetics to remain a popular choice for flooring design in architecture and design.
3. Checkerboard
Checkerboard flooring design is one of the biggest trends for 2023. Use it to revitalize your house. There's no denying that checkerboard flooring is making a comeback. Checkerboard patterned flooring design look especially good in hallways, bathrooms, and kitchens. They're a great way to add pattern and visual interest to a room. They add dramatic touch through historically monochromatic and conteflooring designmporary versions, having a wide range of whimsical color schemes in softer tones.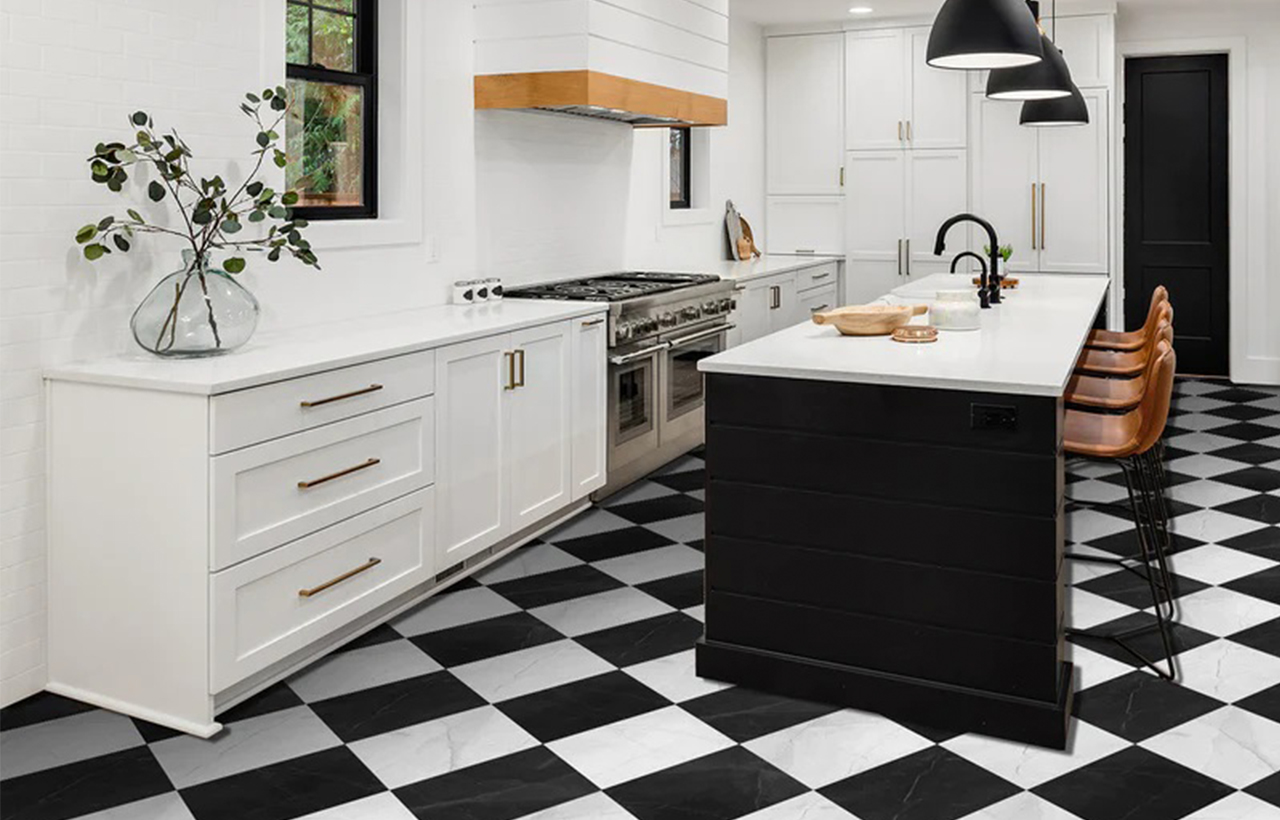 Read More: The Store Between the Lines: A Store with a Story!

4. Graphic Tiles
Flooring design can be used as a blank canvas for art. But graphic pattern tiles are perfect for you if you prefer unusual and delicate patterns on your tiles!
Manufacturers are able to replicate an infinite number of mosaic images with state-of-the-art technology. You can purchase tiles that have a pattern that repeats or tiles that fit together to create a large pattern that covers the entire floor like a jigsaw puzzle. There are monochrome graphic mosaics available, but if in a really wild mood, there are also ones with striking multicolored patterns and typography.
5. Cork For floors
In 2024, cork- a high-quality, sustainable raw material, will be especially well-liked for use as floor coverings. This naturally occurring material, which is entirely recyclable and made from the bark of the cork oak tree, contributes to the growing significance of sustainability in interior design. But the material's increasing use in the floor area isn't just due to its particularly environmentally friendly qualities; it also has an insulating and footfall sound-insulating function, which adds to its widespread appeal. Flooring design ideas can assure cork floor to be easy on the joints, and incredibly elastic.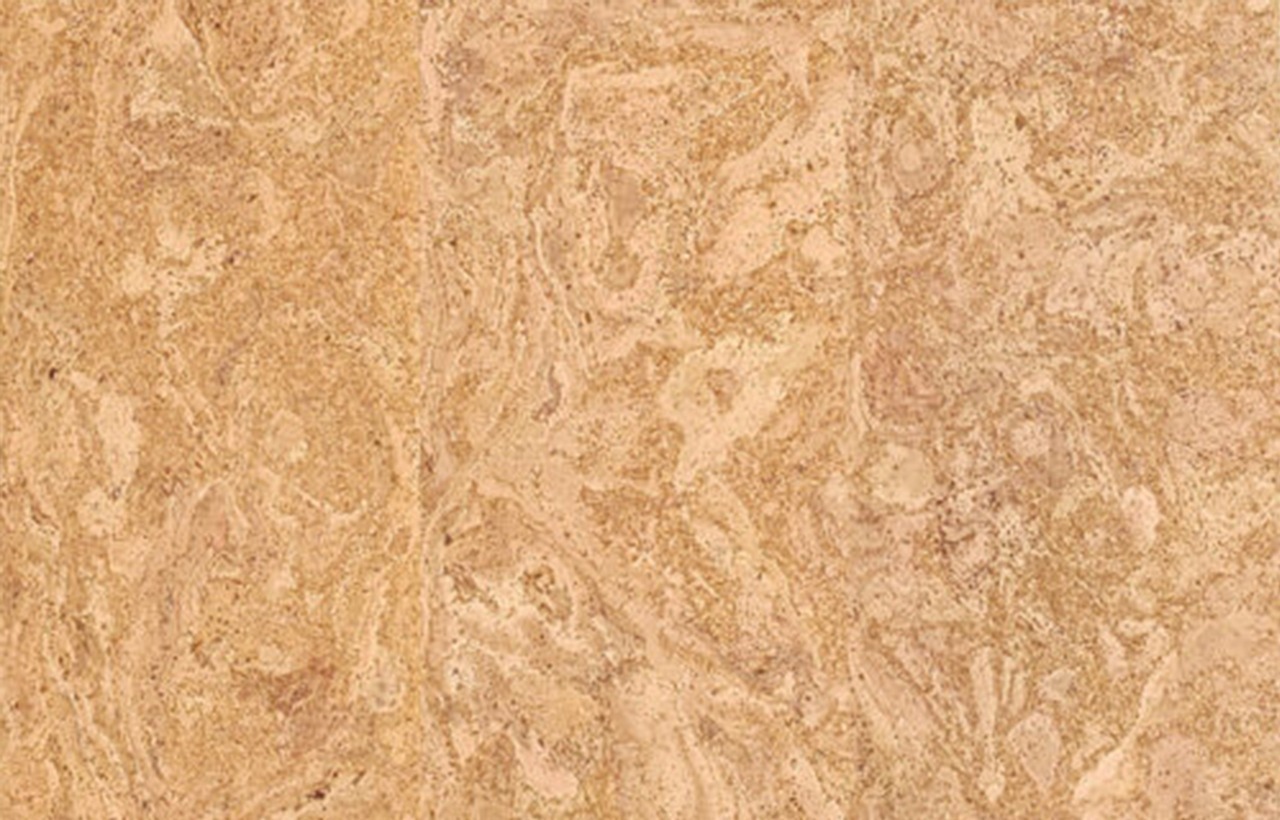 Neutrals, whites, and hues with comparable undertones are especially well-liked when selecting a suitable and classic color for a flooring design. However, this year, grey also comes in a variety of shades. This is partially because there are so many different ways to combine these timeless colors with different tones. In the future, natural hues like a wooden brown will look good in the living rooms.
It is widely believed that traditional materials will no longer be acceptable to anyone in 2024. Flooring design materials with distinct textures and designs that have been specially treated are what homeowners want. Whether it's wood effect tiles, textured tiles, bleached floors, or smoked wood.
Building Material Reporter forecasts trends and ideas in architecture & design plethora. Keep following us more updates and insights.
Read More: Nuance Studio's Ribbed Series Parametric Wall Panels Give Aesthetic Feel