Talreja Residence of Woods - Warm & Welcoming
There is a lot to say about this project for describing its elements. The idea was to keep all the fix things like wall and ceiling plain, exposed and simple, whereas the colours and design details are added in terms of furniture, lights, hangings, art and landscaping.

Natural light can make any space look larger and less confined than it actually is. It also seems to bring out a different and livelier look of the colours that appear on the various finishes on the surface of the furniture, walls and floors in your home. This is something that no light bulb, no matter how sophisticated, can replicate. But besides the visual benefits that natural light delivers to your interior, it is equally good for your body, mind and soul.
It is a perfect balance of an 'Aesthetical design and refined luxury and reflects the client's luxurious lifestyle. Added to this is the sophisticated richness of Color, Textures and Innovative Fusion of design themes, which reiterates Opulence and gives this project a refined status way beyond aesthetics.

The interiors follow a subtle colour scheme, highlighting the luxurious grey flooring, rich materials, and exquisite decor details. Unexpected touches like the exaggerated frames, brass artefacts, sculptures and illusive pattern on the wall add surprise elements.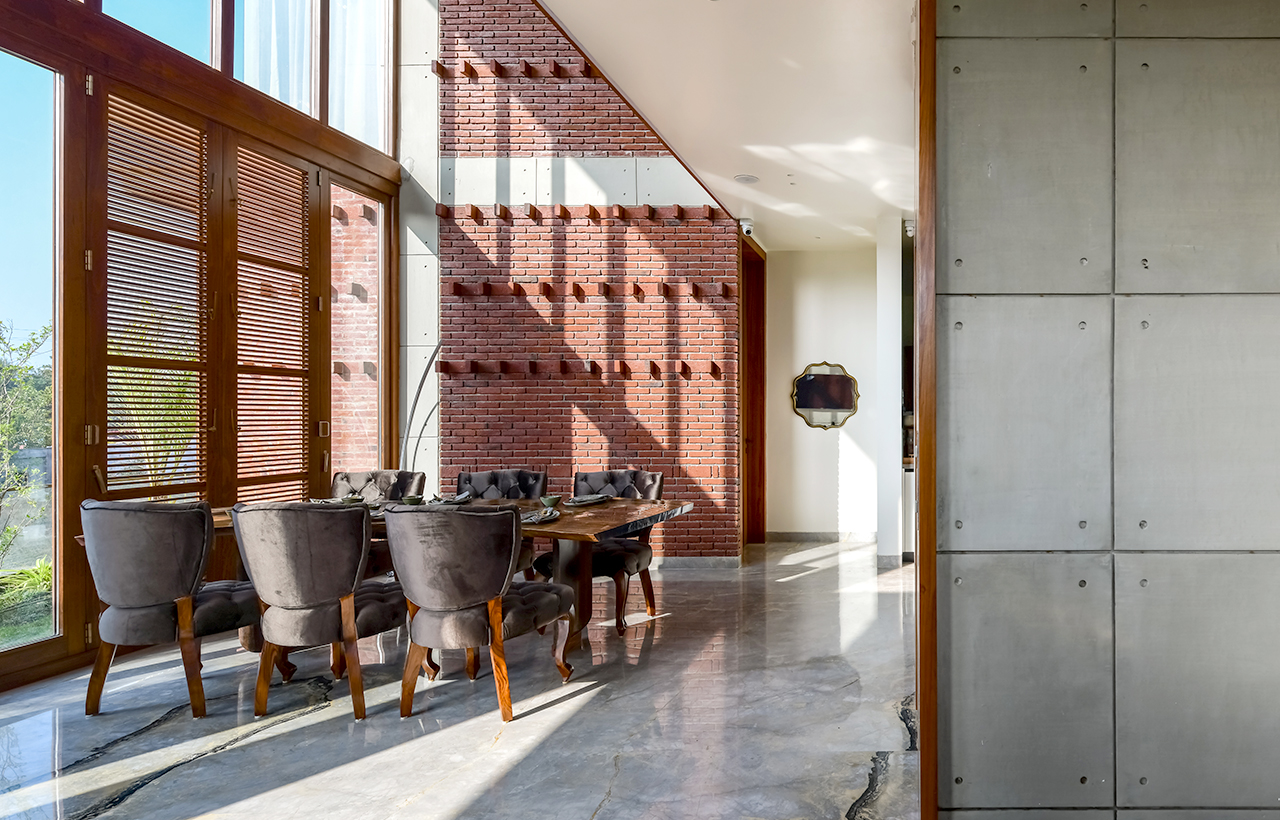 One is welcomed by a refreshing garden that keeps the villa ventilated throughout the day. The garden entrance is creatively done, the distinctive use of planters and artefacts looks mesmerizing.

The spacious living area merges with a garden which has a very airy vibe with large glazing on both sides. Texture creates a drama in the room with a bunch of sculptures and artefacts, and planters, creating an essence of the cosy ambience of the room. The Italian leather material and colour of the sofa furniture add luxury and comfort to space.
The drawing room leads to the living and dining area. Continuity in materiality and colour selection is reflected from the drawing-room to every corner of the house. Every piece of furniture is treated as if it were a canvas or an artwork by embellishing it with details and accents.

Large windows/openings infiltrate the entire living and dining area with beautiful natural light. The morning light in the dining is lovely, and it turns into a cosy breakfast place for the family to hang out and make breakfast together.

The kitchen is very spacious; the muted colour palette is used with wooden finishes that merges very well with the surroundings. The Dining top is a gorgeous natural raw wood section that adds to the feel of this space.

Every bedroom exudes its own style and personality. The backdrops with stone and veneer give a relaxing ambience. The toilets/dress areas are very spacious all around and well ventilated with elegant colour schemes. Wardrobes with different finishes like clear glass with wooden touch and TV unit reflects the overall charisma of the room.
To conclude, "Every human being has a dream to own not only a house but a well-designed home where a family can live happily and healthily and can connect aesthetically and functionally to enhance the family living environment."

Specifications:

1. Applicant Name: Ar. Akshay Selukar
2. Firm Name: Architect Akshay Selukar
3. Project Name: Talreja Residence
4. Project Location: Bhopal, Madhya Pradesh
5. Project Area: 3500 sqft